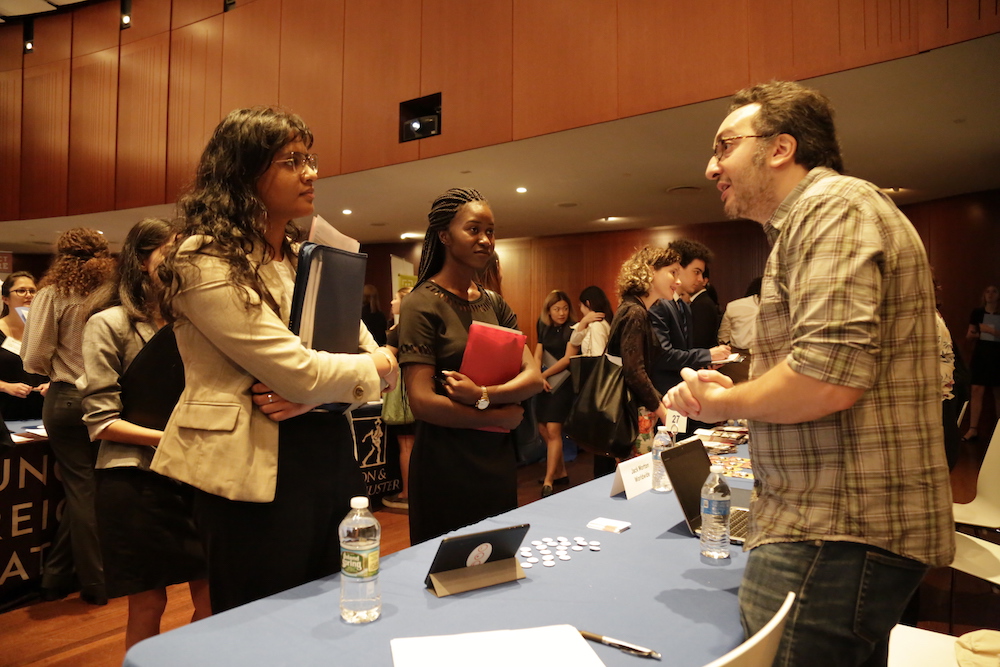 We asked the team at Beyond Barnard about this week's Opportunities Fair. It will run on Friday, January 25, from 11am to 3pm in the Diana Oval.
Why should students attend this semester's Opportunities Fair?
A: If you're looking for a job or internship (or even if you're just exploring different ideas about possible career trajectories), this is the place to be. There will be 62 employers from across industries — including Amazon, Mastercard, the Hospital for Special Surgery, Bank of America, 826NYC, Reading Partners, and Harlem Arts Alliance. We think there's something for everyone!
Who may attend?
Students from Barnard, Columbia College, Columbia Engineering, and the School of Professional Studies are invited to participate.
We get a lot of questions about whether the fair is restricted to certain majors, interests, or academic years. The answer is: not at all! We welcome students from all years and intellectual backgrounds. And we encourage them to talk to the broad range of employers about potential opportunities. You never know what you might learn from an employer about work that matches perfectly with your interests.
What should students expect to get out of the fair?
More than anything else, the fair is a chance to get out there, connect with organizations, and explore your professional interests. Our fall Opportunities Fair attracted over 530 students and 65 employers, so the fairs are huge events! But it's important that students know there's no such thing as a one-day career search. They should expect to meet employers, get new ideas, and perhaps complete an interview. But then we encourage them to come to Beyond Barnard for additional advice and support on next steps and new ideas.
What makes this Opportunities Fair different from the last one?
We continue to respond to student needs and requests when it comes to making the Opportunities Fair as inclusive and welcoming as possible. This spring, we are offering five 45-minute panel discussions that will occur throughout the fair and are targeted at specific communities on campus: women of color, LGBTQ+ students, athletes, and first-generation students. (For Barnard students only, we will also have a panel discussion for international students.) These panels will offer conversations that include all members of our community, and we are encouraging students to attend as many as they would like — but also to participate in the rest of the fair as well.
How can students make sure that they're prepared for the fair?
We encourage students to check out Beyond Barnard's FAQ page on navigating Opportunities Fairs. We are also holding two events called "Making the Most of the Opportunities Fair." Finally, our spring semester Open House will take place the day before the fair. Students can come to Beyond Barnard, on the second floor of Elliott Hall, and get their résumé reviewed and practice their elevator speech. Students can register for all of these events in Handshake. Questions can always be addressed to beyondbarnard@barnard.edu.