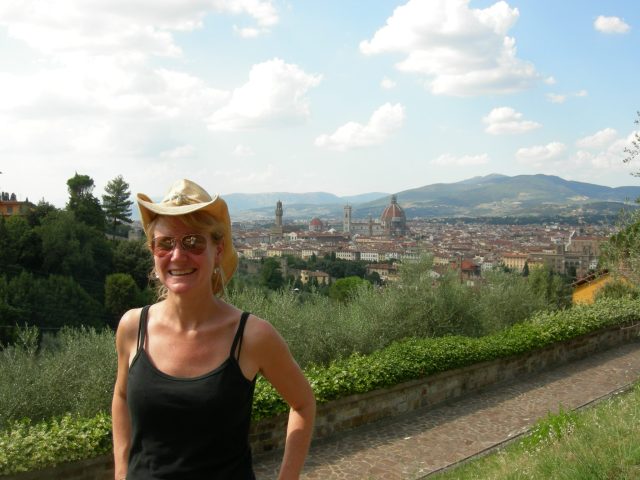 When anthropology professor Paige West founded the scholarly journal Environment and Society in 2009, her goal was to narrow the gap between two disparate but interconnected academic worlds: the social sciences and the natural sciences. This annual journal, published by Berghahn Books and co-edited by Prof. West and her colleague Prof. Dan Brockington of Manchester University, enlists scholars from around the world to write comprehensive reviews of social science literature on pressing environmental issues. Over the past three years, the first three volumes have tackled climate, food, and capitalism: all areas of inquiry with wide-ranging implications for the planet and its inhabitants—and with massive amounts of research underway. Below, Prof. West explains the motivation behind Environment and Society and the way the journal is impacting her own teaching and research.
What prompted you to launch Environment and Society?
My research sits at the intersection of ecology and anthropology, and for that reason, I am fluent in two different disciplinary vernaculars—my work requires that I read and think about the literature in both fields. At some point, I began to notice that there was not a lot of cross-fertilization between the two disciplines. Anthropologists weren't necessarily reading the work of ecologists, or conservation biologists, or other scholars who are thinking about biodiversity. People in the natural sciences weren't reading social scientists' work on environmental issues, either. It struck me that it might make sense to work with my social-sciences colleagues to try and make some of our research more available to people in the natural sciences. When I was introduced to Marion Berghahn, an anthropologist and the owner of Berghahn Press, her company had just started publishing yearly review journals for different areas. They didn't have one for environmental issues and I pitched to her an anthropology journal with an environmental focus, as a way of sharing what's happening in social-science research with scholars in the natural sciences. The idea resonated with Marion and her daughter Vivian Berghahn, also an anthropologist, co-owner of Berghan Press and the editor in charge of their journals. So we went from there to get Environment and Society off the ground.
Our contributors do a really comprehensive review of the historic and contemporary literature on a particular subject within the issue's theme. One example would be invasive species, a topic that will appear in our upcoming fall 2013 issue on animals. For someone who knows absolutely nothing about how anthropologists have dealt with invasive species—and anthropologists have been writing about invasive species for a very long time—that article will allow them to walk away knowing the breadth and the depth of that literature from a social-scientific point of view.
How has the journal been received by these different communities of scholars?
It's been great. We've gotten a lot of interest from people from all over the world who want to publish in the journal. We're hearing from both the social science and natural science communities that we've done a good job of focusing and distilling the literature that exists on these topics. There's a widespread sentiment that it's nearly impossible to keep up with the literature in your own field, let alone another one. It is also widely accepted that there's really no environmental issue that is not related to people—to human consumption, or structural inequities. As social scientists, we bring that perspective into focus; what we're doing with Environment and Society is creating a road map for natural scientists who want to know what social scientists are saying on climate, for example, but don't have time to read everything out there.  
How has your work on Environment and Society enhanced your teaching or made you think differently about introducing Barnard students to the topics addressed in the journal?
Working on the journal has made me a stronger teacher, and it's also made me a much harder editor. In reading all these reviews, I know the literature on the subjects intimately now, and that certainly informs the nuanced views I can present in class and help my students address. In terms of editing, I think this work helps me push Barnard seniors to realize their potential on their senior thesis projects. 
Barnard students are very interested in questions that are best answered through interdisciplinary research, and there is a huge push for undergraduate students to have more exposure to multifaceted work. That's wonderful—interdisciplinary scholarship is one of the waves of the future; there are lots of questions that can't be answered from a single viewpoint. What Environment and Society has helped me see is that prior to any interdisciplinary training, students need solid, deep training within a discipline. Then they bring the theory, method, and analytical skills to the table when doing interdisciplinary research. This is increasingly part of my approach to teaching and advising students.
What are some other benefits of your involvement with the journal?
Environment and Society is very good for Barnard, because every time someone picks up an issue, the first thing they see is the College's affiliation. As an international journal, it gets the Barnard's name out there in places where people may not know about us yet. I've been in contact with academics from many different disciplines and from around the globe, which in turns help me connect our students and alumnae with much broader international networks.
Additionally, two members of our staff are graduates of Columbia and Barnard: our managing editor is Rebecca Feinberg CC '09, now a graduate student UC Santa Cruz, and our editorial assistant is Amanda Himmelstoss '11, an excellent writer who works with us in addition to her full-time job in the tech sector. I would love to have the resources to get more undergraduate students involved, since working on a high-profile international journal is a great opportunity to gain valuable experience and to better understand how academic research works.