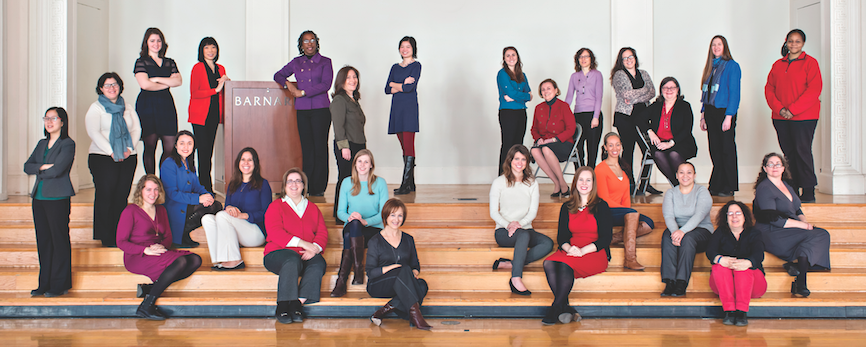 In the Winter 2015 issue of the magazine we featured alumnae who have returned to Barnard to teach. Here are several of the alumnae whose contributions also make Barnard the unique place it is—the administrators who run the College and provide an array of services other than instruction. Alumnae administrators include recent graduates and more experienced employees. Says Catherine Geddis, vice president of human resources, "Recent graduates often have the opportunity to serve as role models for current students. They bring an understanding of student life, plus the perspective of an employee whose work contributes to the mission of the College." More experienced staff, she adds, "have a historical knowledge of the Barnard they remember from their time as students, and the experience of life and work in the outside world. They're able to integrate the two in a way that adds a unique quality to the way we work at Barnard."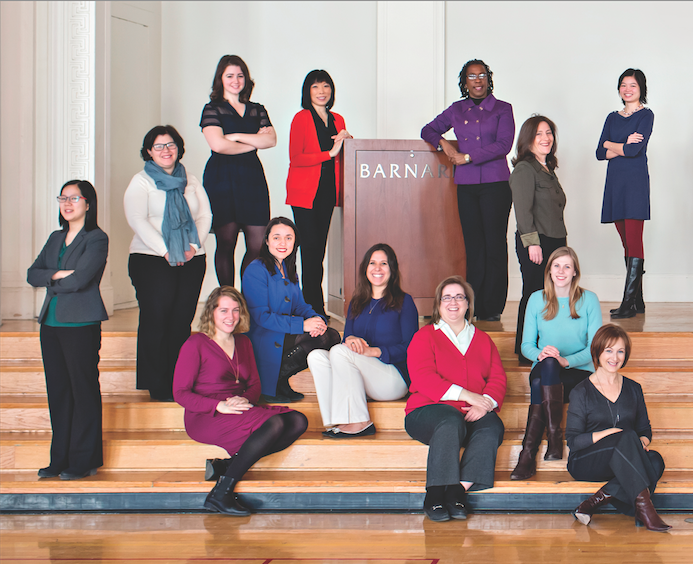 Standing, from left: Janet Lee '14, laboratory specialist, biology; Jennifer Fondiller '88, dean of admissions; Samantha Grecco '12, assistant, pre-college programs; Christina Kuan Tsu '83, dean of studies; Avis Hinkson '84, dean of the College; Julia Bonem '87, associate director, development; Stefie Gan '12, assistant, career development.
Seated, from left: Stephanie Browne '10, associate director, media relations; Jomysha Stephen '96, chief of staff and general counsel; Kathleen Christatos '07, assistant, alumnae relations; Christine Shin '84, counselor, career development; Hayley Peterson '12, development manager; Ann Dachs '81, admissions officer and pre-college programs director.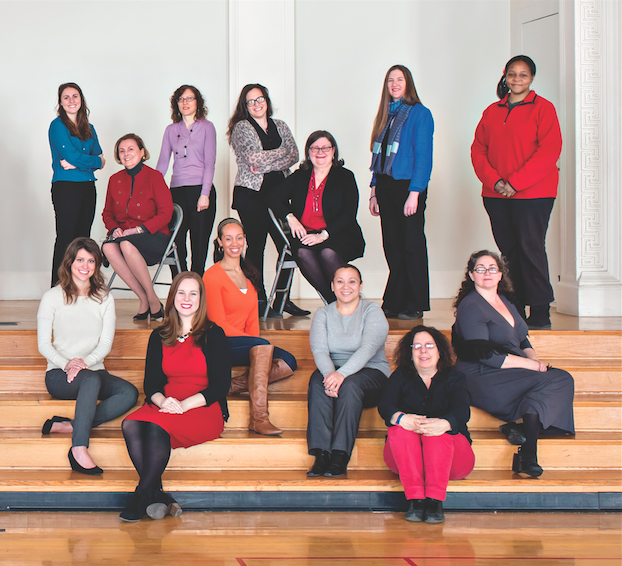 Standing, from left: Danielle Jakob '10, admissions officer; Deborah Braverman '84, senior associate director, development; Alexandra Fields '12, administrative assistant, English; Amanda Gates- Elston '04, events manager; Desiree Rodriguez '96, library assistant.
Seated, from left: Elisabetta Bruscagli '13, admissions counselor; Annette Stramesi Kahn '67, editor, Barnard Magazine; Kaley Hanenkrat '11, officer, institutional funding research; Celeste Rivera '04, manager, alumnae relations; Susan Seigle '67, manager, alumnae relations; Minerva Read '97, associate bursar; Raquel Solomon '79, department assistant, philosophy; Catherine Cook '86, department assistant, environmental science. 
—By Abigail Beshkin
—Photograph by Dorothy Hong