Hanging on the wall outside the southern entrance to LeFrak Gymnasium there's a small plaque, easy to miss if you're rushing through Barnard Hall on the way to class or a meeting. Reading simply, "In commemoration of the last public speech of Malcolm X, given on February 18, 1965 in this gymnasium," the plaque marks a major event in the College's history. At 1 o'clock on that day, the civil rights activist addressed a gym packed with about 1,500 Barnard and Columbia students and faculty, telling them, "I would rather be dead than have somebody deprive me of my rights." Three days later, on February 21, Malcolm X was assassinated while speaking at the Audubon Ballroom in Washington Heights.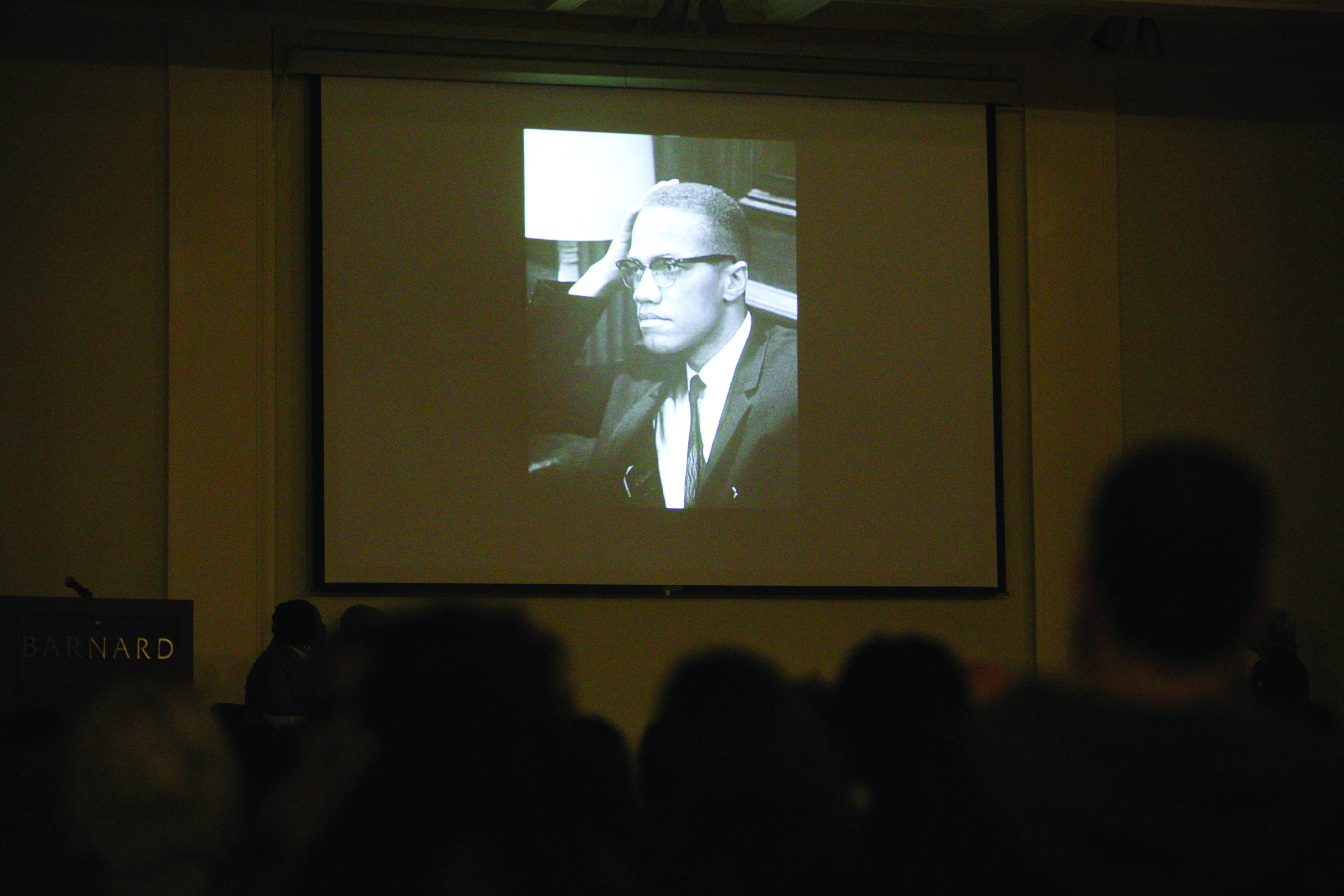 At the event, the audience views archival footage of Malcom X.
---
REMEMBERING THE DAY
Fifty years later to the day, alumnae, students, faculty, staff, and members of the public gathered in LeFrak to mark the speech's anniversary. The event, Malcolm X at Barnard 1965/2015, featured talks by leading Malcolm X scholars: Stephen Tuck of the University of Oxford; Bayyinah Jeffries of Ohio University; and Bryan Epps, executive director of the Malcolm X & Dr. Betty Shabazz Memorial and Educational Center.The audience also heard from two alumnae who, perhaps unwittingly, made Barnard history by organizing Malcolm X's visit.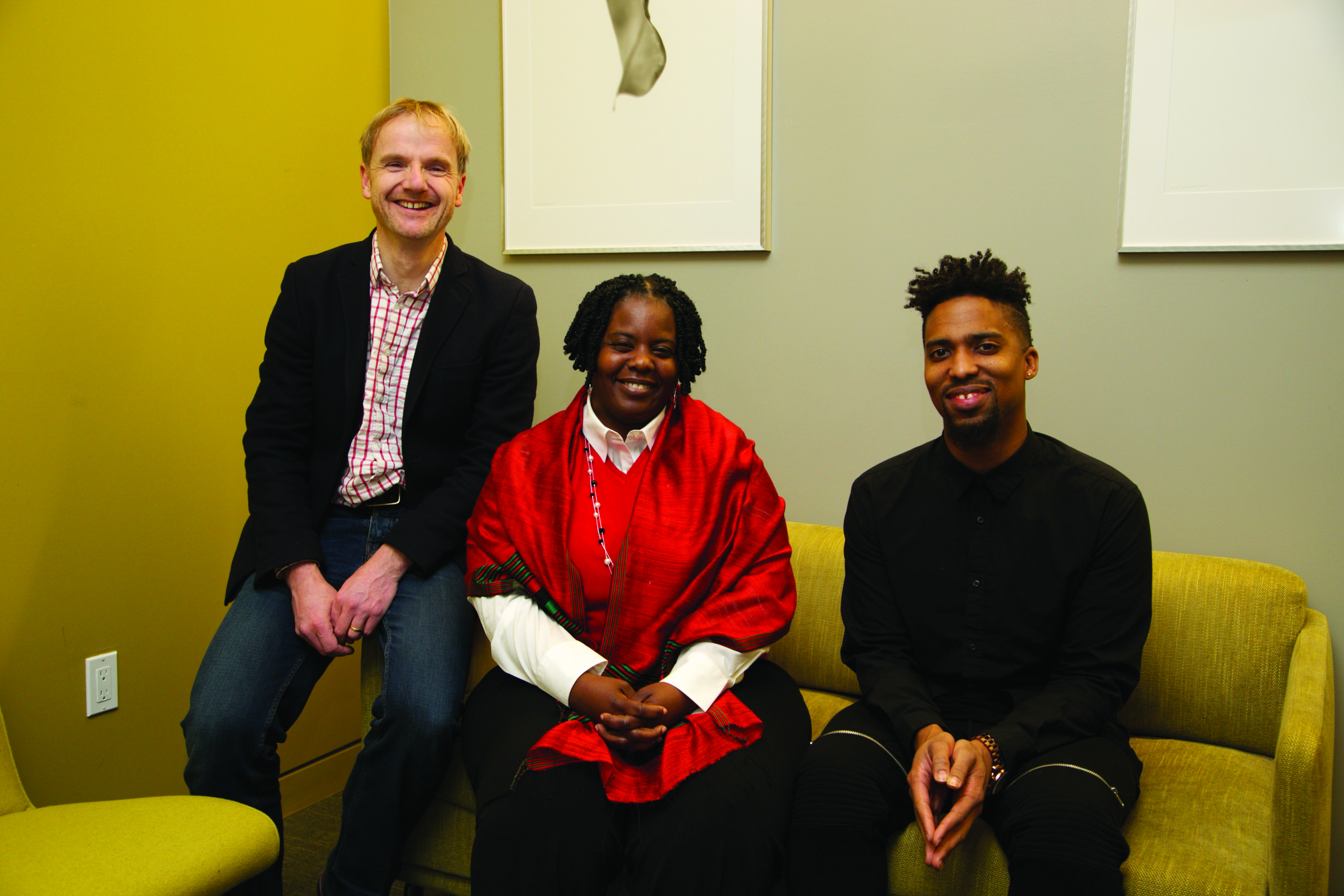 Stephen Tuck, professor at the University of Oxford; Bayyinah Jeffries, assistant professor, Ohio University; and Bryan Epps, executive director, Malcolm X and Dr. Betty Shabazz Memorial and Educational Center
In 1965, Jane Relin '66 and Ellen Wolkin Friedman '66 were part of the Student Exchange Committee, an organization that educated students about the civil rights movement. On school breaks Relin, Friedman, and other committee members traveled to southern colleges to witness segregation firsthand; then, they would welcome southern students to visit integrated schools in New York and meet with other activists and policy makers. "Civil rights was the most interesting thing, the most challenging issue that was on the table at that time," said Relin, now a social worker in Washington state.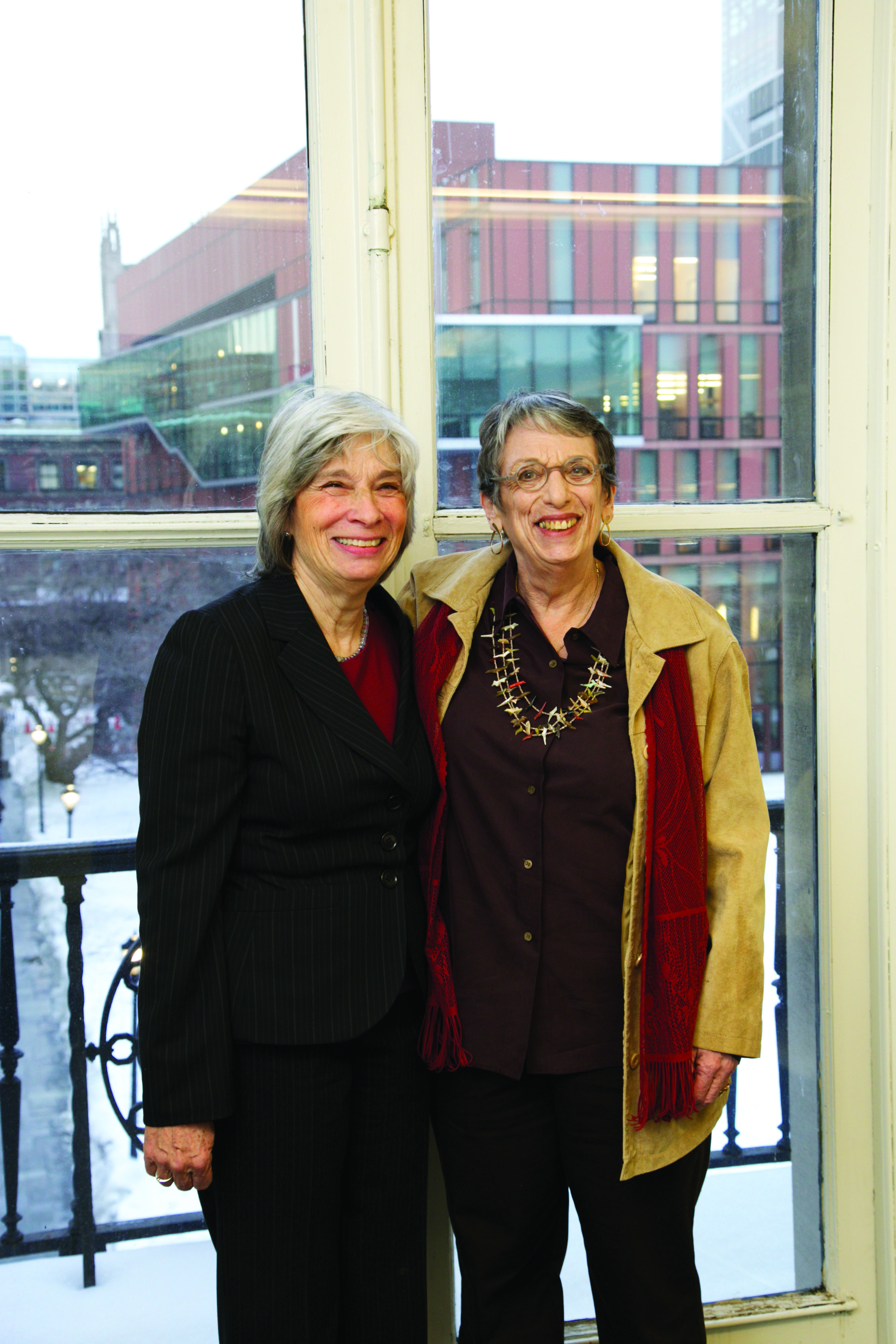 Ellen Wolkin Friedman and Jane Rellin, both Class of '66.
They wanted to organize a public event. "We decided that we would go for people in the news," Relin recalled. "I started writing letters in the spring and then, when we came back in the fall, the person who seemed to show the most interest, and seemed to be the most interesting for us, was Malcolm X." As it happens, their efforts coincided with a radical shift in Malcolm X's personal and political philosophy.
Having risen to prominence preaching black separatism for the Nation of Islam, a religion that combines elements of Islam and black nationalism, Malcolm X became disillusioned with the movement. At the event, Bayyinah Jeffries spoke about Malcolm X in the context of the controversial Nation of Islam. "The Nation of Islam was by no means a perfect society, as Malcolm X would attest to. But it certainly offered many a purpose and direction, something to strive towards. It provided peace and security from white assaults and it changed many lives for the better, which Malcolm X witnessed, and his accomplishments confirmed," she told the audience. Still, Malcolm X broke with the movement formally in December 1963.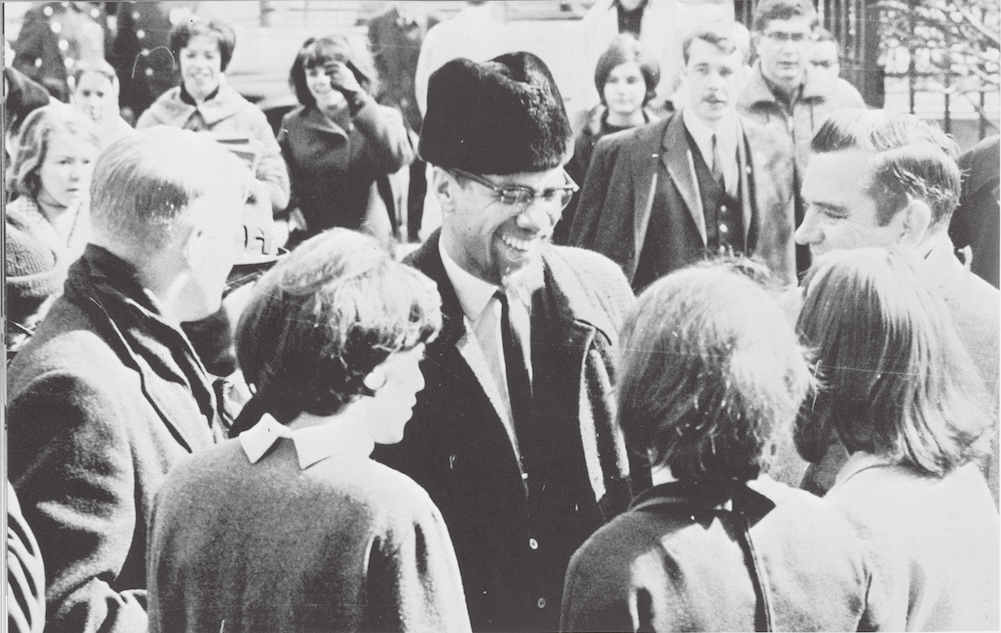 Malcolm X is greeted by students and the press on his way to the Barnard Hall gymnasium on February 18, 1965, just before he delivered what would become his last public speech. (The gym was dedicated as the LeFrak Gymnasium in 1998.) Photograph courtesy of Columbia University Archives.
In April 1964, he journeyed to Mecca and had his now-famous epiphany that led him to temper his separatist views and convert to traditional Islam. "Never have I witnessed such sincere hospitality and overwhelming spirit of true brotherhood as is practiced by people of all colors and races here in this Ancient Holy Land," he wrote in the famous Letter from Mecca.
It was against this backdrop that Malcolm X spoke at Barnard. "He was articulate, dynamic, riveting," recalled Friedman. "We had a feeling of a great leader, who could relate to the audience... He just won [them] over." When, three days later, they heard Malcolm X had been shot, said Friedman, "It was like we had lost a friend."
This ability to connect with people was a talent of Malcolm X's, Bryan Epps said at the anniversary discussion. "Malcolm was a progressive. His legacy is one that calls us to be as well. He found success as a progressive in his ability to connect with people, to meet with them where they were, whether it was here at Barnard, or in prison cells upstate."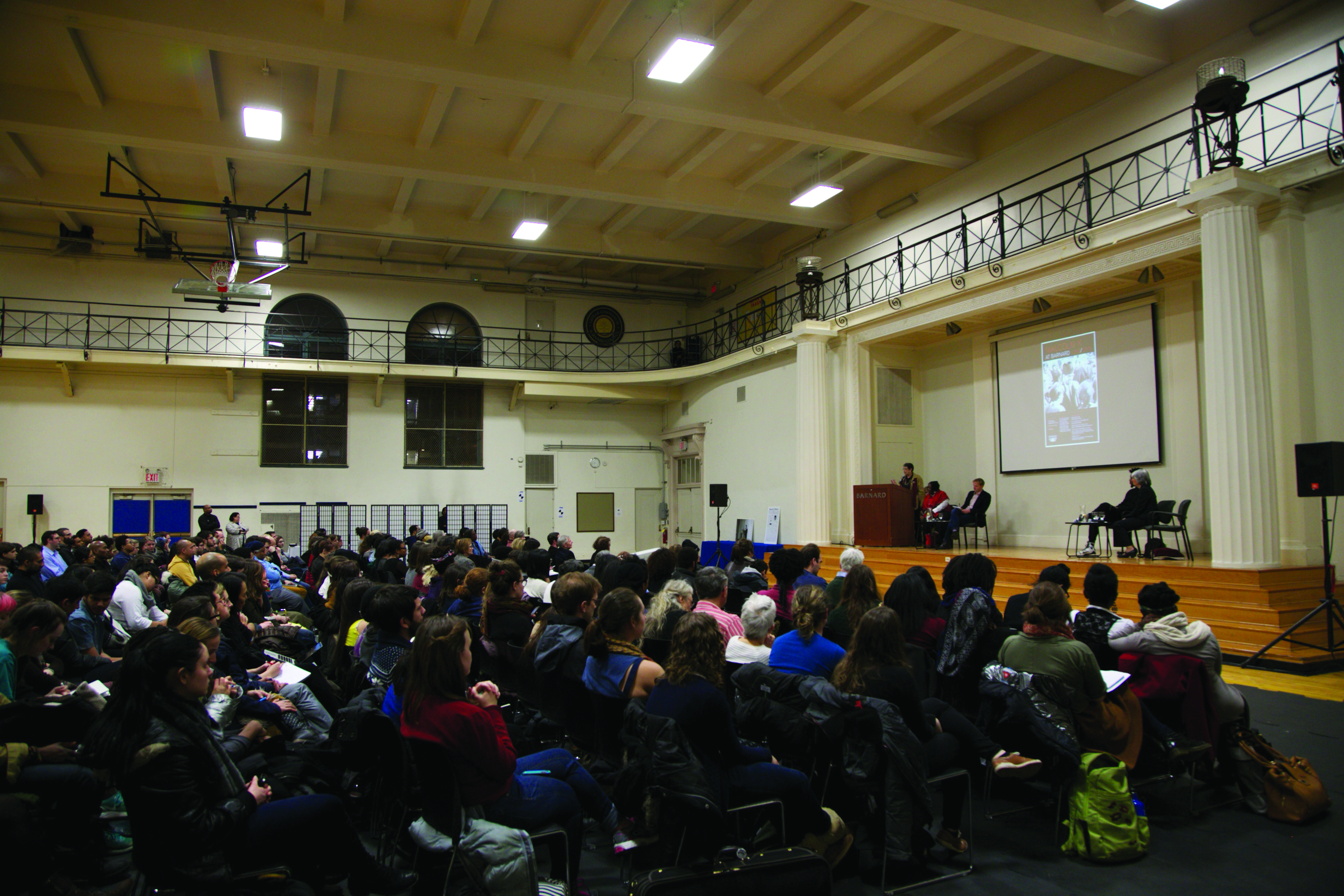 At the LeFrak Gymnasium, on the 50th anniversary of Malcom X's last public speech
---
MALCOLM X AT BARNARD 1965/2015
It was the unobtrusive plaque outside LeFrak that inspired this year's commemoration, said Jennie Kassanoff, associate professor of English and director of the American studies program, who organized the event with Monica L. Miller, associate professor of English. "I have always walked by that plaque and just thought it was amazing, and remarkable, and obscure, and curiosity-producing. I have always wanted to understand more."
Added Miller, "Jennie and I have always been intrigued by [the plaque], because it seems like an odd fit. I mean, why would Malcolm X have come to Barnard College?" Yet, in putting on the event, they discovered that Barnard was exactly the type of institution where he relished speaking, especially as he began to adopt a more inclusive approach. "Malcolm X enjoyed dialoguing with students, because he understood that they had a particular stake in the future, and he was very interested in talking to them about...what their vision of the world was...and what they felt like they wanted to do for a different future."
In fact, just over a month before Malcolm X spoke at the College, he was in England debating in the hallowed halls of the Oxford Union, which Stephen Tuck said was thought of as "the most prestigious debating chamber in the world." Tuck, author of The Night Malcolm X Spoke at the Oxford Union: A Transatlantic Story of Antiracist Protest (University of California Press, 2014), told the audience at the Barnard event that the Oxford debate started out as confrontational. "Malcolm X later said that that was the closest he got to losing his cool in his adult life," said Tuck. But he ultimately matched wits with his opponents. "Everyone I've spoken with said, 'He wowed us, he amazed us, we didn't know someone could speak like that who hadn't come from this side of the pond,'" explained Tuck. "Little did they know he'd learned Shakespeare in prison and he hadn't had a formal education."
It was perhaps because Malcolm X was self-educated, said Kassanoff, that he developed one of his most defining traits—"He wasn't afraid to change his mind. That willingness to entertain new ideas, new experiences, and to take old truths, old certainties and reevaluate them, was really striking to me." In a
way, that was what Relin and Friedman did by inviting the arguably controversial figure to campus—a move they later had to explain to the board of trustees. Like Malcolm X, said Kassanoff, the two students "were both interested in gaining knowledge, in reevaluating old certainties, in testing, perhaps, old prejudices.That idea of a dynamic evolution really struck me as being the essence of this story."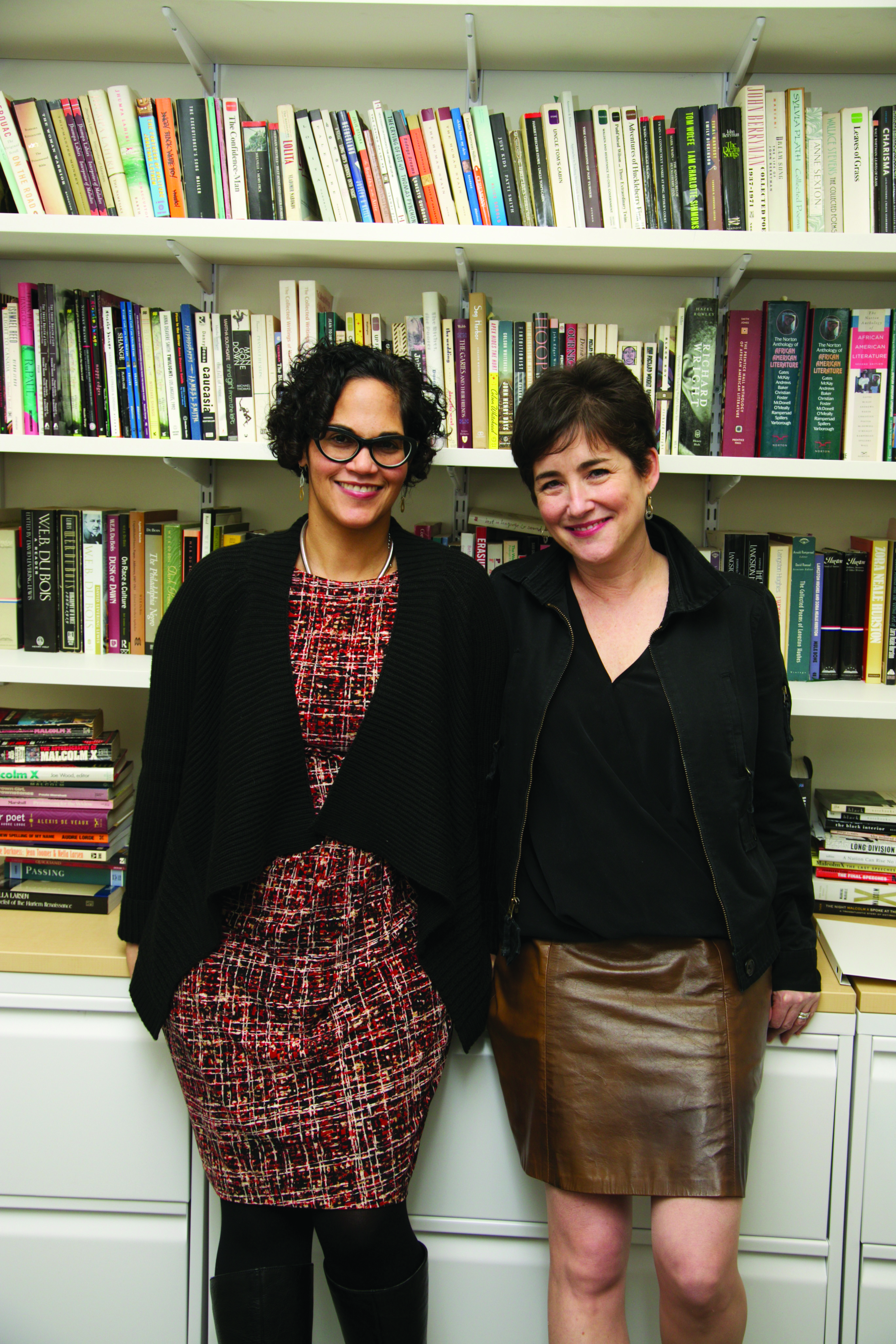 right: Monica L. Miller, associate professor of English, and Jennie Kassanoff, associate professor of English and director of the American studies program
---
BUILDING THE BARNARD ARCHIVE
If telling the story of Malcolm X's last public speech was one reason for organizing the commemoration, professors Kassanoff and Miller had an additional goal—to help grow Barnard's archive, especially relating to Barnard's black women's history. "We said, 'We want to have reminiscences from people who were there, and we'd also like to figure out what the black students were doing at the time,'" explained Miller. The professors sent e-mails to graduates from the classes of 1965–1968 and asked them to send in their recollections of Malcolm X's visit. "People have written in, 'I was there...I remember I was mesmerized, I was intrigued, he was speaking in a way that was very hopeful,'" said Miller.
They learned that Barnard students of color would hear Malcolm X preach on Sundays and that he would, said Miller, "mention them by name, or say, 'Our Barnard and Columbia sisters are here.'" In this way, said Kassanoff, Malcolm X "was a national figure, he was an iconic figure, but he was also a local figure." They are still collecting memories, and plan to add them to Barnard's archives.
They scoured issues of the Barnard Bulletin and Columbia Daily Spectator, as well as the Barnard and Columbia archives, and found photos, as well as ABC-TV coverage of the event. They sent students to look in the archives of the NewYork Public Library's Schomburg Center for Research in Black Culture where, among other things, says Miller, "they found the letter that Jane and Ellen wrote to him, inviting him to tea." Miller and Kassanoff hope this archive will help future researchers; already students have expressed interested in learning more about the students of color who attended Barnard in the era of racial quotas and how, said Miller, "they bridged the various communities they were involved in during this incredibly tumultuous time in America's racial history."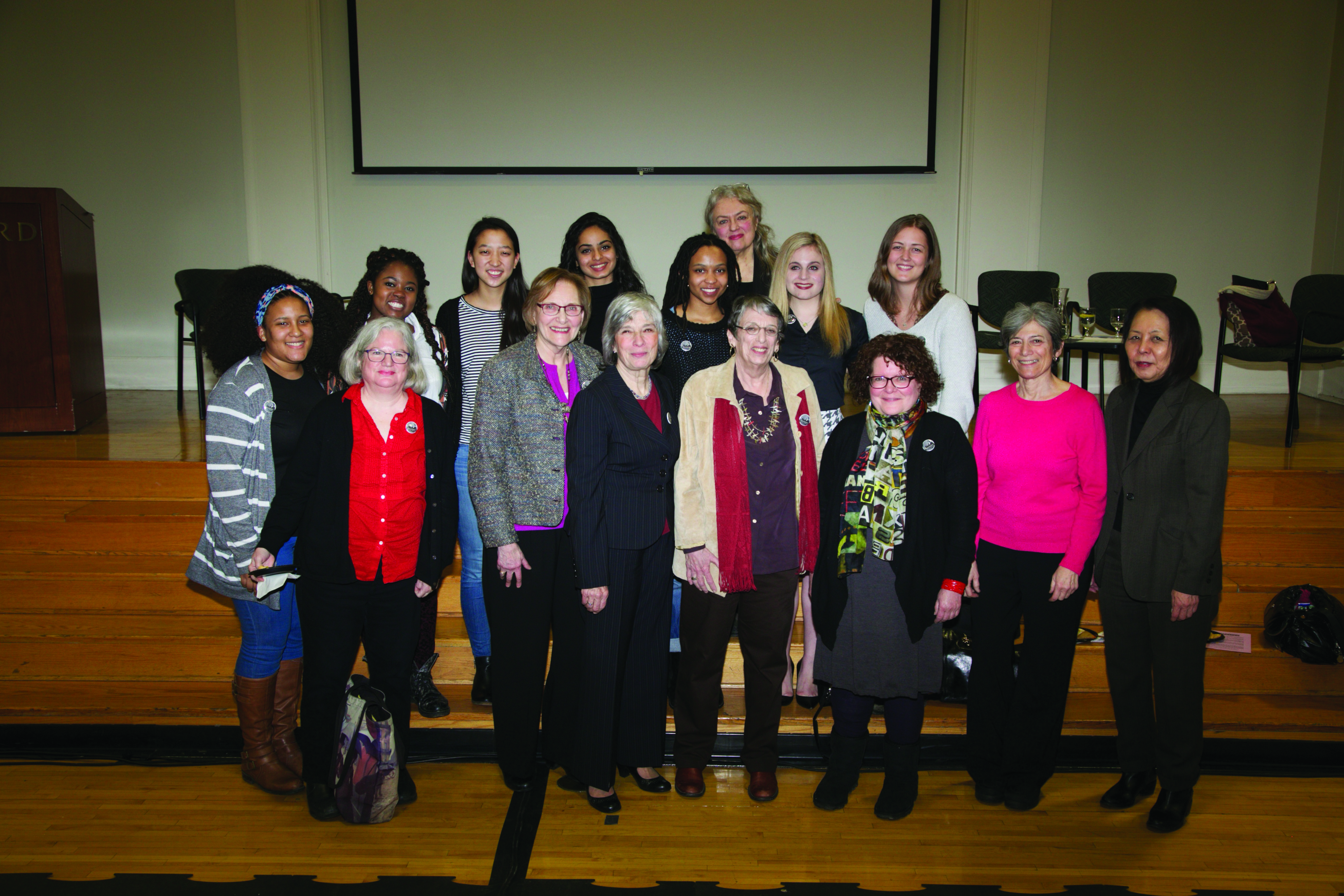 Student volunteers who helped organize the event, and alumnae attendees
About 10 students helped plan the anniversary event. Among them was American studies major Emma Goss '15, who led the effort to produce the video screened at the event. Shot in black-and- white, the video featured students reading excerpts from Malcolm X's speeches as well as photos found at Columbia. A short documentary was also shown that incorporated striking ABC footage of Malcolm X surrounded by students and doing an interview outside Barnard Hall.
"It was powerful to go into the campus coverage and see the anticipation and feel like it was happening again," said Goss. Because the anniversary was held in the gym just as the Malcolm X speech was, "It was easy to imagine what it was like when he came," Goss added. Gabrielle Davenport '15, an Africana studies major who helped come up with the concept for the video, wanted to learn more about this little-known piece of Barnard history. "I saw the plaque when I got here, and I was like, 'What?!'" She said working on the event helped her learn about "what that moment might have felt like. I can't get out of my head the fact that it was just a few days before he was assassinated."
Some attendees and speakers said that marking this milestone anniversary offered a chance to reflect on the state of race relations in the U.S., especially in light of recent high-profile incidents in Baltimore, Ferguson, Mo., Cleveland, and elsewhere. Said Kassanoff: "If they are struck by the relevance of his words, I hope they will see this as a call to action on questions of social inequality in our own neighborhood and get involved." She continued, "I would add that Malcolm X came to Barnard. And maybe that gives us here at Barnard aresponsibilitytogotoMalcolm, to go to the issues he cared about."
—By Abigail Beshkin
—Event photographs by Samuel Stuart