One of the many advantages that students value about their Barnard experience is the opportunity to compete in NCAA Division I Athletics through the Columbia-Barnard Athletic Consortium. Barnard is the only college for women — and one of only a few liberal arts colleges in the country — to offer Division I athletics.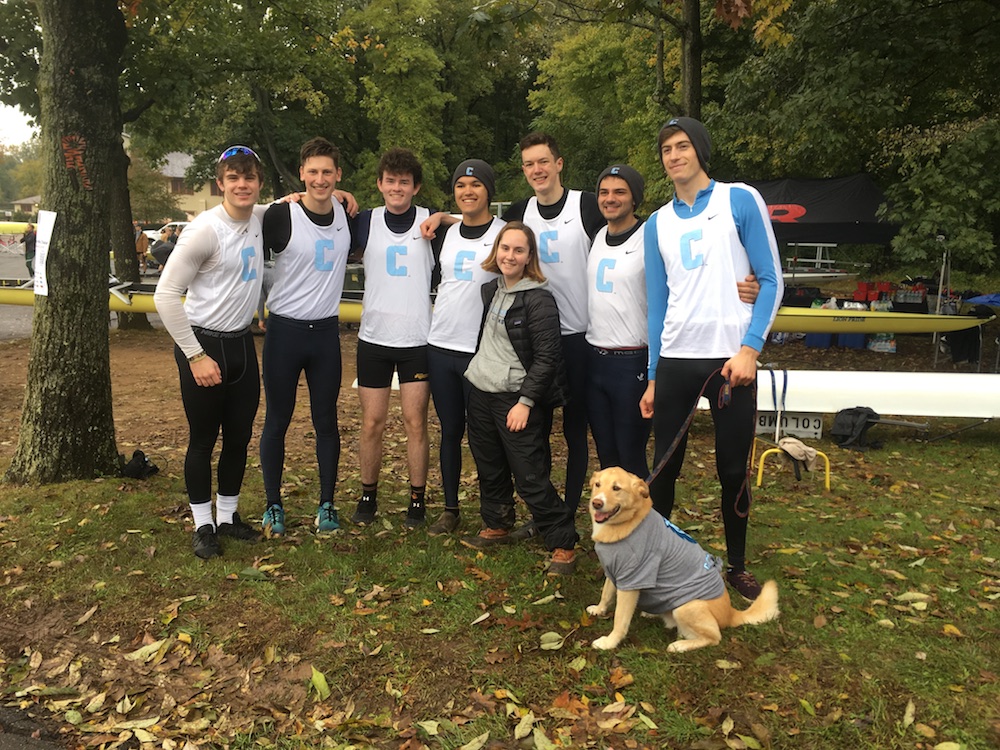 Our interview with Maya Esberg '22 is the newest installment in an ongoing scholar-athlete series. Maya hails from Philadelphia and is a coxswain on the men's heavyweight rowing team.
How has being an athlete informed your college experience?
Being on an athletic team in college means you automatically have a group of people looking out for your best interests from Day 1. It brings a sense of security and community. As a first-year, I have a lot of mentorship from my teammates who are sophomores, juniors, and seniors. Being able to turn to them when I struggle or am confused is an invaluable component of my life here at Barnard. My teammates have helped me navigate course sign-ups and have talked me through picking a major. I think it's always important to have friends who know what your day-to-life looks like and get it.
When you are not competing or studying, what do you like to do?
I love listening to podcasts! My favorite kinds are comedy and true crime. Also, in and out of classes I am constantly thinking about identity, intersectionality, and social justice. I love talking to my friends about their life experiences and their cultures because everyone here comes from a different background, and I like to challenge myself to be more understanding of others.
How has being a student at Barnard expanded your academic interests?
I came into my first semester planning to major in chemistry because I loved it in high school. But since I've been here, I've realized that there are other ways to pursue STEM beyond majoring in the "hard" sciences. I much prefer the writing involved in "soft" sciences and humanities classes to the kind of report-writing needed for a chemistry major. I'm still not sure what I want to major in, so this semester I'm taking a few introductory classes to figure that out. Additionally, I am pursuing the pre-health track because I like the classes it offers. Being at Barnard has helped me to realize the truly gigantic scope of opportunities I can take advantage of post-graduation that aren't necessarily the typical work-in-a-lab-get-published-get-a-PhD trajectory that I previously thought was necessary to work in STEM.
What do you most look forward to this semester?
Academically, I am most looking forward to exploring the possibilities for my major. Athletically, I am really excited for the spring because it will be my first real racing season as a college athlete! Sprint races, which we do this season, are my favorite because they're so exciting; so much can change because of the shortness of the race itself. My rowers have been working hard so far this winter, and I can't wait to see where it takes us in the spring.
How did you become interested in becoming a coxswain, and how did you land on a men's team?
In high school, I was a lightweight rower for my high school team. The kind of rowing I did for most of high school didn't require coxswains, so I didn't really think about their role until the end of my junior year. At that time, it was becoming pretty clear that I wasn't fast enough (or tall enough!) to be a competitive lightweight rower in college, but I loved the sport too much to give it up. Luckily, the following fall turned out to be first time in my team's history that we needed a coxswain for an important race [in Boston], Head of the Charles Regatta. My coach agreed to put me in as the coxswain for our women's quad, and I served in that role for the rest of the season.
Last spring, when I decided to matriculate at Barnard, I knew I wanted to be a coxswain and that I had the experience to be able to walk on, so I sent out emails to a few of the coaches on the men's and women's teams at Columbia. I visited the women's team and the men's heavyweight team to talk to their coaches and meet some of their rowers. Both visits were extremely positive, and I ended up choosing the men's team. I couldn't be happier with where I am now.