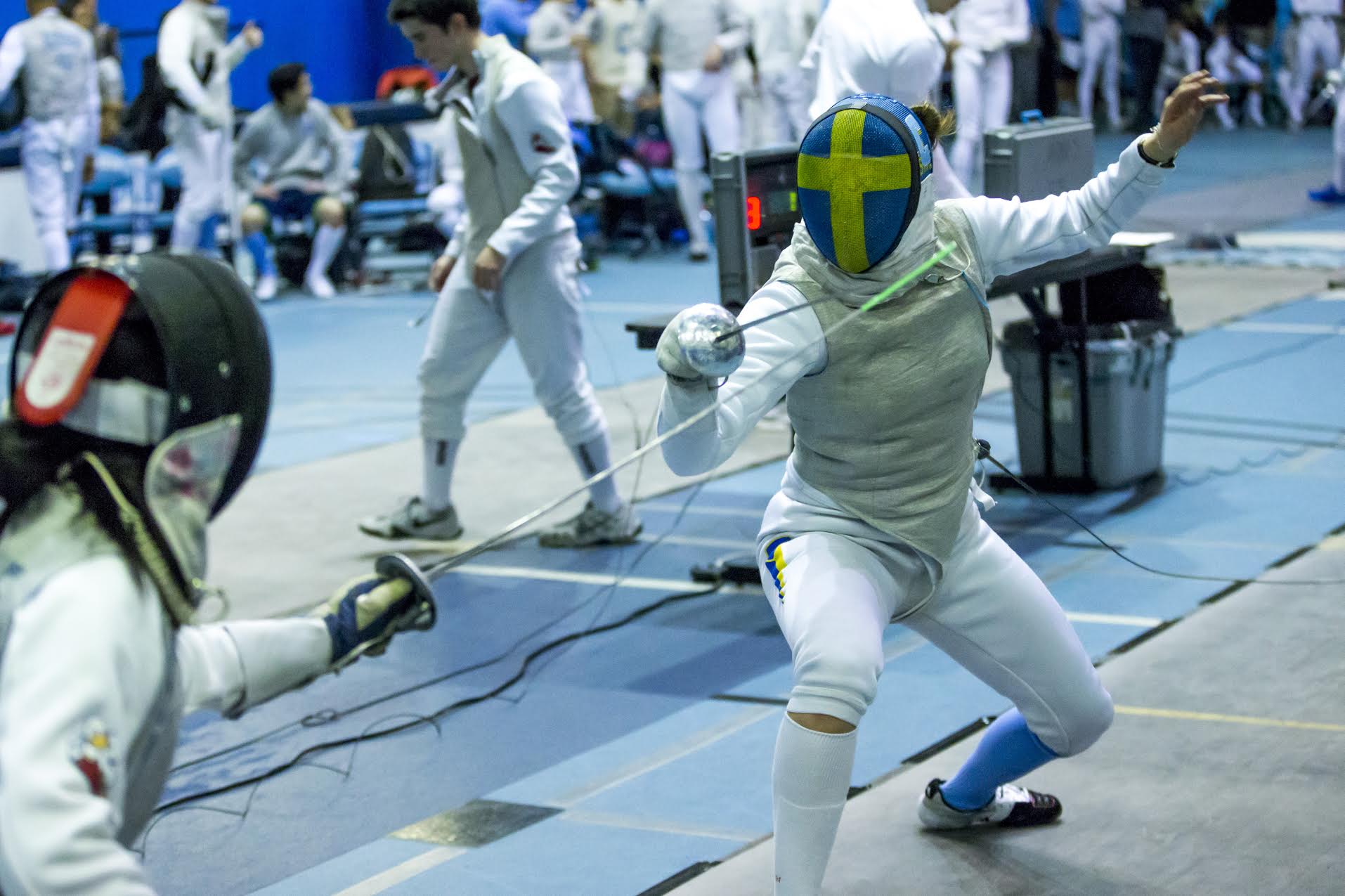 One of the many aspects students value about their Barnard experience is the opportunity to compete in NCAA Division I Athletics through the Columbia/Barnard Athletic Consortium. Barnard is the only women's college—and one of only a few liberal arts colleges—to offer Division I athletics. This is the fourth profile in our scholar-athlete series. (Our most recent profile was of diver Isabel Weiss '18.)
Here we feature Ester Schreiber '20, a native of Sweden and Swedish Senior National Champion in 2014 and 2015. She is a key contributor to the Columbia Women's Fencing Team, which tallied a perfect 6-0 record this year to earn its eleventh Ivy League Women's Fencing Championship.
Why did you choose Barnard?
When looking for a university to attend outside of Sweden, I wanted to combine a great academic environment and a great fencing environment. When visiting Barnard, I enjoyed the feeling of coziness that the college gave in the midst of the big university and the great city. Barnard was very appealing for its academic excellence and the Columbia/Barnard fencing program that is one of the country's absolute best. It was an obvious choice for me as a women's foilist (one of the three weapons in fencing).The fact that Barnard is a women's college was daunting to me at first, but I soon came to realize the amazing engagement and power generated by the unity of women in an otherwise highly competitive setting.
What are you studying and why?
I am pursuing a major in architecture with a minor in philosophy. Architecture is of interest to me as it has the capacity of combining aesthetic, practical, and sociological issues. I find myself easily admiring clever designs and staring in awe at beautiful buildings, but I also appreciate the ways in which architecture can help redesign spaces and landscapes and thus be a driving factor in the renegotiation of power and inequalities in society.
Philosophy has and will always fascinate me in a different way. I deeply cherish the power of thought and the importance of arguing and discussing abstract and less abstract matters. I also believe that certain types of philosophy are useful for creating general understanding and accepting of the other, something much needed in today's political climate.
I would love to succeed in combining these two interests, and I think Barnard can give me the means to do so.
Aside from athletics and academics, what else do you do for fun?
For fun, I enjoy using my hands and crafting small things. I sometimes sketch, and I recently rediscovered the meditative aspects of knitting and listening to podcasts. Back home I would occasionally stumble upon some long-lost modeling clay found in a dark cupboard and end up devoting an entire day sculpting with it. I also like watching semi-intelligent TV shows and can devote hours to look at clips of cute animals (baby goats being my favorites)! When I have time, I go on mini-adventures with my friends to discover some new bakery or park in this huge city.
With regard to fencing, what are you most proud of and why?
I am very proud of some of my individual results, including my two top 8 finishes at the Junior European Championships in 2015 and 2016. More recently, I am extremely proud to have helped the Columbia Fencing Team towards an Ivy League Title this past February! It is such an honor to be a part of this team that has such a hard-working, strong, and positive energy.
However, what I am most proud of is to be an athlete in general and a role model to some. I love being able to show younger children—and especially girls—that women can be strong and active and have all the agency that we are often deprived of in media and society. This will sound cheesy, but it always fills me with happiness to see children discover fencing for the first time, to teach them how to use the blade and to watch them progress by the minute. That spark in their eye as they hold a foil for the first time makes me proud to be a part of the fencing community.
Meet more of Barnard's athletes and scholars.