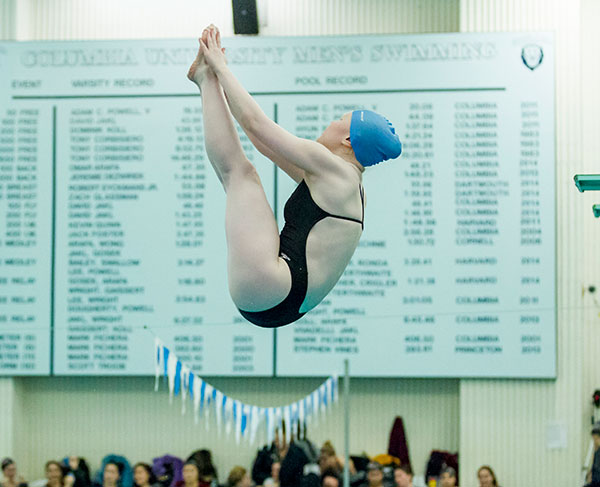 One of the many things students value about their Barnard experience is the opportunity to compete in NCAA Division I Athletics through the Columbia/Barnard Athletic Consortium. Barnard is the only women's college—and one of only a few liberal arts colleges—to offer Division I athletics. This is the third profile in our scholar-athlete series. (Our first profile was of Adele Bernhard '18, women's squash, and our second profile was of Shalon Conley '18, women's track and field.)
Here we feature Isabel Weiss '18, a diving star double-majoring in Economics and East Asian Studies. A key contributor to the Columbia Women's Swimming & Diving Team, she dove at her last meet on February 3, in which Columbia beat Dartmouth 175 to 114.
Why did you choose Barnard?
Barnard was everything I wanted all in one school: liberal arts school, university setting, Division I athletics, New York City.
What are you studying and why?
I'm double-majoring in economics and East Asian studies. Having studied Mandarin for many years, I was looking for a major that could bring my career to Asia. I am fluent in Mandarin and am learning Cantonese. When I graduate, I'll be moving to Hong Kong to work at Goldman Sachs on the electronic trading desk.
Aside from athletics and academics, is there anything else you do for fun?
Outside of the pool, I work in the Beyond Barnard office helping my peers create professional résumés and cover letters. I love having a tangible impact on the careers of fellow Barnard women.
This year, I modeled in a student fashion show! I'm also a part of the Barnard Clay Collective, so I do my best to spend my free moments throwing pots in the ceramics studio.
How did you first become interested in diving?
Like many divers, I started out as a gymnast. When I attended boarding high school, I tried diving and pole vaulting, and diving was more fun.
With regard to diving, what are you most proud of and why?
I'm proud of the culture that my class has fostered on the diving team. This year, we sent out a team holiday card! If that doesn't make us a family, I don't know what does.