One of the many advantages that students value about their Barnard experience is the opportunity to compete in NCAA Division I Athletics through the Columbia-Barnard Athletic Consortium. Barnard is the only college for women to offer Division I athletics.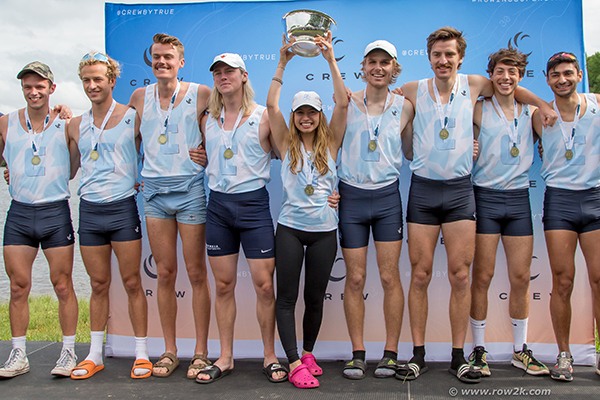 Our interview with Isabella (Bella) Pascal Zionts '19 is the latest installment in an ongoing student-athlete series. On April 11, 2019, Zionts, who is a coxswain on the Columbia Lightweight Rowing team, was one of two crew members chosen to participate in the 2019 Under 23 Men's and Women's National Team Selection Camps this summer, making her the first woman ever to be selected to a men's camp in USRowing history. If selected, the two Lions will represent the United States at the World Rowing Championships, July 24-28, in Sarasota-Bradenton, Florida.
On May 7, 2019, at the Columbia Athletics 98th Annual Varsity C Celebration, Zionts received the Karen Blank Award, "which honors the top senior female student-athlete enrolled at Barnard College who exemplifies the qualities of academic success, athletic achievement, strong sporting behavior & commitment to community."
After graduation, the anthropology major and native of Buffalo, New York, plans to travel to California for the National Championship, and then Seattle to train with the U.S. Under 23 Men's National Team. 
How does it feel to be a Karen Blank Award winner and one of two Lion team members chosen to participate in the USRowing U23 Selection Camp?
I'm passionate about academics as well as rowing, and so grateful that Barnard and Columbia have given me the tools to excel in the classroom and on the water.
I'm thrilled to have the opportunity to represent the United States, Columbia lightweight rowing, and Barnard. The camp has never invited a woman before, so it feels surreal. Last year, before the IRA National Championship, I was thinking how Columbia had never had a female national champion in rowing before and that I wanted to win, not just for the boat or the team but to pave the way for other women coxswains and to show other teams and programs that women make exceptional coxswains. Unfortunately, it's uncommon to have a woman sitting in the varsity coxswain's seat of a men's team, though Columbia is an exception; both the heavyweight and lightweight teams elected women as captains this year.  
So to represent the United States would mean a lot because I'd also be showing younger women coxswains that they can do this. 
How did you first become interested in rowing?
When I was 13, my mom and I were at a school picnic, and a huge guy came up to my mom and asked, "Is that your daughter? She's small and bossy." The next year, while we were at the same picnic, the same man approached us and told my mom I'd make a good coxswain, so I tried out for my high school team.  
No one is naturally good at rowing or coxing, but the only thing we all can do to improve is to work hard and learn faster than your competition, and I love that. I also love the teamwork. In a boat, there are eight rowers and one coxswain, and without any one of those individuals, the boat can't leave the dock. I am a coxswain, which means that I steer the boat and call the race. I strategize on the spot and communicate necessary information to the rowers, such as technical corrections, where we are in the field, and where we will make our tactical, winning moves. Because the rowers are all sitting backwards and can't see what's going on, they trust me to steer a straight, safe course and to make crucial yet instantaneous decisions for us.  
Coxing has made me more confident; I'm rarely afraid to speak up in class. On the water, I am very demanding — not bossy — but I also have to negotiate with the boat. The rowers might have eight different ideas about how to win, but to succeed we need consensus. It's my job to help find that sweet spot.  
How has being an athlete informed your college experience?
Being on the team necessitates excellent time management skills. As an athlete, I have to figure out how to get all my assignments done around practices and races. I often try to write papers and study for midterms weeks in advance so that I can focus on racing. I'm actually writing my senior thesis on female coxswains of men's rowing teams. 
When you're not competing or studying, what do you like to do?
I like to explore New York. The Museum of Modern Art is my happy place. I walk around it for hours. I also write short prose pieces and photograph people I love. And I love plants; I have at least 20.