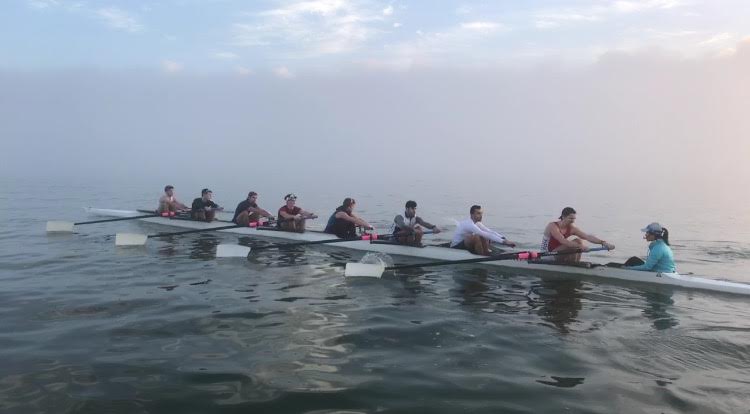 One of the many aspects students value about their Barnard experience is the opportunity to compete in NCAA Division I Athletics through the Columbia/Barnard Athletic Consortium. Barnard is the only women's college—and one of only a few liberal arts colleges—to offer Division I athletics. This is the fifth profile in our scholar-athlete series. (Our most recent profile was of fencer Ester Schreiber '20.)
Here we feature Yudi Liu '19, the coxswain on the Columbia Men's Lightweight Rowing Team. She hails from Boston and is majoring in English with a concentration in creative writing, while also pursuing the pre-med program.
Why did you choose Barnard?
Initially, I applied to Barnard regular decision because I wanted a small liberal arts college and a big city experience. I chose Barnard ultimately because of the Accepted Students Weekend that I attended. The College made an impressive effort to include students of color by inviting them to visit a day earlier. This tailored focus is the kind of social justice/equity work that I value in a college administration. I got to meet such talented and interesting prospective students and faculty. The trip helped me envision myself calling Barnard home.  
What are you studying and why?
I am an English major applying for the creative writing concentration. I am also a pre-medical student with future plans to get my medical and master of public health degrees.
I love the exactness of science; there is always a correct answer. I am fascinated with the human body; it is kind of crazy when you think about how our bodies maintain homeostasis as we go about our daily lives.
My favorite author, Jhumpa Lahiri '89, is a Barnard alumna. My favorite texts are those about the immigrant experience because I am one myself. (I was born in China and moved here when I was four.) Unlike science, English is a subject where there is no one answer—to me that is both exciting and challenging. I enjoy creative writing because it allows you to mold your personal experiences into a shareable form of art.
Aside from rowing and academics, what else do you do for fun?
I try to make time for myself. I like wandering the New York City streets and walking into random stores. I get really excited when I find a used bookstore. Another thing that keeps me grounded are runs along the Hudson River or in Central Park. Sometimes I run down to Trader Joe's or Whole Foods and grocery shop, which might sound banal, but that productivity makes me really happy.
With regard to rowing, what are you most proud of and why?
I was a "walk-on" with no prior experience as a coxswain. It was especially hard being the coxswain out of eight other coxswains who did not know what she was doing! But I am stubborn and competitive. I love the team atmosphere and knew that I wanted to incorporate that into my college experience. So, over the next two summers (before my sophomore and junior years) I coxed on the Charles River to learn and improve. Waking up at 5 a.m. is not easy! But that extra practice time helped. I am now more confident and experienced.
How did you land on the men's team, and what do you want people to know about this experience?
During NSOP, an orientation leader and I got to talking, and I mentioned that my school back in Boston was huge on rowing. I had almost joined the rowing team but instead chose sailing. He mentioned that he was a lightweight rower and suggested that I try to walk on as a coxswain. I took his suggestion and contacted the head coach, Nich Lee Parker, who welcomed me onto the team.
Being a varsity athlete is a challenge. I devote upwards of 25 to 30 hours per week during racing season in the spring, though my involvement is year-round. Just as it has been challenging, it also has been a privilege. As a woman on the men's team, I have learned so much about communication and trust, as they play important roles in relationships on and off the water. The bonds you form are different than casual friendships: more complex, difficult, and yet rewarding because everyone on the team shares a vision. It is hard to put into words such a unique atmosphere and experience.