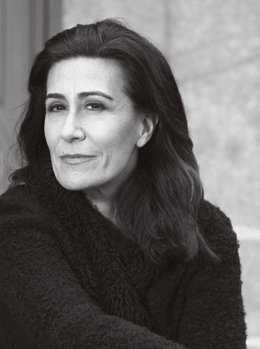 In musical theatre, an industry where talent and hard work don't always receive rewards or recognition, Jeanine Tesori '83 has garnered both critical acclaim and popular success: her scores for Twelfth Night at Lincoln Center, Thoroughly Modern Millie, Shrek The Musical, and Caroline, or Change earned Tony nominations, with the music for Caroline, or Change earning Drama Desk and Olivier awards.
Though Tesori acknowledges she "loved doing" the big shows like Millie and the musical version of Shrek, she's shifted her attention from the more commercial to smaller, lesser-known shows. Recently named artistic director of New York City Center's Encores! Off-Center series, which presents revivals of non-traditional and off-Broadway musicals, Tesori is committed to this initiative for the next two years. Her first season this past summer featured Violet, her first original show that premiered at Playwrights Horizon in 1997; The Cradle Will Rock, by Marc Blitzstein; and Gretchen Cryer's and Nancy Ford's I'm Getting My Act Together and Taking it on the Road.
"I have such affection for these shows," says Tesori, whose first theatre experience was seeing Godspell off-Broadway as a 14-year-old. "I learned about shows by going to off-Broadway performances." She describes one of the appeals of her new City Center position, "It's a very good thing to stand for other people's work with the same enthusiasm as one has for one's own work." Another attraction about presenting the material is that it speaks to her interest in writing "for the marginalized, the disenfranchised, the invisible. I feel like I'm doing my part to build the community to see works that matter."
During the Encores! Off Center summer season, Tesori also developed The Lobby Project, which allowed performance-goers to see free preperformance art events related to the particular production on stage. "It was an outreach program, meant to be energizing for people who didn't know City Center," she explains. Another aspect of the project: offering $25 seats for performances, and inviting teenage artists to participate. "It's all about breaking down theatrical barriers," she says. "It's about making those institutions available."
Tesori's musical talents aren't confined to the theatre. She has written for film and DVD releases as well, including songs for Mulan II, Shrek the Third, Lilo & Stitch II, and The Little Mermaid: Ariel's Beginning, as well as scores for movies like Nights in Rodanthe and Winds of Change.
Her relentless focus on stretching artistic boundaries and attempting new work has led her to expand into other musical forms. She's written an opera version of the children's book, The Lion, The Unicorn and Me by Jeanette Winterson, which is opening December 14 at the John F. Kennedy Center for the Performing Arts in Washington, D.C. With her friend and collaborator, Tony Kushner, Tesori wrote the opera, A Blizzard on Marblehead Neck, which she conducted at the Glimmerglass Festival in Cooperstown, N.Y. Still, musical theatre remains her passion. She also wrote the music for the new musical based on the acclaimed graphic novel Fun Home by Alison Bechdel, which ran at the The Public Theater this fall.
"I have worn so many hats," says Tesori. "I'm so in love with the form. I'm amazed I can make a living in music."
It's also important for Tesori to give back to the next generation. She works with A BroaderWay Foundation, a nonprofit foundation whose mission is to offer youth from underserved communities an outlet for creativity through the arts; 40 to 60 girls go to camp in the Berkshires each summer for an immersion experience in musical theatre. "This is a huge part of my life," she says. She also teaches at Yale, where she "runs the class like a production meeting." Tesori "dumps a week of The New York Times on the table," and invites students to find a dramatic story. "There are 50 musicals in the paper," she adds.
Her focus as a teacher is having students see "where music meets storytelling. It's about collaboration. The hardest part is to work as a team, to stand for your ideas, and those of others, and understand the balance between being selfish and being generous. It's about how the ideas merge and make manifest the story."
As the daughter of a doctor, Tesori sees comparisons between what she does, and how doctors approach a diagnosis. "You use your experience to assess, and reassess, your ideas," she explains. Although she initially entered Barnard as a pre-med student, Tesori ended up as a music major. Her summer experience as a musical director at the Stagedoor Manor camp in upstate New York, where she ran 50 productions, made her realize she wanted to pursue a musical-theatre career. She readily acknowledges how Barnard set her ambition and career path. "Anything I learned…was either at Barnard or Columbia," she says, adding that she did cross Broadway to do the Columbia Varsity Show, but "everything started for me at Barnard."
Studying both classical and pop music as a piano student during her childhood, Tesori began her professional theatre career in a variety of roles. She served as orchestra conductor, pianist, and arranger for several off-Broadway and Broadway productions. Thanks to her Barnard dance classes, she also worked as a dance arranger for some shows. Ultimately she realized that she needed to express her own vision, and secluded herself for a year to write the music for Violet, with book and lyrics by Brian Crawley.
Ensuring that musical theatre remains vibrant and meaningful matters very much to her. "I want to make new work," affirms Tesori, who lives on the Upper West Side with her teenage daughter, Siena. "I'm very passionate about live theatre. I want to make work that makes me understand the world I'm in, where we come together in a live experience."
—Merri Rosenberg
—Photograph by Matthew Karas