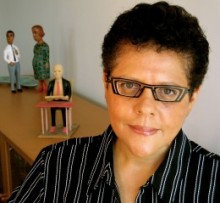 A new opera whose lyrics were co-written by Yvette Christiansë, professor of English and Africana studies, will debut at the Royal Opera House in London on July 22 before a sold-out audience. Christiansë wrote the libretto for Cities of Salt with Columbia anthropology professor Rosalind Morris; Zaid Jabri composed the music. Set in the 1930s, the opera follows a Bedouin community forced to leave their town when it is overtaken by oil prospectors. Read an article about the project in The Independent.
Morris and Christiansë conceived of the opera after reading the novel Cities of Salt by Abdelrahmin Munif, translated by Peter Theroux, and were convinced that it would reach people by humanizing the epic of geopolitical conflict and environmental destruction. They decided to collaborate with Jabri after listening to the work of over 200 contemporary composers.
"When we first approached Zaid the libretto was essentially complete, but we knew that some of the language would be acting as a placeholder for music. Our hope was always for a symbiotic relation between the verbal and the musical languages. From the first bars Zaid played for us on a Midi file, we knew that it was a perfect fit," Christiansë says.
Yvette Christiansë is a South African-born poet, novelist, and scholar. She is the author of two books of poetry: Imprendehora (published in South Africa by Kwela Books/Snail Press 2009) and Castaway (Duke University Press, 1999). She teaches poetry and prose of former English colonies (with an emphasis on South Africa, the Caribbean and Australia), narratives of African Diaspora, 20th Century African American Literatures, poetics and creative writing.