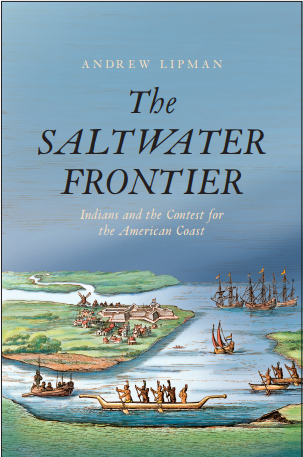 History professor Andrew Lipman recently published his first book, The Saltwater Frontier: Indians and the Contest for the American Coast (Yale University Press, 2015), providing a new perspective on the clash between Native tribes and European colonial forces in the seventeenth-century American Northeast. He approaches this topic through the lens of maritime history, considering the ways in which the Atlantic Ocean and other bodies of water in the Northeast impacted the struggle to declare sovereignty over the land. Below, Prof. Lipman answers questions about highlights from his research, including how we can still see the effects of this period on New York City today.

You draw an interesting link between the current global warming crisis and the colonial invasion that the Algonquian people faced in the seventeenth century. What other parallels do you see between this incident in history and our present social and/or political order?
I see stories in the news all the time that remind me of my research. Seventeenth-century American Indians and colonists also lived on a planet that was being transformed by global trade, pandemic disease, and ecological crises. Pretty much any armed conflict between large rich nations and smaller powers that function as loose networks bears some resemblance to the conflicts between European empires and Indians for control of North America.
Perhaps the story that fascinated me most was about recent Somali piracy off the Horn of Africa, which hit its peak just as I started writing this book. Those "pirates" came from coastal fishing villages that were impoverished after decades of civil war and facing international pollution and depletion of their fisheries. Every time I read about tiny motorboats attacking enormous container ships in the Red Sea or Indian Ocean, I was reminded of the many stories in my sources of Native Americans in dugout canoes raiding Dutch and English ships in places like the Hudson River and Long Island Sound.

You note that as a result of the colonization process, Native people were pushed out to a variety of locations—not just inland into the North American continent, but also seaward, towards Atlantic islands and even Europe. What was the most surprising anecdote that you uncovered in your research related to this fact?
One incident that stood out for me was the small group of Wampanoag Indians who were taken captive in King Philip's War, were later stranded in the city of Tangier in Africa in 1676. They found a passing English captain to deliver a letter to the Puritan missionary John Eliot, informing him of their plight and asking for his help in trying to get them back to their homelands.
In part that story speaks to me because it's such a human story of refugees just trying to find their way home. But as a historian it interests me because it shows the surprisingly global aftermath of this infamous moment in New England's colonial past. Not all American Indian history takes place on North America.

You mention that certain physical attributes of the New York and New England coastline were impacted by indigenous and colonial maritime practices. Have you uncovered any surprising effects that are still visible in New York City today?
As long as there are Native nations, the colonial period of American history really isn't over. Some New Yorkers may not realize this but the city is home to the densest concentration of Native Americans in the country—well over a hundred thousand people, which is more than were here when Henry Hudson arrived in 1609. Every time a new building project breaks soil in this city, we have the chance of discovering something new about the region's maritime past. Subway and building sites have unearthed shell heaps, a dugout canoe, trade goods, and even parts of seventeenth-century Dutch vessels. Placenames like Manhattan, Canarsie, and Rockaway evoke the once-dominant Munsee language of the shore, which is today only spoken by a few tribal elders living in Ontario and Oklahoma. And perhaps no single spot in the city speaks to my book more than Wall Street, as it marks the place where a wooden stockade once stood to protect New Amsterdam from attacks by its English and Munsee neighbors.

What are your teaching interests? Since your expertise lies partially in the New York City area, do you have plans to incorporate off-campus excursions into your courses?
I'm planning to teach a range of courses on Early America, the American Revolution, American Indians, environmental history, and the history of violence. In Fall 2015 I led a seminar called "Colonial Gotham" which involved independent field trips to Battery Park, the African Burial Ground, Trinity Church, Fraunces Tavern, and Hamilton Grange. I definitely want to do a class excursion to some of those sites when I teach a course on Colonial America to 1763 next year. I've also been working with exhibit planners at both the Museum of the City of New York and the National Museum of the American Indian's New York branch on forthcoming exhibits about the city's Native past, so I'd be interested in taking students to both museums once those exhibits are open.

How did you become interested in your particular field—namely, maritime and geopolitical history of the American Northeast?
I grew up in Massachusetts and Rhode Island, and learned to swim and sail in places that I later learned were battle sites of King Philip's War. So part of this project came from just being curious about my home and its deeper contested past. I also had some excellent professors—particular James H. Merrell and Rebecca Edwards at Vassar College and Glenn Gordinier at the Maritime Studies Program of Mystic Seaport and Williams College—who got me excited about these topics.

Read an excerpt of The Saltwater Frontier on Slate, and a review of the book in the Wall Street Journal (subscription required).

Prof. Lipman is a historian of Early America who joined Barnard's faculty in 2015. His writing has appeared in Common-place, Early American Studies, Reviews in American History, Slate Magazine, and The William and Mary Quarterly. His research has been supported by the American Philosophical Society, Harvard University's International Seminar in the History of the Atlantic World, the John Carter Brown Library, the Massachusetts Historical Society, and Mystic Seaport Museum. Previously he taught at Syracuse University and was a long-term fellow at the New-York Historical Society.