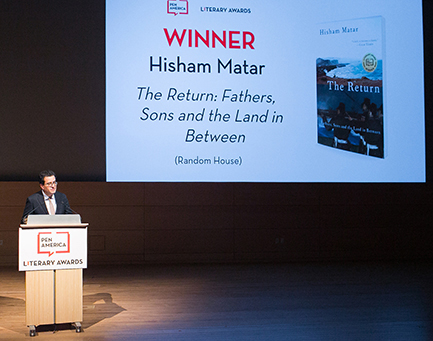 PEN America gave its most prestigious award—the PEN/Jean Stein Book Award, one of the largest literary awards in the country—to English Professor Hisham Matar for The Return: Fathers, Sons, and the Land in Between. The inaugural PEN/Jean Stein Book Award "recognizes a book-length work of any genre for its originality, merit, and impact…that has broken new ground by reshaping the boundaries of its form and signaling strong potential for lasting influence," according to PEN America.
An anonymous panel of judges reviewed each work, awarding a prize of $75,000 to Prof. Matar, the Weiss International Fellow in Literature and the Arts and Adjunct Associate Professor in the English Department at Barnard.
The memoir, which details Prof. Matar's journey to his native Libya in search of answers regarding his father's imprisonment and eventual disappearance, also appeared on several "Best of 2016" lists by prominent news outlets including The New York Times, The Washington Post, and Financial Times. Prof. Matar, who is also the founder of the Barnard International Artists Series, was shortlisted in 2016 for the Baillie Gifford Prize, Britain's most prestigious award for creative non-fiction, and was a finalist for the National Book Critics Circle Award.
Prof. Matar is the 2017 Pulitzer Prize, PEN/Jean Stein Book Award, and the inaugural Rathbones Folio Prize winner.
Barnard Provost Linda Bell congratulated Prof. Matar, "an extraordinary writer and important voice whose memoir sheds much-needed light on our understanding of the political landscape in Libya." She added, "But his book accomplishes so much more by grappling with the story of a child losing a parent—a universal narrative to which we all can relate."
The PEN America award citation reads, "Hisham Matar's The Return is a magnificent book about love and family, about crushing loss and the destruction of hope inflicted by brutal political tyranny. ... Exquisitely written and profoundly felt, The Return is essential reading that breaks our hearts while piercing us with light."
PEN America is the U.S. branch of the world's leading international literary and human rights organization. The award ceremony took place on March 27, 2017, at The New School in New York City, celebrating the theme of "Books Across Borders."  
Suzanne Nossel, executive director of PEN America, said, "Determined to reject attempts to isolate the United States from the world, we centered this year's awards ceremony on the power of literature to surmount cultural, ideological, and geographic bounds."  She told the audience that "in our present political moment, words have new meaning," and that "[w]hen words are used to harm, we use words to heal. When words are used to lie, we use words to shed a light on truth. When words are stopped at the border, we use words to cross boundaries."