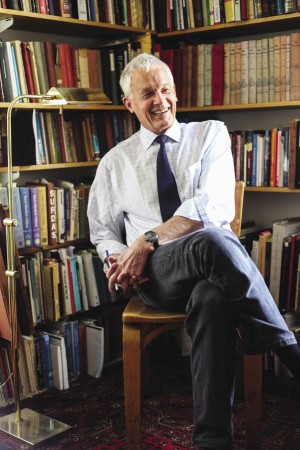 Claire Tow Professor of Religion John Stratton Hawley was recently awarded the 2017 Ananda Kentish Coomaraswamy Book Prize by the South Asian Council of the Association for Asian Studies (AAS) in Toronto for his book A Storm of Songs: India and the Idea of the Bhakti Movement (Harvard University Press, 2015). The book examines the claim that India, such a diverse country, is actually unified by means of a bhakti movement that stretched from south to north, coast to coast, and language to language for a full millennium from 600 to 1600 CE.  Bhakti is the religion of song—seemingly just a spiritual thing. But it turns out that the idea of the bhakti movement took shape at very important political moments in the history of northern India. Religion doesn't exist in a bubble in India any more than it does in the United States.
"Jack Hawley's dedication to research in north Indian religious life and literature helps to generate new understanding of an ancient culture," Associate Provost Patricia Denison said. "The AAS award is wonderful and well deserved in that it honors his innovative approach to the subject."
Prof. Hawley's interest in North India began in the 1970s following a graduate course he took on world religions at Harvard University. Since then, he has published 15 books on the subject. In 2013, he was elected to the American Academy of Arts & Sciences and was awarded the Barnard Teaching Excellence Award.
In 2015, Hawley published Sur's Ocean about the 16th-century Hindi poet Surdas, and it became one of the inaugural books in the Murty Classical Library of India. The book contains the Hindi text for 433 poems that were in circulation in Sur's own century, as reconstructed from the oldest manuscripts by Hawley's collaborator Kenneth Bryant.  Hawley's English verse translations appear on the facing pages.  Some of these poems were previously inaccessible, and all of them differ in some measure from what has been published to date. Last year, Barnard paid tribute to his 30-year anniversary at the College in Barnard Magazine, where he said of his fascination with India, "All these years have passed, and it's still just as big as it ever was."
On the same day the AAS award was conferred in Toronto, the Centre for the Study of Developing Societies (CSDS) organized a panel discussion of the book in Delhi. In explaining its interest in A Storm of Songs, the CSDS said, "The interactions between Hindus and Muslims, between the sexes, between proud regional cultures, and between upper castes and Dalits are crucially embedded in the narrative, making it a powerful political resource."
A paperback edition of the book will become available in India in May.