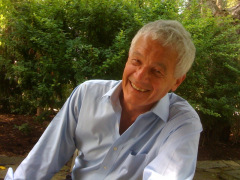 John Stratton Hawley, Professor of Religion, has been elected as a member of the American Academy of Arts and Sciences, one of the nation's most prestigious honorary societies. A leading center for independent policy research, members contribute to Academy publications and studies of science and technology policy, energy and global security, social policy and American institutions, and the humanities, arts, and education.
"Election to the Academy honors individual accomplishment and calls upon members to serve the public good," said Academy President Leslie C. Berlowitz. "We look forward to drawing on the knowledge and expertise of these distinguished men and women to advance solutions to the pressing policy challenges of the day."
A member of Barnard's faculty since 1986, Prof. Hawley's research is focused on the religious life of north India and on the literature that it has spawned in the course of the last 500 years. Most of the fifteen books he has written or edited concern Hinduism and the religions of India. His current major project—a book called India's Real Religion: The Idea of the Bhakti Movement—is devoted to deconstructing and reconstructing one of the principal ways in which Indians have told their religious history. A previous director of Columbia's South Asia Institute, he has recevied multiple awards from the National Endowment for the Humanities, the Smithsonian, and the American Institute of Indian Studies. He has also been a Guggenheim Fellow.
At a ceremony on October 12, 2013, Prof. Hawley will be inducted into the Academy alongside some of the world's most accomplished leaders from academia, business, public affairs, the humanities, and the arts. View the list of new members.