In the days and weeks leading up to Monday's Helsinki summit between Presidents Donald Trump and Vladimir Putin, Professor and Chair of the Political Science department and U.S.-Russia expert Kimberly Marten contributed to several news stories about the often-fraught relationship between the United States and Russia.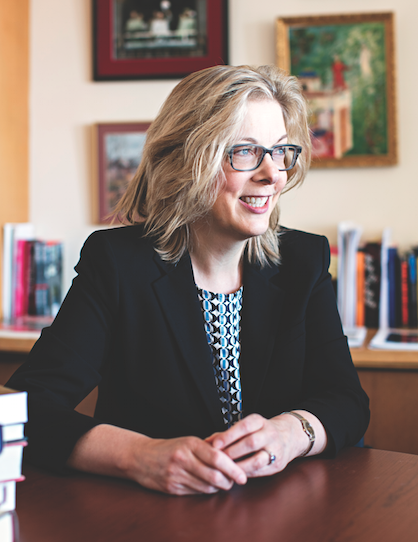 Marten appeared on CBS This Morning to discuss Putin's likely advantage at the meeting: "He's a very clever man… whereas we know that Trump got taken advantage of in his recent summit in North Korea. He didn't seem to get much out of Kim Jong Un… The United States didn't get North Korea to change much of its behavior, but the U.S. gave up military exercises with South Korea for right now." She argued that it was unlikely that Putin would concede any ground regarding election interference, recalling that President Obama told Putin to stop the interference in September 2016, to no avail: one month later, the Russian military intelligence agency publicly released the emails of Hillary Clinton's campaign manager, John Podesta. Marten also spoke to The Kansas City Star about the eight Republican lawmakers who traveled to Moscow over the Independence Day holiday. Marten said that the congressional trip could help bolster Trump, as it "show[s] that his effort to find common interests with Russia isn't just him acting as an individual. It also is a first effort toward reestablishing the exchanges between legislators on both sides that were common in the 1990s."
Marten later lent her expertise to WNYC's program "The Takeaway" about Putin's priorities for the meeting and the Russian media's portrayal of the Trump administration as weak and disconnected from NATO allies. She noted that because the meeting was private, both governments will attempt to spin their views of the conversation to promote their own interests. She added, "What gets signed, what gets on paper, is not always what gets tweeted and what gets talked about to the press." In an article for Foreign Affairs, Marten and her colleague Olga Oliker suggested that a revival of arms control and military-technical meetings between the two sides would be a clear, relatively achievable victory for Trump; the New START strategic nuclear arms treaty is due to expire in the relatively near future, while the Intermediate Nuclear Forces treaty is hanging by a thread—and "the mere act of talking matters as much as the outcome," as the current standoff between the two powers "could lead to misunderstandings and unintended escalation in the event of a crisis."
After the summit concluded, Marten told Radio Free Europe that the meeting seemed to lack substance and purpose, and the two leaders presented disparate views of what had transpired, which brings into question what was actually discussed in the meeting. She also criticized Trump's performance in the press conference that followed. "He is essentially saying that he doesn't believe in the traditional foreign policy values that the United States has held since World War II," she said. "I guess we knew that, but saying that so strongly, in so many public contexts, in ways that are very embarrassing and bring shame on the United States, is interesting to watch. And tragic."
Marten has also investigated Russia's military involvement in Syria. In War on the Rocks, a blog widely read by the defense policy community, she wrote about an infamous February skirmish near the eastern city of Deir al-Zour, where pro-Syrian forces including the Wagner Group of Russian mercenaries attacked a U.S.-supported Kurdish outpost. Throughout the incident, Russian military officials denied that Russian forces were involved, and afterward would only admit to the deaths of five Russians—despite a range of evidence, including a Pentagon report, that there were hundreds of casualties among the attackers. Marten analyzed the possible rationales behind Russia's evasiveness and considered two theories raised elsewhere—that these were rogue actors not under Kremlin control, or that the Kremlin was using the group to test Washington's willingness to defend its allies—but concluded that only Russian political in-fighting could fully explain the Russian military's callousness toward this group.
In an essay for Lawfare, she looked more broadly at Russia's relationship with rogue actors, which she calls its "semi-state security actors." In addition to Wagner, these include Chechen strongman Ramzan Kadyrov's security forces, Cossacks, and cyber criminals who are allowed to pursue their own activities even as they simultaneously work for the Russian state. While their fuzzy relationships to the state can provide "plausible deniability" for Putin, Marten argued that it is a mistake to assume that they are always following Putin's direct orders. She therefore urged Western intelligence agencies to "prioritize gathering data about the commercial and political interests of Russia's semi-state security actors" in order to cut through Russian obfuscation and properly assign motives and blame for their actions.
Marten, who previously held the five-year term Ann Whitney Olin Professorship, also directs the Program on U.S.-Russia Relations at Columbia University's Harriman Institute, and is a member of Columbia's Saltzman Institute of War and Peace Studies, PONARS-Eurasia, and the Council on Foreign Relations (CFR).