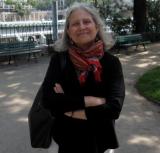 Prof. Lee Anne Bell, the Barbara Silver Horowitz Director of Education at Barnard, is the recipient of the 2013 Multicultural Media Award from the National Association for Multicultural Education's (NAME),  for the documentary film she produced with filmmaker Markie Hancock, 40 Years Later: Now Can We Talk?
40 Years Later explores the impact of racial integration in the Mississippi Delta through dialogue with black and white alumni from the Class of 1969 as they recall and comment on memories from that time. The film provides a contemporary way to study the impact the effects that desegregation had on communities, and to reflect on progress made since that era.
NAME is a non-profit organization that advances and advocates for equality and social justice through multicultural education. Each year, members of NAME are invited to nominate outstanding colleagues to receive one of a selection of annual awards for their superlative work in the fields of multicultural education and social justice.
A member of Barnard's faculty since 2002, Prof. Bell's teaching specialties include urban education, social justice education, and teaching through storytelling and the arts. Her scholarly work focuses on race, gender and class and how they impact equity and access in education.
Read more about Prof. Bell and 40 Years Later in the Fall 2012 issue of Barnard magazine.