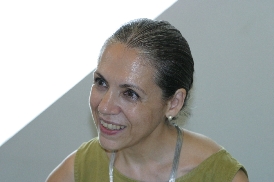 The New York Public Library's Dorothy and Lewis B. Cullman Center for Scholars and Writers has awarded a fellowship to Barnard dance professor Lynn Garafola. This fellowship is presented annually to a select group of scholars, academics, and creative writers at work on book projects. As a Cullman Center Fellow, Prof. Garafola will be researching and writing a biography about Russian choreographer Bronislava Nijinska. An excerpt from the Cullman Center's announcement:
"As they work on book projects that range from biographies of the photographer Diane Arbus (Arthur Lubow) and the choreographer Bronislava Nijinkska (Lynn Garafola) to emerging Jewish communities in 21st-century Latin America (Graciela Mochkofsky), the translation of Uwe Johnson's fictional masterpiece, Jahrestage (Damion Searls), international law in Imperial Russia (Peter Holquist), and colonial failure on the West African coast (Christopher Brown),the fellows will have full access to the incomparable research collections and online resources of The New York Public Library's landmark Stephen A. Schwarzman Building at Fifth Avenue and 42nd Street. They will be in residence at the Center from September 2013 through May 2014.
"


Read the full announcement
.


Prof. Garafola is a Professor of Dance at Barnard College. Two of her ten books are
Diaghilev's Ballets Russes
and
Legacies of Twentieth-Century Dance
. She has written extensively about dance in Europe and the United States, and she has curated major exhibitions about the New York City Ballet and Jerome Robbins