Two Barnard faculty members have been selected to deliver this year's Distinguished Lecture in Anthropology at the American Museum of Natural History. Prof. Paige West, of the anthropology department, and Prof. J.C. Salyer, term assistant professor of professional practice in sociology, joined by Prof. Ben Orlove of Columbia's School of International and Public Affairs, will participate in "An Anthropocene Conversation." This event will focus on the current moment in the earth's history, sometimes called the Anthropocene, when humans and societies have become global geophysical forces that are changing the environment. The lecture will address social aspects of anthropogenic climate change and discuss the role anthropologists can and should play in addressing these issues. In part, Prof. West and Prof. Salyer will draw on their current research looking at how environmental changes affect the movement of people in the South Pacific and migration policies.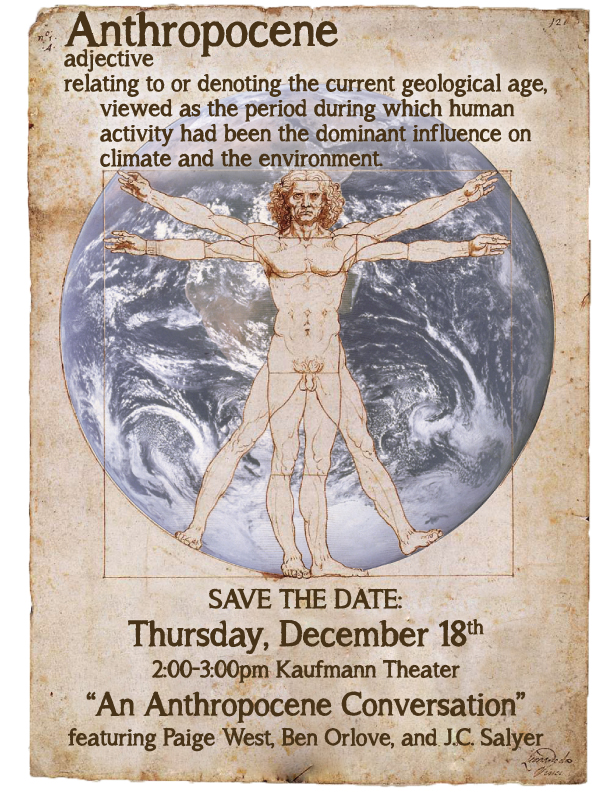 This public lecture is taking place on December 18, 2014 at 2:00 p.m. in the Linder Theater. Attendees can use the West 77th Street entrance to AMNH, located between Central Park West and Columbus Ave.
Prof. West's general research interest is the relationship between society and the environment. More specifically, she has written about the linkages between environmental conservation and international development, the material and symbolic ways in which the natural world is understood and produced, the aesthetics and poetics of human social relations with nature, and the creation of commodities and practices of consumption. She has conducted ethnographic fieldwork in Papua New Guinea (PNG), Australia, Germany, England, and the United States. She is also the co-founder of the PNG Institute of Biological Research, a small NGO dedicated to building academic opportunities for research in PNG among Papua New Guineans.
Prof. Salyer is a lawyer and an anthropologist whose work focuses on law and society, immigration law, and social justice.  He is the staff attorney for the Arab-American Family Support Center, a community-based organization in Brooklyn, and runs the organization's immigration clinic.  His research focuses on the legal formalism of deportation decisions and how the exclusion of social factors and personal history effect determinations of immigration status.  In addition to his work on immigration, he received the William J. Brennan First Amendment Fellowship to work at the American Civil Liberties Union national legal department and was a staff attorney at the ACLU of New Jersey.  His teaching focuses on the relationship between social science, law, and public policy.