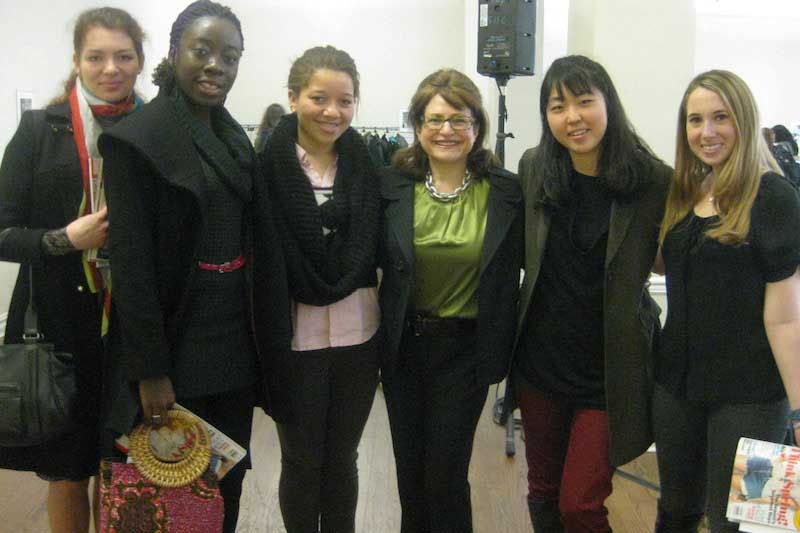 Interview expert Raleigh Mayer (center, green blouse) with students
More than 100 students had an unparalleled opportunity to learn interviewing techniques from highly successful alumnae in a range of fields during a workshop on February 15. Sponsored by the Career Development office, the event included speeches, small-group sessions, and opportunities for one-on-one mock interviews. Dubbed Project Interview, the workshop was modeled on the reality show Project Runway, but instead of getting voted out for missteps, students were encouraged to correct mistakes and polish their interview skills.
Opening the daylong event, President Debora Spar stressed the importance of preparation and of taking opportunities to practice interviewing. "You can have the most perfect resume in the world, but ultimately you get a job because of the interview." She added, "You get better with time, experience, and practice."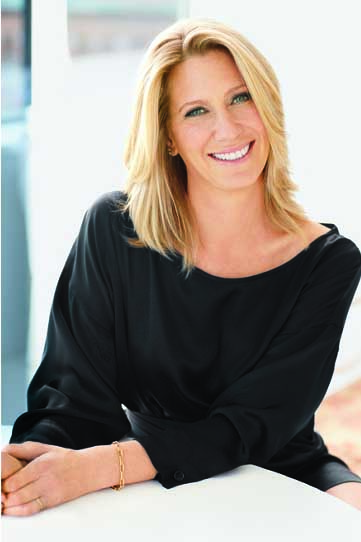 Brandon Holley '89, editor-in-chief of Lucky magazine, delivered the keynote, taking students on a tour of her publishing career. At Barnard and after graduation, she was a DJ and drummer with plans for law school. A chance assignment opened a magazine career; when the opportunity to help launch Time Out New York came along, Holley arrived at the interview with enough story ideas for six weeks worth of issues. "When I want a job I go crazy for it," she said. That interview taught her an important lesson: "Make them think they can't live without you . . . make them fall in love with you."
Raleigh Mayer, Leadership Lab instructor at the Athena Center for Leadership Studies, followed Holley. Mayer said research shows 55 percent of an impression someone makes is based on appearance, 35 percent is based on how she speaks, and only 10 percent is based on what she actually says. "It's very important to package ourselves advantageously," Mayer said, and instructed students to be prepared to answer the question "tell me about yourself" in a dynamic two-minute speech.
Students then attended breakout sessions, meeting in small groups with alumnae in their areas of interest, including finance, education, law, publishing, and government.
Vice President of College Relations Dorothy Denburg '70 advised students to prepare a 30-second "elevator pitch" about themselves, using "powerful, active words that convey a strong mission." She added, "You can't be modest even if it doesn't feel natural."
After lunch, students signed up for one-on-one mock interviews with alumnae, which many, like Claudia Flores '15, called helpful. "I feel more prepared and a lot more confident to go out and interview for a research position," she said.

Almost two-dozen alumnae led the breakout sessions and mock interviews, which Career Development Director Robert Earl called "a huge success. Our students really jumped into the exercises, getting more comfortable talking about themselves and their accomplishments and learning from the personalized feedback … We have already gotten requests to repeat the program," he said.
Participating alumna Marianna Bracco '92, managing director at Marathon Asset Management hedge fund, praised Project Interview. "Students just need to be able to ask someone . . . what to expect and to have an open and honest dialogue, and I think this program enabled that." Bracco was glad to lend her experience. "Every job I've gotten was due to a Barnard alumna. I believe in karma—a lot of good Barnard alumnae have given back and it's my turn now."
Above: Brandon Holley '89