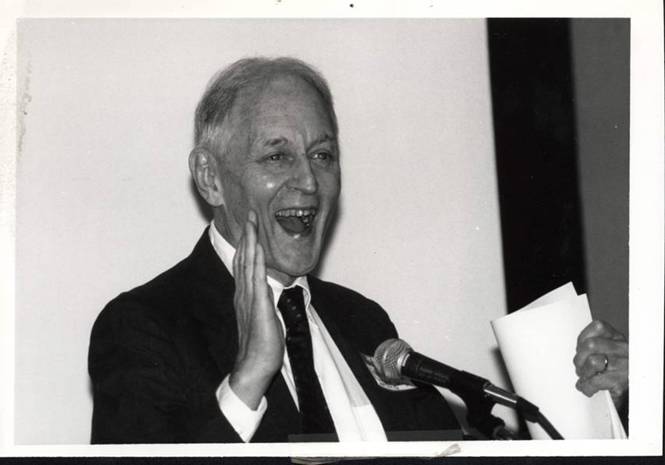 The Barnard community is deeply saddened by the recent death of Peter H. Juviler, Professor Emeritus of political science. A member of Barnard's faculty since 1964, Prof. Juviler was dedicated to the study of religion, law, and tolerance education, and understanding how they informed human rights theory and practice. Throughout his decades at the college, he taught countless classes on comparative politics, human rights, social movements and the political community. He co-founded and served as the director of the human rights major at Barnard, as well as co-director of the Center for the Study of Human Rights and co-chair of the University Seminar on Human Rights at Columbia. A longtime proponent of the study of human rights at Barnard and Columbia, he helped to grow the major and fostered connections with an expansive network of people and institutions. 
Colleagues, students and friends of Prof. Juviler are invited to share their thoughts and memories.
Much of Prof. Juviler's scholarly work focused on the study of the Soviet Union, and he relentlessly advocated for greater freedoms and openings in the region. After completing his undergraduate degree at Yale University and his graduate studies at Columbia, he conducted post-graduate research at Moscow University in 1959-1960 and would return regularly to the region throughout his lifetime. He has the remarkable distinction of being the first U.S. scholar to lecture on human rights at the USSR Academy of Sciences and Moscow University Faculty of Law, both in 1983.

In the post-Cold War era, Prof. Juviler engaged with a number of the post-Cold War states; he meticulously analyzed the human rights movement's successes and never hesitated to draw attention to its remaining challenges. He was also a keen observer of minority rights and ethnic tolerance as these issues became central to the state-building and democratization of the region. Prof. Juviler authored the influential Freedom's Ordeal: The Struggle for Human Rights and Democracy in Post-Soviet States (University of Pennsylvania Press, 1998), Revolutionary Law and Order: Politics and Social Change in the USSR (Free Press 1976); and co-edited Religion and Human Rights: Competing Claims? (M.E. Sharpe, 1999) and Human Rights for the 21st Century: Foundations for Responsible Hope (M.E. Sharpe, 1993). He also authored over a hundred journal articles, commentaries, and book reviews.

Above all, Prof. Juviler is remembered for his integrity, inspiring teaching, and mentoring. He was awarded the Independent Fund's New York Award for Excellence in Teaching in 1996 and the Barnard College Award of Distinction from the Senior Class in 1980. In 2011, Prof. Juviler was named the Harriman Institute's Alumnus of the Year. Such was his dedication to students that Prof. Juviler once held a class immediately after slipping on the ice on his way to Barnard—an X-ray later showed that he had taught with a broken leg.

Prof. Juviler's students have gone on to achieve prominence in government, the human rights community, education, and the private sector. They universally praise Prof. Juviler for his commitment to teaching and for his remarkable civility. He touched the lives of countless of alumnae and colleagues with his insights and grace, encouraging us to be guided by our ethical compass in all aspects of life. Professor Dennis Dalton, a colleague and close friend for 39 years, writes that "He was my model for civility, a quintessential expression of this exquisite virtue in every respect." His brother Michael writes, "I remain one of the professor's grateful students. He taught me, among so many good things, how to use chopsticks, bodysurf, listen to Sibelius, be patient, and give unconditional love to one's brother."

Prof. Juviler is survived by his wife Anne, by his sons Gregory and Geoffry, his brother Michael, his step-daughters Christiana and Stephanie, his grandchildren Peter, Jamie, Henry, Sophia and Katie, and his step-granddaughter Elizabeth.
Peter Juviler Fund
The Peter Juviler Fund will honor Professor Juviler's memory through support of the study of Human Rights by future generations of Barnard students. $100,000 is needed to endow the fund in perpetuity and we invite your participation.  For more information and to make a gift, please visit http://www.barnard.edu/tribute/juviler.