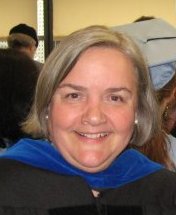 The Barnard community is deeply saddened by the recent death of Professor Sally Chapman, a beloved member of our chemistry faculty for 37 years. Over the course of her distinguished career, Prof. Chapman was a mentor to countless Barnard students and a champion for women in science everywhere. She will be greatly missed by all whose lives she touched. The College will hold a memorial service in her honor when students and faculty return to campus in the fall.
Colleagues, students and friends of Prof. Chapman are invited to share their thoughts and memories here.

What follows is the message from her sister Diana Chapman Walsh, former President of Wellesley College, who accepted the Barnard Medal of Distinction on Prof. Chapman's behalf at the College's May 14 Commencement ceremony. Read the full text of Prof. Chapman's citation.
A Message from Diana Chapman Walsh:

I am saddened to have to tell you that Sally Chapman died early this morning, Saturday, June 2, 2012, after a ten-month struggle with cancer. She died peacefully in her own home where she wanted to be, free of pain and the assaults to body and spirit she had suffered during her multiple hospitalizations. Her three siblings, her brother-in-law, and her dear friend, Helene, kept a vigil by her bedside during the final week of her life. She knew she was not alone. She knew she was loved.

Sally would have wanted me to thank the many people who were there for her in so many ways. "You know who you are," she would sometimes write in her cancer blog. Please know how grateful her family is to you. Thank you for caring for our special sister when she needed you, for seeing her as the fabulous human being she was, for loving her as we do.

We will plan a memorial service at Pocono Lake Preserve this summer and a memorial service at Barnard College in the fall. Messages can be sent to:

The Chapman Family in care of Diana Chapman Walsh
90 Baxter Road
Brookline, MA 02445.

In lieu of flowers, donations can be made to The Sally Chapman Fund at Barnard College, care of Bret Silver, Vice President for Development.