In early November, 10 Barnard and Columbia architecture students traveled to Brazil for a week-long exploration of urban development and resources in Rio de Janiero. Led by Prof. Karen Fairbanks, Barnard's Ann Whitney Olin Professor of Professional Practice and Chair of the architecture department, the trip was part of an advanced elective for senior architecture majors.
In this course, "Resources for an Urban World," students have been studying the relationships between resources and infrastructure in New York City as well as Rio de Janeiro. Early in the semester, they were tasked with researching Rio's available resources and designing a temporary installation for a public space.
"The intention was to design a project that could engage the public in questions around resources," said Prof. Fairbanks.
Working in small groups, the students zeroed in on Rio's most important resources—for example, water, agriculture, and lumber—and researched their topics on both local and global scales. Armed with that information, they started designing relevant installations for Praca Tiradentes, an historically significant plaza in downtown Rio.
One group focused on trees as a resource—both as living plants and as lumber and other products. This led to studying issues around deforestation and ultimately led to the students' design for a sapling farm for the site, which would use aeroponics, a process of growing plants that relies on air or mist instead of soil. "Members of the community would bring tree cuttings to the pavilion, where they could be placed into the aeroponics system," said Zoe Namerow '13. "Over time, the sapling would take root and people could return to reclaim their tree cutting, bring it home, and plant it back into the earth."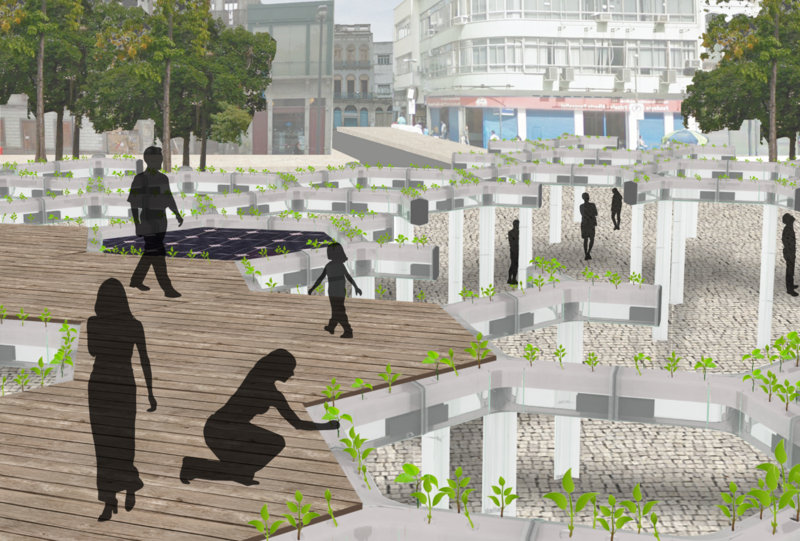 Another group looked at water access, with a particular emphasis on shortages and rationing in parts of the city's underprivileged, densely populated favelas. In their reimagining of Praça Tiradentes, they designed a canopy with water containers at the top, that expands and contracts based on the population present at the pavilion.

"The idea is to inspire sensitivity about water use, and create awareness about the effects of increased population on access," said Shivina Harjani '13. With more people, the canopy would shrink and hold the water in, Harjani explained. When fewer people are there, the canopy would expand and release the water.

Namerow, Harjani, and the rest of the students compiled their designs into books of sketches and plans and packed up their prototypes for their trip to Brazil. There, they presented their designs to a panel of local architects and community members at Studio-X, the outpost of Columbia's Graduate School of Architecture, Planning and Preservation in Rio de Janeiro. The panel provided feedback and insight on their ideas, which students will be using to rework and expand on their designs throughout the semester. This, together with spending time onsite at Praça Tiradentes, helped the students gain invaluable perspective for the next phase of the course.
"Critique of architectural design is something we've all experienced in other courses. But in this case, the feedback really allowed us to look at things differently," said Harjani. "As an outsider in a foreign country, there are things you don't see—elements of the culture and the way that people interact."
"Designing for a place I hadn't seen before was a strange experience—I underestimated how difficult it would be," said Namerow. "You don't understand the scale or the context or how the community uses the space. Being there really changed our perception and gave us new ideas for next steps with our projects."
Also traveling with Prof. Fairbanks and her students were teaching assistant Marcelo Lopez-Dinardi from Columbia's Graduate School of Architecture as well as course research assistant and alumna Leticia Wouk Almino '08, a Brazilian native who majored in architecture at Barnard and now works for Robert A.M. Stern Architects. Almino is in the midst of a research project that she started while in graduate school, which examines public squares in three Brazilian cities: Salvador, Brasilia, and Rio. Since Praça Tiradentes is among the spaces she's studying, she was able to provide insight as well as maps and drawings that helped inform the students' designs throughout the semester, and while in Rio, she gave a public presentation about her research at Studio-X. And throughout the trip, Almino's Portuguese and local knowledge were huge assets for the group. She could also relate to the students' experience as they encountered a site they had grown to know intimately from a distance.
"As an architect, traveling to the space makes all the difference in terms of conceiving a design, and also in your ability to understand the culture and the context," said Almino. "It is a mind-opening experience that most students only have at the graduate level."
In addition to visiting Praça Tiradentes and presenting at Studio-X, the students spent the week taking in Rio's architecture and history. Their packed itinerary included guided walks with local historians, tours of the favelas, visits to museums and monuments throughout the city, a lecture on the Brazilian economy and political situation by Tom Trebat, Director of Columbia's new Global Center in Rio, a workshop with a local musician, a presentation on the Olympic planning process, and much more. They also traveled to Brasilia for one day to see architectural landmarks in the nation's capital city.
"It was phenomenal that they were able to see so much in such short time, and receiving feedback from local architects was really exciting," said Prof. Fairbanks, who participated in a similar trip to Amman, Jordan, and noted that advanced design students in the department have previously traveled to Mumbai and Chadigarh in India as well. "These trips have been great opportunities for our students to think about design in a global context."
Photos provided by Karen Fairbanks and Marcelo Lopez-Dinardi. Renderings courtesy of Zoe Namerow and Shivina Harjani.