Excavating an archeological site in New Mexico, testing groundwater for arsenic in Bangladesh, or studying fungi on urban green roofs may seem like the kind of work done by students earning PhDs, rather than BAs. But Barnard students often have opportunities to do more advanced research, and thus contribute to academic-journal articles that carry their bylines and present their research findings at academic conferences. The credentials add significantly to the students' academic experiences, and make for impressive additions to any graduate school application, thus highlighting the advantages of study at the College: small class sizes and being part of a major research university like Columbia. Below, faculty and students reflect on their collaborative research.
WeiTing Chen '14 Spends the Summer Studying Cells with an Eye To Curing Disease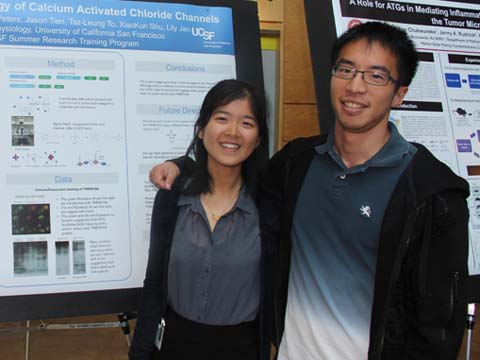 As the first Barnard student ever to be accepted to the ultra-competitive Exceptional Research Opportunities Program (EXROP) run by the Howard Hughes Medical Institute, chemistry major WeiTing Chen '14 spent her summer at the University of California, San Francisco, doing complex biochemistry research in a neuroscience lab.
Read more...
Annie Danis '10, Caroline Frosch '14, Maud Reavill '14, and Emily Hayflick '15 Explore the Rio Grande Gorge
Since 2007, Severin Fowles, assistant professor of archaeology, has run the Gorge Project, a long-term program of excavations, archaeological surveys, and ethno-historical studies focused on the traditional use of the Rio Grande gorge, a rift valley in the Taos Plateau in northern New Mexico filled with thousands of years of rock art, shrines, trails, and settlements. Students have the opportunity to take part in the discovery and documentation of some of the most significant archaeological sites in North America, from 3,000-year old hunter-gatherer petroglyph sites, to 13th-century Pueblo villages, to 18th-century Comanche raiding camps, and much more.
Read more…
Sara Payne '13 and Julia Discenza '13 Examine Green-Roof Fungi in New York City
With green roofs becoming increasingly important in New York City, Assistant Professor of Biology Krista McGuire and her students studied fungi in these urban oases. Their study, published in the journal PLOS ONE, compared soil fungi on green roofs to soil fungi found in city parks, including Central Park and the High Line.
Read more…
Elizabeth Trembath-Reichert '08 and Rachel Silvern '14 Examine How Arsenic Seeps into Groundwater in Bangladesh
Each year, Barnard students participate in a large collaborative research project with a Columbia University study on the presence of arsenic and manganese in groundwater, a major public health issue both in the U.S. and abroad. Read more…