Closed for construction in June 2015, the LeFrak Gymnasium, recently renamed LeFrak Center, is scheduled to reopen this December. Transformed into a two-story space, the center will temporarily house a portion of the library, archives, study spaces, the Empirical Reasoning Lab, digital classroom, and two seminar spaces on the first floor; and offices and meeting spaces for the departments of economics, history, political science, and urban studies on the second. Activities that were in the LeFrak gym have been moved to other locations around the campus.
The overall redesign of the gym reflects the desire to provide suitable quarters while maximizing natural light. As an example, the original windows suggested the location of the second floor; the semicircular window top will allow natural light to filter into this second floor. Glass doors on some meeting and conference rooms will also brighten the hallways.
Heidi Blau, lead architect on the center, informally known as the swing-space project, says, "Building for temporary facilities is a different mindset....There were a lot of parts and pieces that had to be accommodated, and in some ways, the temporary nature of the construction allowed us some latitude in art and color choices," although the colors shown in the renderings have not been finalized as of this writing. Important questions focused on how the spaces flowed together, and how the spaces impacted the work experiences for library staff, faculty, and students.
Blau also addressed questions of interaction among students. She notes that many of the materials in the library are available digitally today, and student- gathering spaces need to provide enough room to work on projects in a collaborative manner.
---
ARCHITECTURAL RENDERINGS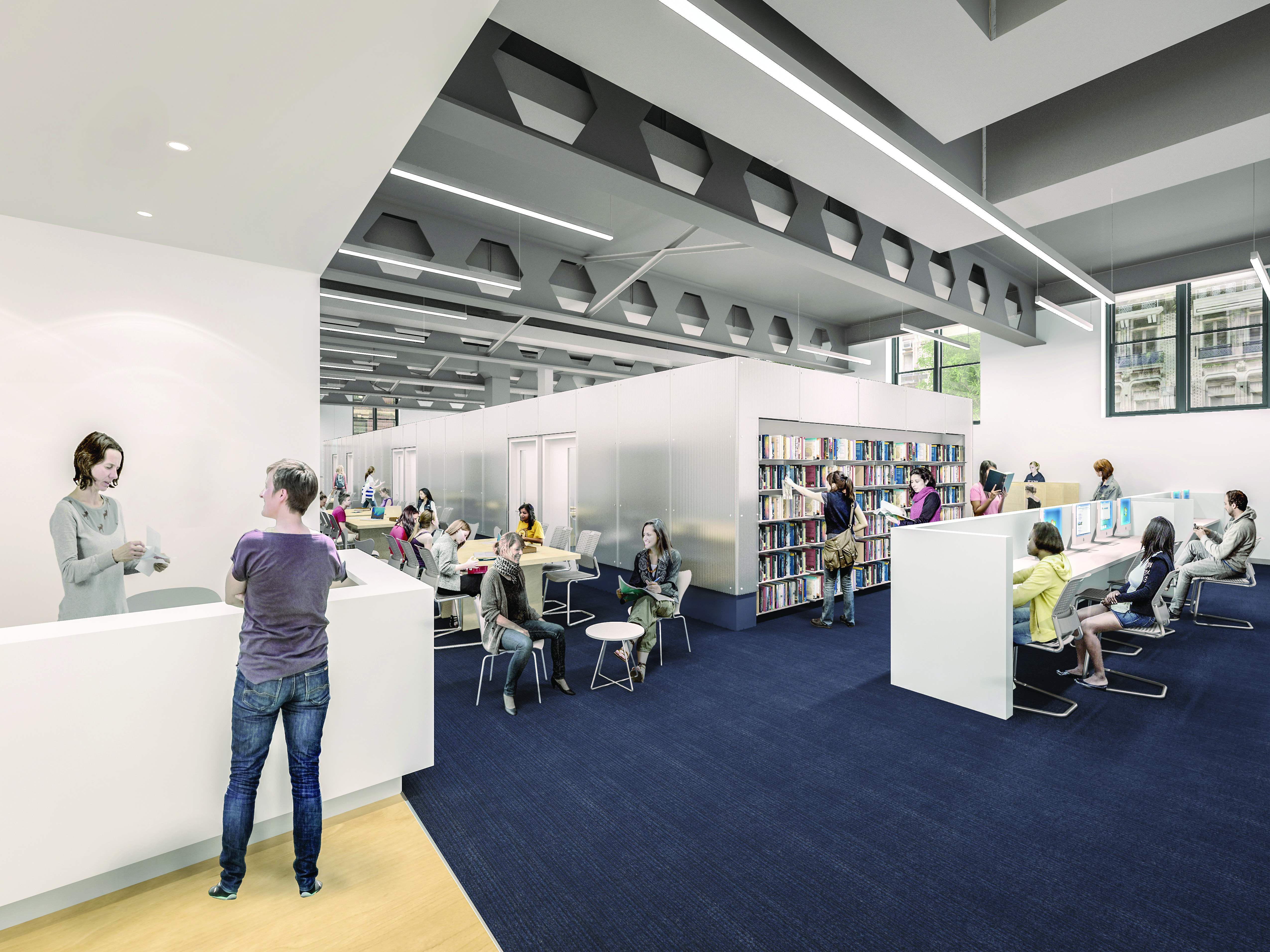 The library will be housed temporarily on the first floor of the LeFrak Center.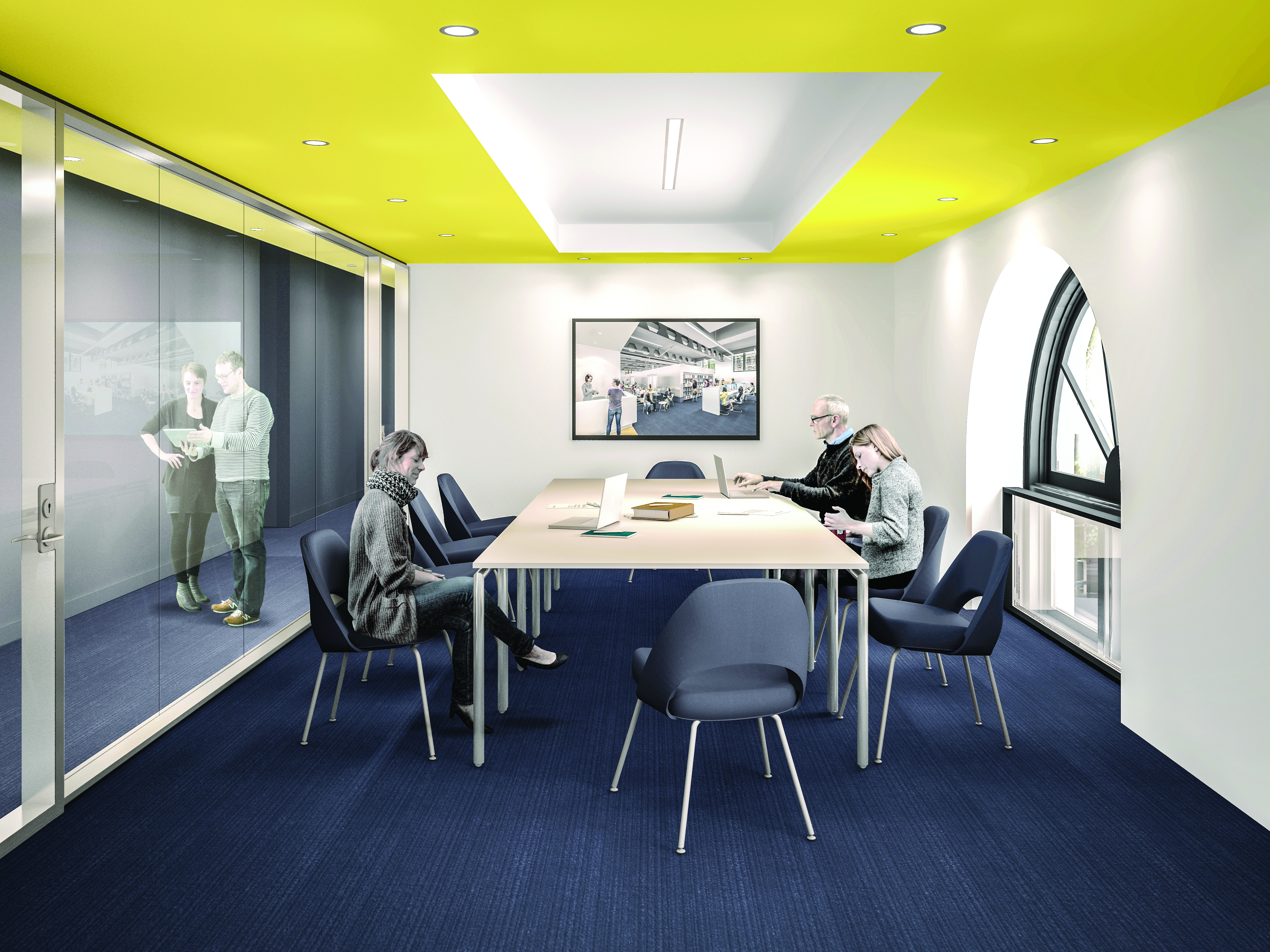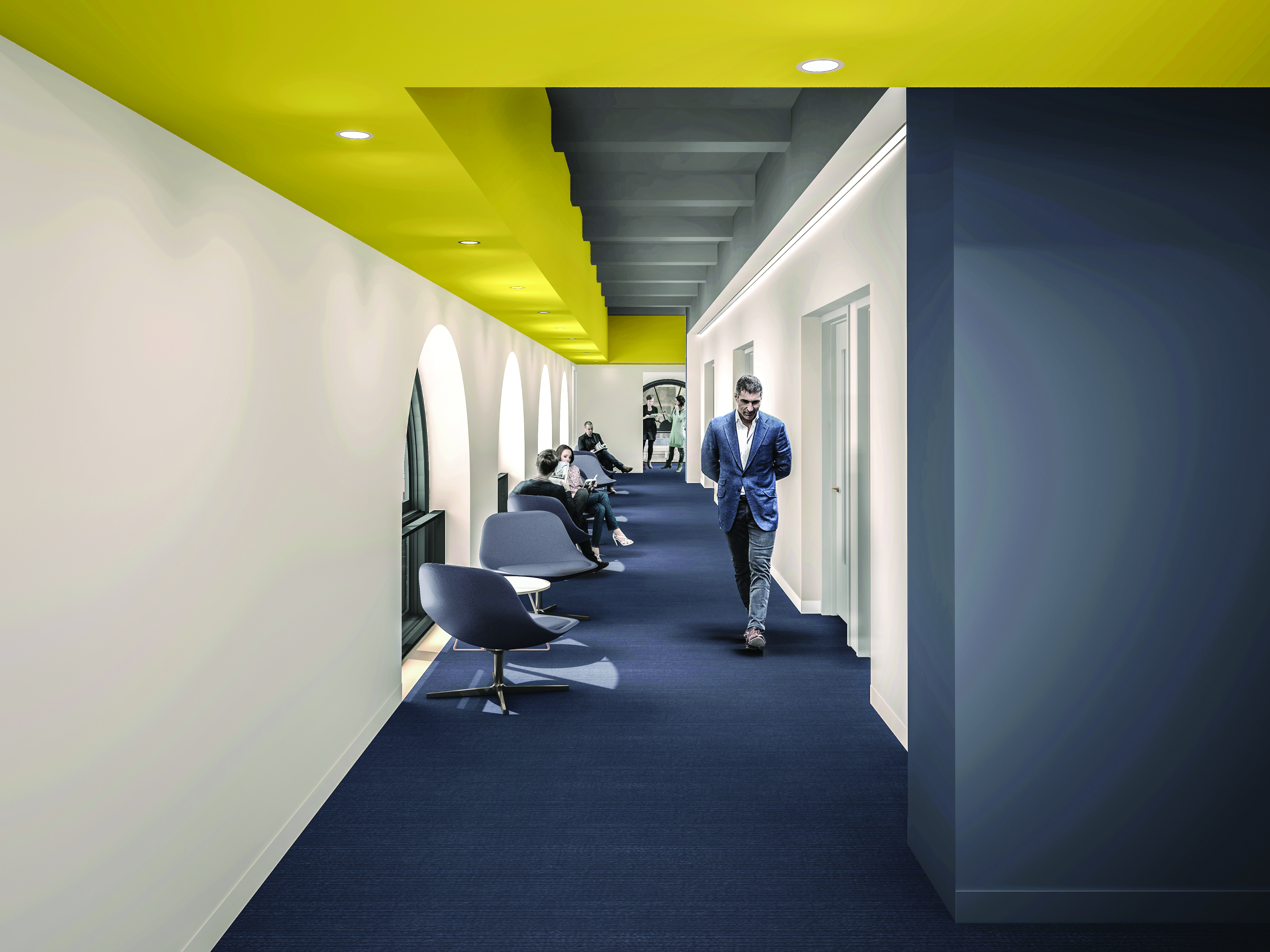 Meeting rooms and several hallways on the second floor will recieve natural light from the uppermost portion of the gymnaiusm's original windows.
---
CONSTRUCTION PHOTOS
When brass letters announcing the gym's name were removed, vestiges of the lettering remained on the wallboard.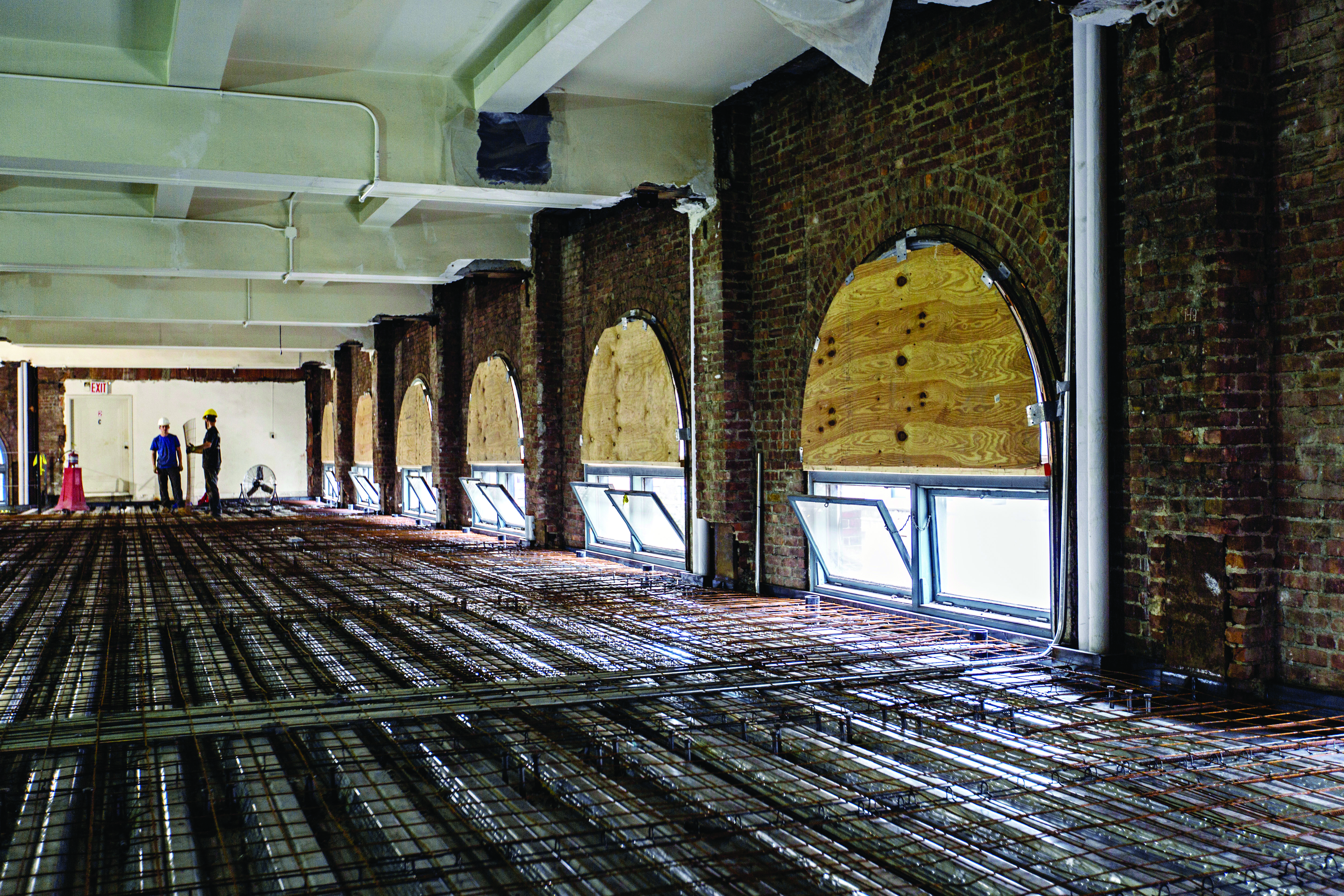 The new floor accommodates the original windows.
Hexagonal cutouts in ceiling beams become part of the overall design.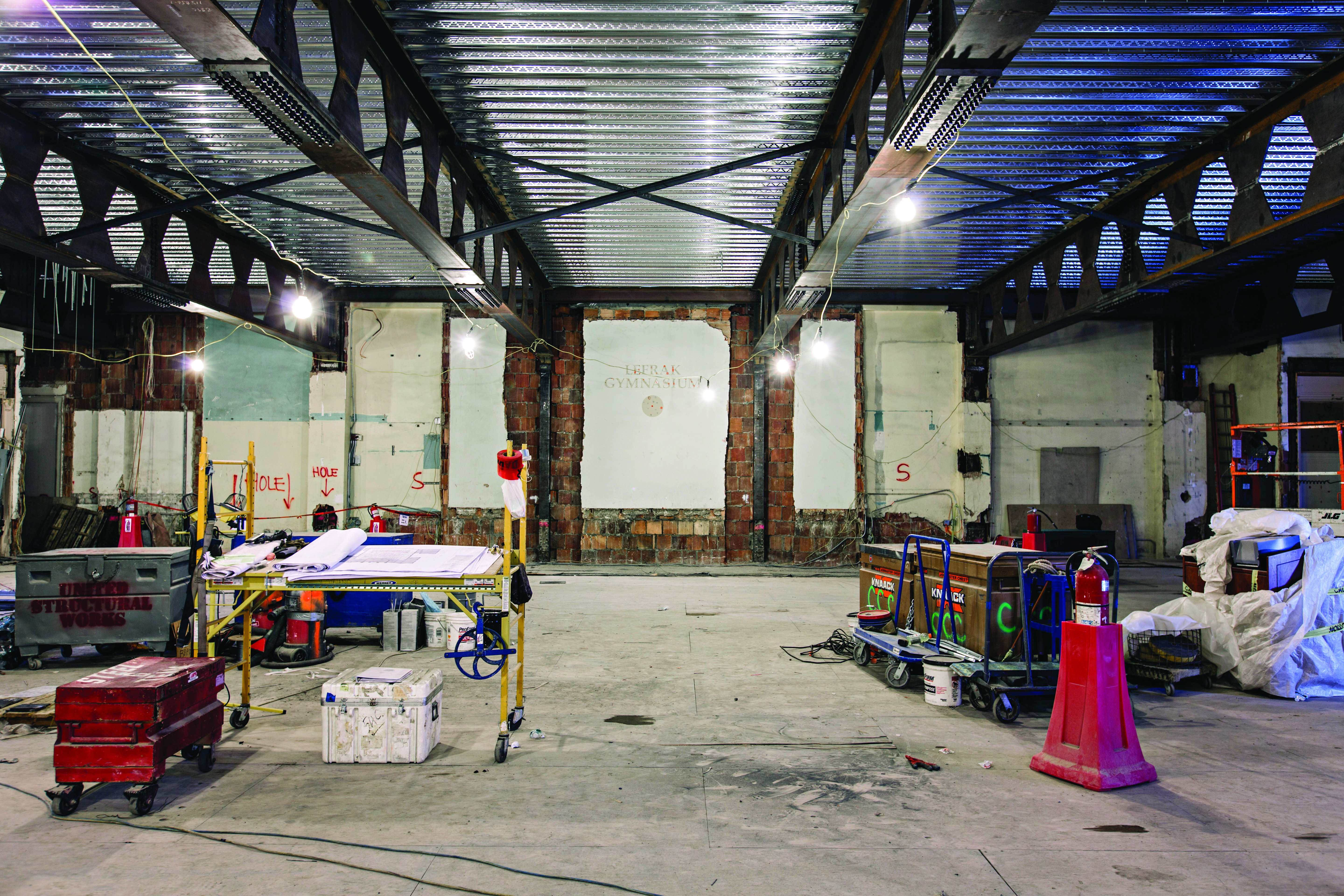 A view of the first floor looks toward the former stage.
---
—Photographs by Dorothy Hong