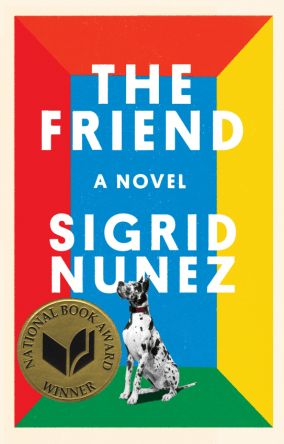 Sigrid Nunez '72 has won the 2018 National Book Award for fiction for her novel The Friend. The New York Times called The Friend, a story of the magical bond between a woman and her dog, "dry, allusive, and charming." 
Nunez is also the author of the novels Salvation City, The Last of Her Kind, A Feather on the Breath of God, and For Rouenna, among others. She has been the recipient of several awards including a Whiting Award, the Rome Prize in Literature, and a Berlin Prize Fellowship.
The National Book Award, established in 1950, is given annually by the National Book Foundation, whose mission is to celebrate the best literature in America, expand its audience, and ensure that books have a prominent place in American culture. This award has been given to authors Hannah Arendt, W.H. Auden, Saul Bellow, Truman Capote, Rachel Carson, Ralph Ellison, William Faulkner, Marianne Moore, Vladimir Nabokov, Flannery O'Connor, Katherine Anne Porter, Adrienne Rich, J. D. Salinger, Eudora Welty, William Carlos Williams, and others who have helped shape the foundation of American literature. In 2017, The New York Times counted the National Book Award, together with the Man Booker Prize and the Nobel Prize for Literature, as "the world's most prestigious literary prizes."
Other Barnard alumnae who have recently been awarded prestigious literary prizes include Edwidge Danticat '90, a finalist for the 2007 National Book Awards for Brother, I'm Dying; Katherine Boo '88, who won the 2012 National Book Award for her first book, Behind the Beautiful Forevers; and Jhumpa Lahiri '89, who won the 2000 Pulitzer Prize for fiction for Interpreter of Maladies and the 2017 PEN/Malamud Award for Excellence in the Short Story.