On April 11, a standing-room-only crowd of more than 400 piled into the Diana Center Event Oval to hear a lecture from Alicia Garza, co-founder of the Black Lives Matter movement and special projects director for the National Domestic Workers Alliance. While the theme of her talk, hosted by the Barnard Center for Research on Women (BCRW), was described as "The Future of Black Lives Under a Kleptocracy," Garza touched on a wide range of topics, from the responsibilities of U.S. and global citizenship to workers' rights to the role that Twitter plays in social movements.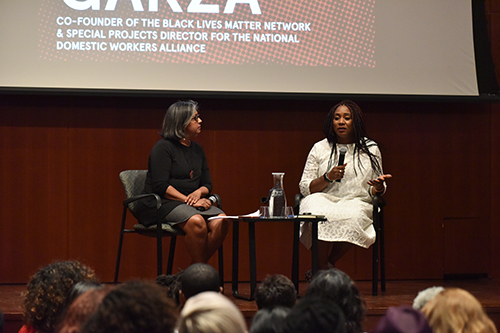 Much of the lecture was a review of the current political and social landscape: the appointment of government officials who once tried to discredit or dismantle the agencies they now run, legislation in statehouses around the country that aim to restrict freedoms of speech and assembly, and scandals—like the one surrounding United Airlines' treatment of a passenger who was assaulted and then maligned in the press—that serve only as smokescreens and cause division among groups. Garza later shifted from current events to an impassioned defense of Black Lives Matter and the importance of solidarity. "[Saying] 'black lives matter' does not mean that nobody else's life matters," Garza said. "The point is not to play Oppression Olympics."
Garza reminded attendees that Black Lives Matter has its roots in previous civil rights movements, and in fact those movements never went away; she and her co-founders simply updated the format to match new modes of thinking and communicating. She referenced the rise of Twitter as being instrumental to raising awareness, but emphasized that social media cannot start a movement and our commitment to a cause cannot end in front of a screen. Garza concluded by encouraging attendees to have conversations with friends and family in person, and to make sure that those friends and family members have those conversations with their own networks.
"Social media is a way for people to be in [a movement], but it is not the catalyst of it… A movement cannot be a bunch of single instruments playing their own songs. It will not create an orchestra—there will be a lot of noise, and it might be beautiful, but it will not become a song."
A video of Garza's lecture, and the subsequent question-and-answer session moderated by Prof. Premilla Nadasen, may be found below. BCRW's next major event, on April 25, will feature a conversation between two critically acclaimed poets: MacArthur Genius Grant recipient Claudia Rankine and Toronto Poet Laureate Dionne Brand will discuss the political importance of poetry as a form of resistance and force for justice.