Haiti is not Trinidad is not St. Lucia is not Jamaica. The plural "feminisms" in the fall program at The Diana Center proved yet again that not only is feminism plural, but so too is "Caribbean." The second in a yearly series devoted to showcasing the range of literary voices and variety of political issues occupying women whose origins are in the area generally referred to as the Caribbean, the event featured Haiti-born Edwidge Danticat '90 and Trinidad-born Victoria Brown. Caribbean Feminisms on the Page is a series of the Barnard Center for Research on Women. It brings together writers to discuss feminism, diaspora, and writing methods. Last spring, the program featured Jamaica Kincaid and Tiphanie Yanique.
For Brooklyn-raised Danticat, Haiti, which she left at age 12 and often returns to, in her books and as an activist, is never far away. Nor is the subject of race. During her Barnard years, she read "textbook feminism," though she believes the women in her family have lived feminist lives, even while not using the term. In college, Danticat called herself a "womanist," a term originating with poet Alice Walker; it signified a feminism entwined with issues of race. She told the audience she felt "part of a conversation" with other writers of color who had been at the College, including Zora Neale Hurston '28, Thulani Davis '70, and Ntozake Shange '70.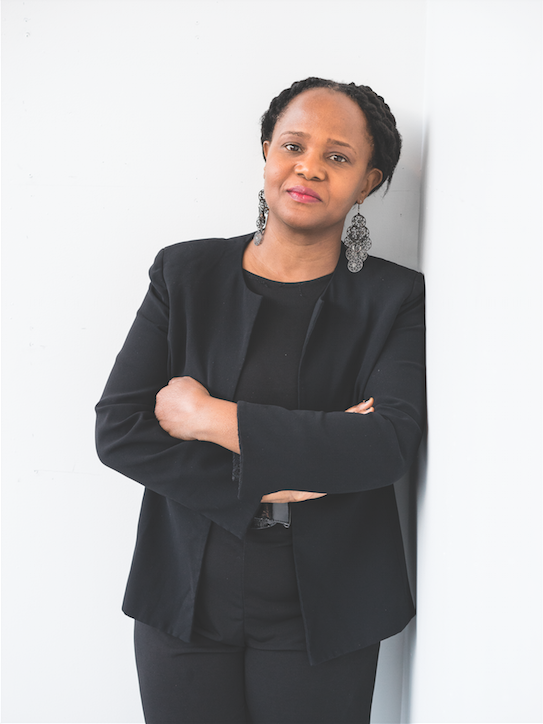 Edwidge Danticat '90
Danticat, recipient of a MacArthur Fellowship, has written novels, essays, an autobiography, a young-adult novel, and a forthcoming picture book. At the event, she read from the chapter "Di Mwen, Tell Me" from her 2013 novel, Claire of the Sea Light, set in a small town on the island. Louise George is host of a radio show, on which she broadcasts stories of abuse and atrocities. (Much of the writer's work includes the popular and powerful medium of radio.) George, whom Danticat called her "most feminist character," interviews Flore, who describes having been raped and impregnated by the son of the rich family she worked for. George pushes Flore for details, insisting on naming names. She is, in Danticat's word, a "justice giver," whose political action is to demand the real story—"tell me."
Victoria Brown, an emerging writer, although close to Danticat chronologically, is only now beginning to claim her place. Wanting "a bigger life," she left Trinidad at 16 for New York City, where she worked as a nanny before eventually getting a college degree and an MFA in fiction writing from Hunter College. Minding Ben, her first novel, newly published in paperback as Grace in the City, is the kind of story Danticat's Louise George would want to hear. The protagonist is an immigrant nanny, exploited in her domestic situation, working for a Jewish family on Central Park West. One negative review called the book nothing more than a modern-day slavery story, said Brown, adding, "Perhaps more than any other reader, that reviewer got the point I was trying so very hard to make."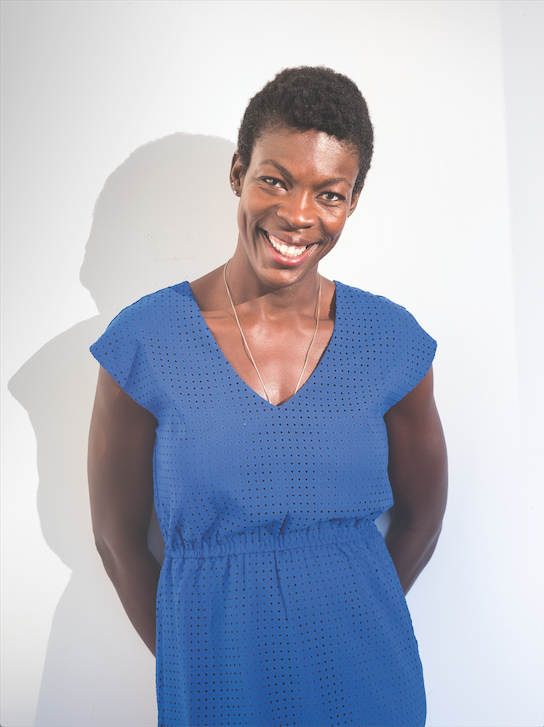 Victoria Brown
Brown read a scene in which the new immigrant, having placed an ad seeking domestic work in The Irish Echo, receives phone calls from potential employers, one more appalling than the next. ("What is her breast size?" one caller asks.)
The many meanings of "feminism" and its complication by race, class, history, and geography in the lives and work of both writers, are entwined with themes of immigration, migration, transnationalism, and the idea of home. "It has to be homegrown, central to the community," Danticat said. "It comes of having lived under 30 years of dictatorship, colonialisms, the use of rape as a political tool, and a lot of migration....What is known as the Haitian Diaspora constitutes a transnationalism under duress—you don't always get to decide where home is," she said. At that very moment, Danticat added, on the border between Haiti and the Dominican Republic were an estimated 200,000 people in legal limbo after children of Haitian migrants had been stripped of their Dominican nationality.
Both said they turn to writing essays for similar reasons. For Danticat, "The non-fiction keeps the fiction from being preachy. I get the preach out of the way." Brown writes essays, "when something declares itself to me," which happens often, given the popularity of her blog, byvictoriabrown.blogspot.com, where she records everything from the perils of cooking spicy curry to promoting unionization for domestic workers.
While Danticat and Brown help mold awareness of a substantial and growing body of work by Caribbean-connected women, a certain peril hovers. The same danger nipped decades ago at the heels of novelist Philip Roth, whose portrayal of Jewish characters embarrassed and angered many Jews. So, too, has Danticat been moved to respond to the idea that "everybody expects you to write everybody's experience.You have to be representative.You're making us look bad." This is an old struggle, addressed by Danticat in an afterword to her provocative novel Breath, Eyes, Memory, and discussed again at The Diana Center: "We don't work for the tourism board."
—by Louise Bernikow '61
—photographs by Will Mebane