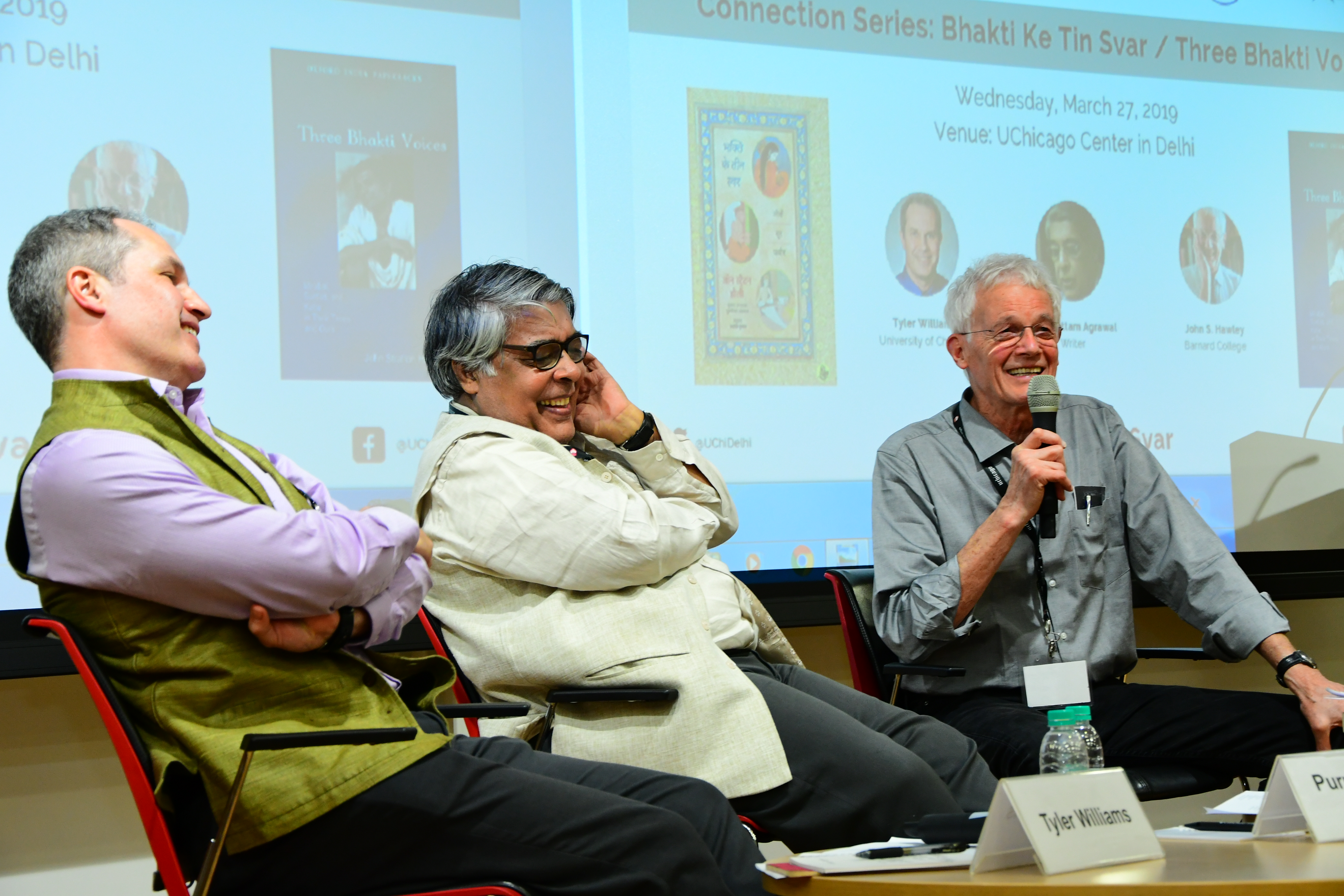 On March 27, 2019 Rajkamal Prakashan, one of Hindi's most important presses, released a Hindi version of Professor Jack Hawley's book Three Bhakti Voices, originally published by Oxford University Press in 2005. The Hindi title is Bhakti ke Tin Svar: Mira, Sur, Kabir, and the translator is Ashok Kumar. These "three voices" (tin svar) belong to three of the most significant poet-saints in the Hindi language family. Poetry attributed to them first began to be collected in the sixteenth century—their own, Hawley argues—and continues to reverberate throughout Hindi. And not just Hindi. No English-language education in northern India is complete without these three voices, either.
The launch event was hosted by the University of Chicago's Delhi Center. Introduced by Dipesh Chakrabarty and Tyler Williams of the Chicago faculty, it featured paired talks by Purushottam Agrawal, the series editor, and Jack Hawley. A conversation with the audience followed. 
Purushottam Agrawal is one of India's best known public intellectuals—and a major scholar of early modern Hindi letters. He has spoken at Barnard.
The event was part of the "Conversations" series co-hosted with the United States India Educational Foundation and the American Institute of Indian Studies. Hawley has been a fellow of both. https://www.facebook.com/events/411446489611049/
This conversation was in Hindi and English, and it was at the same time about Hindi and English. The hope is to bring these two streams—of language and scholarship—together. For years Jack Hawley's scholarship about some of Hindi's most influential religious (bhakti) poets has been accessible only to readers of English. Now Hindi readers can also respond. 
The issues are serious. How does a knowledge of the manuscripts involved shape our image of these sixteenth-century "public intellectuals"? Can we be true historians when issues of religious sentiment are concerned--or is received wisdom just too heavy to push back? Finally, how does it matter to the "bhakti politics" that shape Indian life today?