In the psychology department's Minority Conflict & Mediation Laboratory, students overseen by Term Assistant Professor Chana Etengoff delve into the question of how family structures, communities, and individual interactions can perpetuate prejudice, and examine how these same structures can be harnessed to change discriminatory dynamics.
One of the lab's main studies is the Transgender Video Blog Project, in which researchers analyze video blogs, or "vlogs," created by transgender individuals, in order to learn how they build supportive communities online. By carefully transcribing and studying hundreds of hours worth of entries from 20 vloggers (some have created as many as 80 YouTube videos), researchers are able to map their developmental trajectory and see how they use technology to build resilience structures.
Among the students working in the lab is Rachel Ende '16, who has been a researcher there since her sophomore year. Rachel completed an independent study on the Transgender Video Blog Project and presented her work at a national conference. Below, she discusses what she's learned during her years working on the vlog project.
Using Vlogs to Find a Voice
by Rachel Ende '16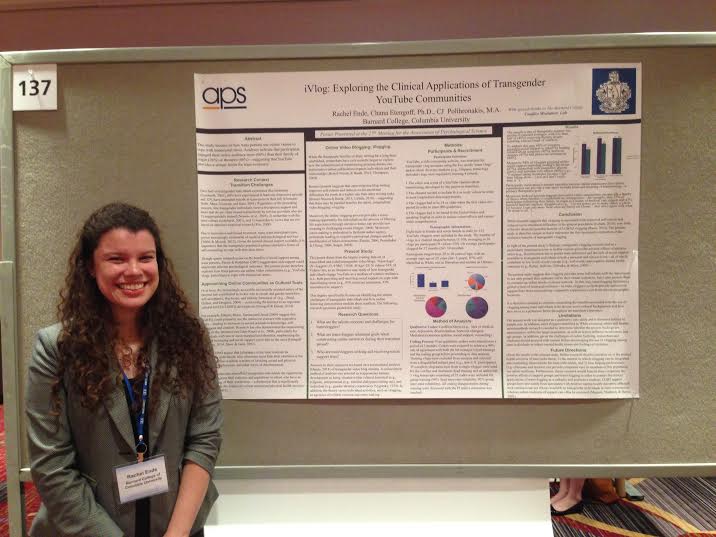 As a sophomore, I was lucky enough to be enrolled in Prof. Chana Etengoff's Psychology of Personality Lab. I remember very clearly the day she asked if anyone wanted to apply to work in the Barnard College Minority Conflict and Mediation Lab. I knew I couldn't pass up this opportunity. Prof. Etengoff offered me a research assistant position, and the work that I have done in this role has truly been some of the most intellectually stimulating and meaningful I have done at Barnard.
At the lab, we work hard to answer tough questions, such as how cultural, sexual, and gender minority groups navigate the discrimination many face every day. The more we learn, the more we ask ourselves how we can change these discriminatory dynamics.
Recently, we have focused on asking how the transgender community mediates discrimination within its own community. To answer this, the lab is doing an innovative project with video blogs, or "vlogs," video-diary entries posted by members of the trans community on public forums such as YouTube. We have been using these videos to collect data, and to learn what major challenges confront the trans community today.
In my junior year, Prof. Etengoff gave me the incredibly generous and rare opportunity to be the first author of a poster about our research. Our goal was to present the poster in the American Psychological Society's (APS) annual conference, which would take place in New York that May. While watching the vlogs, I noticed how many people discussed the difficulties and discrimination they face while pursuing medical care. This is a particular issue in the trans community—transition involves a competent doctor who is able to prescribe hormones, and often to perform sexual reassignment surgery. Unfortunately, both because this care is often not covered by insurance, and because many doctors are not well versed in transgender medical procedures, many people do not receive adequate care. For this reason, I decided to focus my research on how the transgender population in video blogs mediates their difficulties pursuing medical care.
Specifically, we asked one important question: how do trans persons use vlogs to cope with the stress that arises during the medical care process? We discovered that 60 percent of vloggers engaged their online audience more than their family of origin (to whom only 26 percent spoke about medical care) or even to their therapists, to which only 46% spoke about this issue. From this, we made a critical finding—that YouTube video blogging provides a unique forum for resilience. Speaking to the audience in the videos gave vloggers a safe space to discuss ways to cope with the challenges they faced in the medical care process.
While previous research (including that of Prof. Etengoff) has shown that writing (such as in diaries) has been therapeutically beneficial and that the Internet can be an empowering space for marginalized identities, this is some of the first research to discusses the way these ideas coalesce in transgender vlogs.
In presenting at the APS conference, I was very lucky to have had the support I did from Professor Etengoff, our co-author CJ Polihronakis, and from the rest of the members that do amazing work in our lab. More than anything, too, I feel very lucky to have had the chance to conduct this research in this current climate. Now, more than ever, our world has witnessed a polarizing effect of both an upswing in necessary support for the trans community, and tragic, horrific violence against this community. It is critical that psychological research continue to work to break down the discrimination marginalized communities experience every day. Barnard has allowed me the opportunity to be in a lab that does such essential work, and for that I will always be grateful to our school and professors.