Contact:
Beth Kwon
bkwon@barnard.edu
(212) 854-2037

FOR IMMEDIATE RELEASE
NEW YORK, Sept. 28, 2017 – Toyin Ojih Odutola, the Nigerian-born visual artist whose pen-and-ink sketches explore the concept of race—most recently in response to the violent Charlottesville protests—is joining Barnard College as the Lida A. Orzeck '68 Distinguished Artist-in-Residence. Ojih Odutola's exhibition "To Wander Determined" will open at the Whitney Museum of American Art on Oct. 20 and marks her first solo exhibition at a New York museum; in her role at Barnard, she will lead a variety of artistic and academic activities, including guided tours of the exhibit and host a public talk on her forthcoming book The Treatment. Ojih Odutola is the second Orzeck Artist-in-Residence, following the world-renowned dancer Wendy Whelan.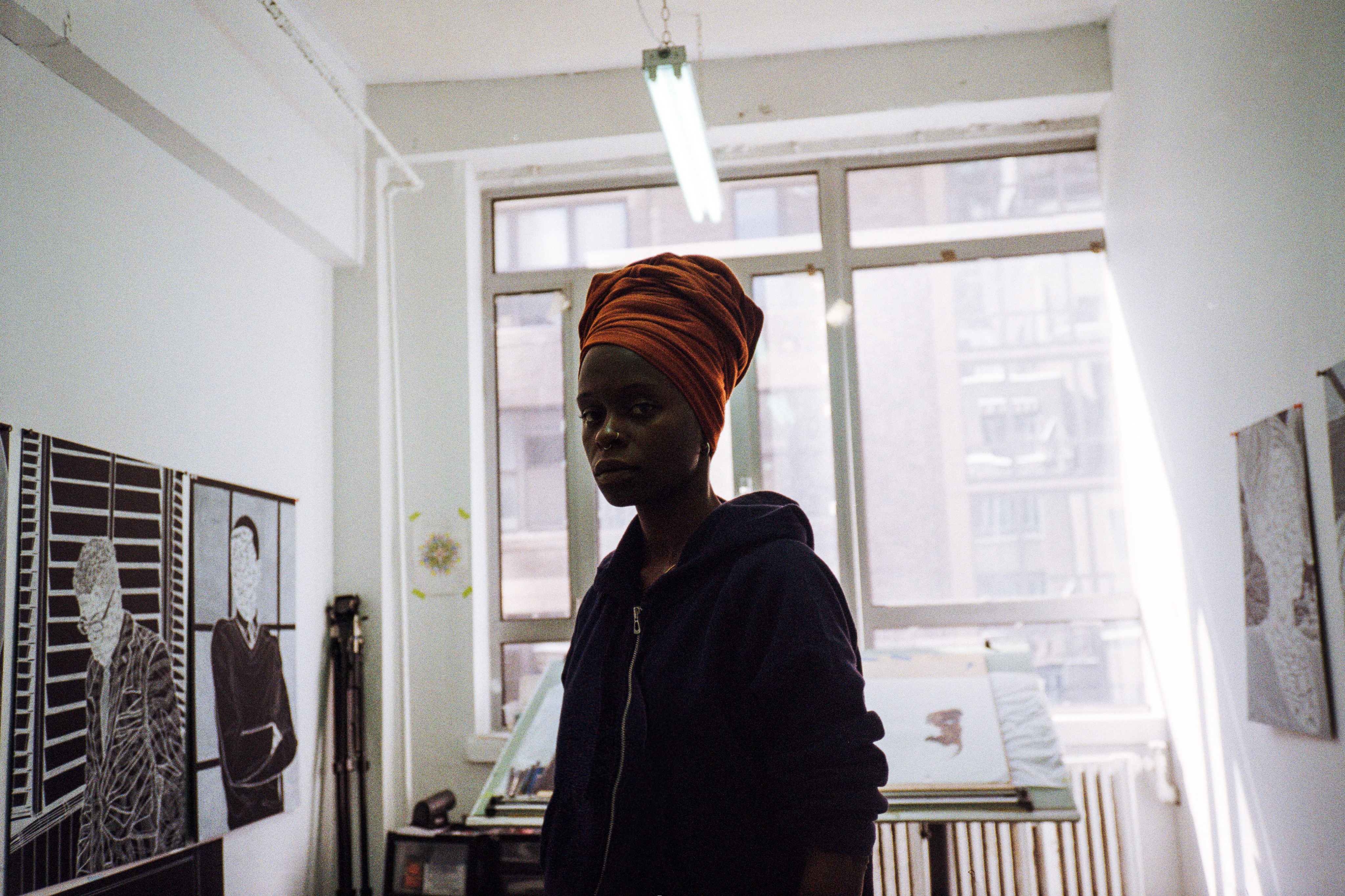 "We are honored that Toyin will be a part of the Barnard community for the next year," Barnard College President Sian Beilock said. "We are particularly excited that her residency will begin just as her exhibit at the Whitney opens, as this will give students a unique opportunity to take advantage of Barnard's location in New York City to view Toyin's work up close and interact with a rising star in the art world."
"I'm thrilled to be chosen for this residency, and grateful to Ms. Orzeck for her support of the arts and arts education," Ojih Odutola said. "I came into my own as an artist when I was in college, so I look forward to learning from and with Barnard students as they are developing their artistic voices."
In March 2015, Lida Orzeck, Ph.D., endowed The Lida A. Orzeck '68 Distinguished Artist-in-Residence Fund with a substantial gift. Orzeck is the cofounder of Hanky Panky, a lingerie company that is celebrating its 40th anniversary, manufactures exclusively in the United States and currently employs more than 165 people. She currently serves on the Barnard board of trustees and has given generously to the College over the years, including a scholarship fund in her name, support to the annual Athena Film Festival and many other initiatives.
"I love Toyin's work and am so pleased and honored to have my name connected to hers," Orzeck said. "As a visual artist, Toyin will bring an entirely different perspective to campus. I'm thrilled to help bring distinguished voices to Barnard and expose students to world-class talent."
Professor of Art History Anne Higonnet, who was instrumental in connecting Ojih Odutola with Orzeck earlier this year, commented, "Toyin has a unique, timely perspective on racial identity and we're excited to dive more deeply into her inspiration. Her majestic scale, her inventive uses of pastels and ballpoint pens, and her compressions of realistic space into strangely perfect abstract compositions, all work together to create portraits with a new grandeur for a modern era."
###
About Barnard College
Founded in 1889, Barnard was the only college in New York City, and one of the few in the nation, where women could receive the same rigorous and challenging education available to men. Today, as the world-renowned liberal arts college for women at Columbia University, Barnard remains devoted to empowering extraordinary women to become even more exceptional. For more information, contact Barnard Media Relations at 212-854-2037 or mediarelations@barnard.edu.
About Toyin Ojih Odutola
Toyin Ojih Odutola (b. 1985, Ife, Nigeria) creates drawings utilizing diverse mediums to emphasize the striated terrain of an image beyond formulaic representation.
Ojih Odutola has participated in exhibitions at various institutions, including Brooklyn Museum, New York, (2016); Contemporary Art Museum St. Louis (2015); Studio Museum Harlem, New York (2015, 2012); Aldrich Contemporary Art Museum, Ridgefield (2013); and Menil Collection, Houston, (2012). Permanent collections include Museum of Modern Art, Whitney Museum of American Art, Baltimore Museum of Art, New Orleans Museum of Art, Philadelphia Museum of Art, Princeton University Art Museum, and the National Museum of African Art (Smithsonian). A forthcoming book, The Treatment, features Ojih Odutola in conversation with poet Claudia Rankine and an essay by art critic and historian William J. Simmons.
She earned her BA from the University of Alabama in Huntsville and her MFA from California College of the Arts in San Francisco. Ojih Odutola lives and works in New York.