[A Barnard Connection. Photo, L-R: Barnard's President Emerita Judith Shapiro, Epstein, and author and journalist Anna Quindlen '74. Courtesy of Patrick McMullan]
Given that Barnard effectively launched her theatre career, it's no surprise that producer Dasha Amsterdam Epstein '55 passionately supports the College's Theatre Department and projects. "I want to raise the exposure of theatre at Barnard," said Epstein, whose producing career includes two Tony awards — for Ain't Misbehavin' and Children of a Lesser God — as well as Drama Desk, Drama Critics Circle, and Outer Critics Circle awards. Epstein recently established several awards for students in the department, in honor of professor Patricia Denison (senior lecturer in English, director of undergraduate studies), in acting, design and production, directing, dramaturgy, and research in theatre and performance studies.
Her vision for Barnard's theatre program is as ambitious as her producing goals. She also set up the newly launched Dasha Amsterdam Epstein Visiting Artist/Scholars Program to benefit students studying theatre and the Dasha Amsterdam Epstein Theatre Ticket Fund to underwrite theatre ticket purchases.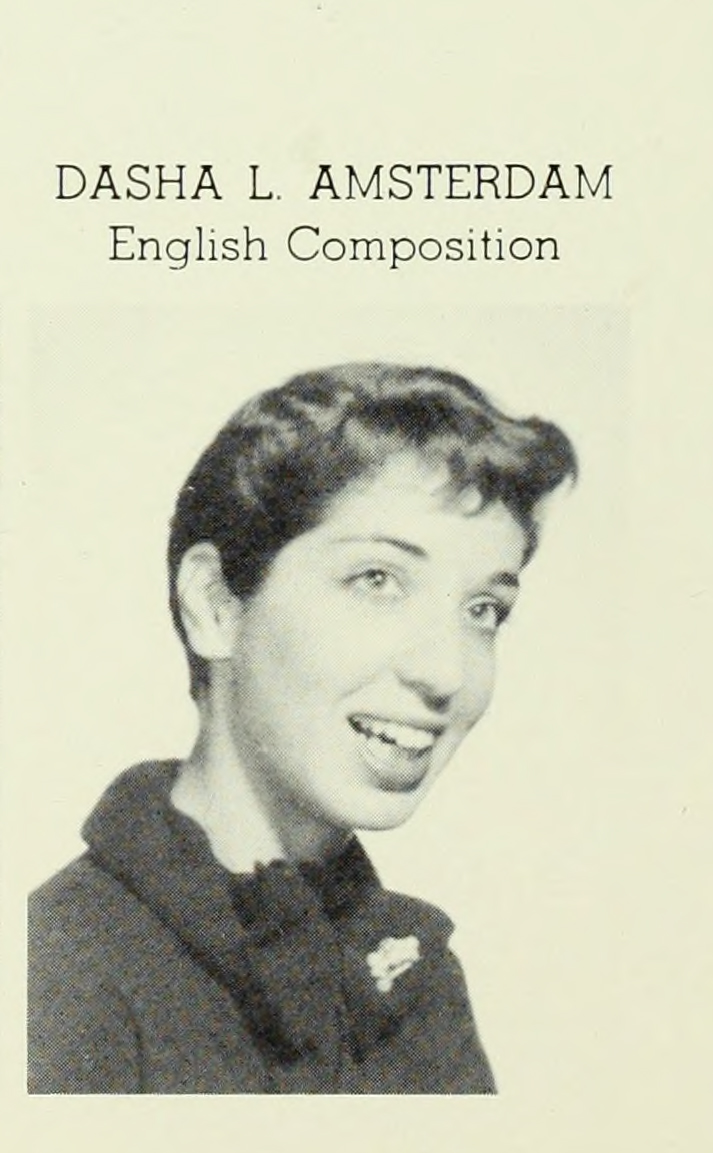 Epstein, who was an English major at Barnard, is quick to credit the late Howard Teichmann, professor of English, for jump-starting her life in theatre. "Teich made us write 500 words every day," she said. "It made us so conscious of everything we saw. We were supposed to write about what we observed. We learned about choices and what was important. I keep Teich in my head."

Epstein continues to pay the lessons she's learned forward with gifts to theatre at Barnard, which include the Dasha Amsterdam Epstein Theatre Workshop in the Diana Center, where New York Stage & Film readings of new plays are held monthly in the Glicker-Milstein Theatre. Epstein also sponsors an annual playwriting residency at the Powerhouse Theater in Poughkeepsie, New York, for a graduating playwriting student.

As a producer, she said, "it's about forming a whole, forming a frame" to tell the story — and her experience with Teichmann gave her those critical tools. "Barnard gave me the ability to write, the ability to choose, the ability to feel," she said. "Every play I've chosen has said something important. It makes me feel, it makes me react."
Teichmann also taught her to "tell the truth when you write," she said. "Theatre is pretending, but it's real." Another way that Teichmann's influence was felt was through connections. He introduced Epstein to the playwright Lillian Hellman, who hired her as an assistant immediately after graduation. That job led to a position reading scripts for Broadway composer Jule Styne. After immersing herself in the theatre world, Epstein took a hiatus after getting married and having two children. When she returned to Broadway in 1978 as a producer, it was for shows Same Time, Next Year, Chinglish, and Bonnie & Clyde.
Epstein's passion for a story and a playwright's message drives her selection of material. "When you're producing a play, it needs your full dedication and focus," she said. A play is like "an only child. The star of the play is the writer."
Epstein is particularly proud of bringing Whose Life Is It Anyway?, "Master Harold"...and the boys, and 4 Guys Named José to the stage. Currently on the boards of New York Stage & Film and the American Theatre Wing, Epstein's "greatest joy is to find a writer. I'm very appreciative when I find a new voice."
While Epstein intends to tell her own story someday, that will have to wait. She's too busy reading a pile of scripts every week in her quest to find new and meaningful material to bring to an audience.
"I still want to chase the scripts," she said.
—MERRI ROSENBERG '78