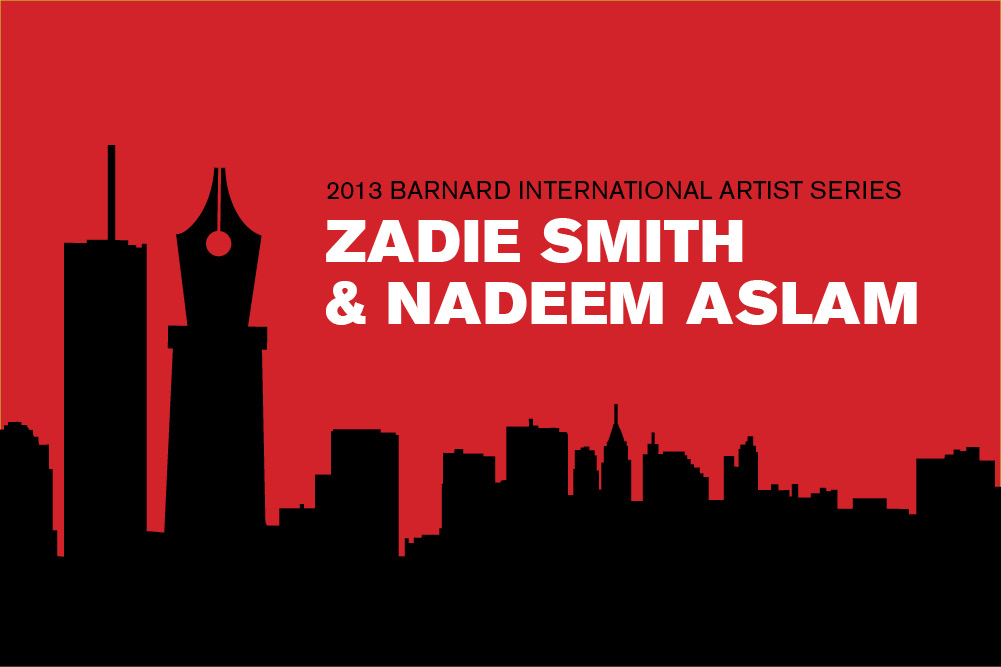 The Barnard International Artist Series (BIAS), a forum for considering the world through the works of contemporary artists, was founded and curated by English Professor Hisham Matar. The series brings writers, filmmakers, dancers, dramatists, visual artists, architects, and composers from around the world to speak at the College about their work. The 2013 BIAS guests are award-winning writers Nadeem Aslam, who speaks on campus Nov. 22, and Zadie Smith, who spoke at Barnard on Nov. 14.
What is the International Artist Series? Find out, in a Q&A with Hisham Matar about the origins of the Barnard International Artist Series and the significance of the guests.
Nadeem Aslam answers questions from students in advance of his reading. Read them here.
Watch Zadie Smith's November 14 Barnard appearance, where she gave the first public reading of her newest work, The Embassy of Cambodia, and discussed her writing.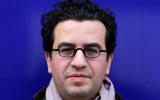 Hisham Matar is a novelist whose debut, In the Country of Men, was shortlisted for the Man Booker Prize. He is Barnard's Weiss International Fellow in Literature and the Arts and an adjunct associate professor in the English department, and founder and curator of BIAS.

What is the Barnard International Artist Series and what inspired you to create it?
It's an attempt to learn about the world through its artists. Artists have demonstrated throughout the ages a profound ability to express the tenor of their times. So every year we bring internationally acclaimed artists working in any genre to show and speak about their work at Barnard. 

This year you are bringing two very different artists to Barnard—Zadie Smith and Nadeem Aslam. In what ways are the two similar to and different from one another?
Last year we brought the Chinese and Italian filmmakers, Xu Xing and Andrea Cavazzuti, who showed their film 5+5 about a community of avant-garde artists in Beijing. This year we are bringing, as you say, two authors concerned with very different preoccupation: Zadie Smith with race and class in Britain; and Nadeem Aslam with the War on Terror. Both, in their different ways, are concerned with present realities, which is unusual for novelists, so I am hoping their visits will excite thoughtful conversation about these themes and about the relationship between art and current issues. 

In what ways does each of these writers exemplify what you are trying to accomplish with the Barnard International Artist Series?
It has always struck me as odd and rather dangerous how detached much of American life is from the world and particularly from the places where American influence and will are crucial. However, there seems to be a new desire to undermine this general indifference. For example, I find my students incredibly curious. They have a keen and sincere wish to learn about the world. And I must admit that these events, as is the series in general, are motivated by my intention to provide for them and the Barnard community a forum for learning about foreign realities and preoccupation. 
What defines people as "international artists" and why is it important to expose American audiences to them?
What is meant by "international artists" here is very specifically artists who come from outside the United States. If you are from Pakistan or Nigeria or Libya or France or China, chances are you know some things about America: you might know the name of the American president, the names of several major U.S. cities, films, books, etc. Most people in America know very little about other countries. And this distance—between the over powering interest of American politics in foreign lands and the disinterest of American life in foreign realities—is one that undermines democracy and fosters ignorance. Our ambition is to try to fight that.   
All the artists you've invited to speak as part of BIAS so far have not only been international artists but artists who in some way live in exile. Why is this, and what experience do you think artists who live in exile bring to the table?
I wouldn't say they are exiled; they are all able to return to their home countries and often do. But they are living abroad or at least dividing their time between several countries. I don't think that's new, though. It has been the way of many artists. If we are to read the lives of, say, Ivan Turgenev or Rainer Maria Rilke or Hannah Arendt, we find that many artists and thinkers have lived itinerant lives. That's partly why they often have interesting things to say about their own countries, for they occupy that double position of insider-outsider.
*
Born in Pakistan and raised in Britain, Nadeem Aslam is a novelist whose work deals largely with the War on Terror. He generously agreed to take questions from students:

—Asked by Mariana Robertson '15: Your work seems to have a sense of the impact of things that have been removed, an awareness of things no longer present. Can you speak to how you create and negotiate this sense?
A person being remembered can be equally vivid as a person existing in front of us. In fact, in a novel, a person being remembered can often produce a text richer than a person being described. Absence can be more vivid and vital than presence. You get two lives, two sets of experience, two bodies. In my novel Maps for Lost Lovers, almost everything is treated as memory— frequently I don't describe what is happening but describe its aftermath, sometimes beginning a minute after the event. I wanted almost everything to be memory, even if it was only 15 seconds old. In my personal life, I don't think clearly enough fast enough. It takes me many hours of contemplation to understand an incident or an encounter. These things seep into my books. 
—Asked by Oladunni Patricia Oduyemi CC '16: You wrote in an essay for Granta that literature is a "public act" and a "powerful instrument against injustice." How do you feel that the role of the novel is changing in light of the War on Terror?
I don't think it has changed at all, for a writer like me. At the most basic level, I am still doing what I was doing before the War on Terror. Cynthia Ozick, in her New York Times review of JM Coetzee's Life and Times of Michael K. said that 'literature of conscience is often about the bewilderment of the naïve.' The children, the weak— the ones who ask the question 'Why is the world this way?' There are many wrong things in the world even if we ignore the War on Terror. I would continue to produce literature of conscience, of compassion, of sympathy, long after these current wars disappear. And conscience, compassion, sympathy—they are just different words for love. 
—Asked by Caroline Lange '15: Do you ever struggle with writer's block? If so, what do you do about it?
I have very terrifyingly difficult days when I am writing, yes. The only way to overcome them is to continue work—show up at the desk every day, you have to do it again and again to the exclusion of much else in your life. The path from intensity to greatness lies through sacrifice.  
*
The acclaimed British author Zadie Smith has garnered international acclaim with her novels and essays dealing with race, identity, and the northwest London neighborhood of her youth. On November 14, she visited Barnard to read from her latest work, The Embassy of Cambodia, and discuss her writing.