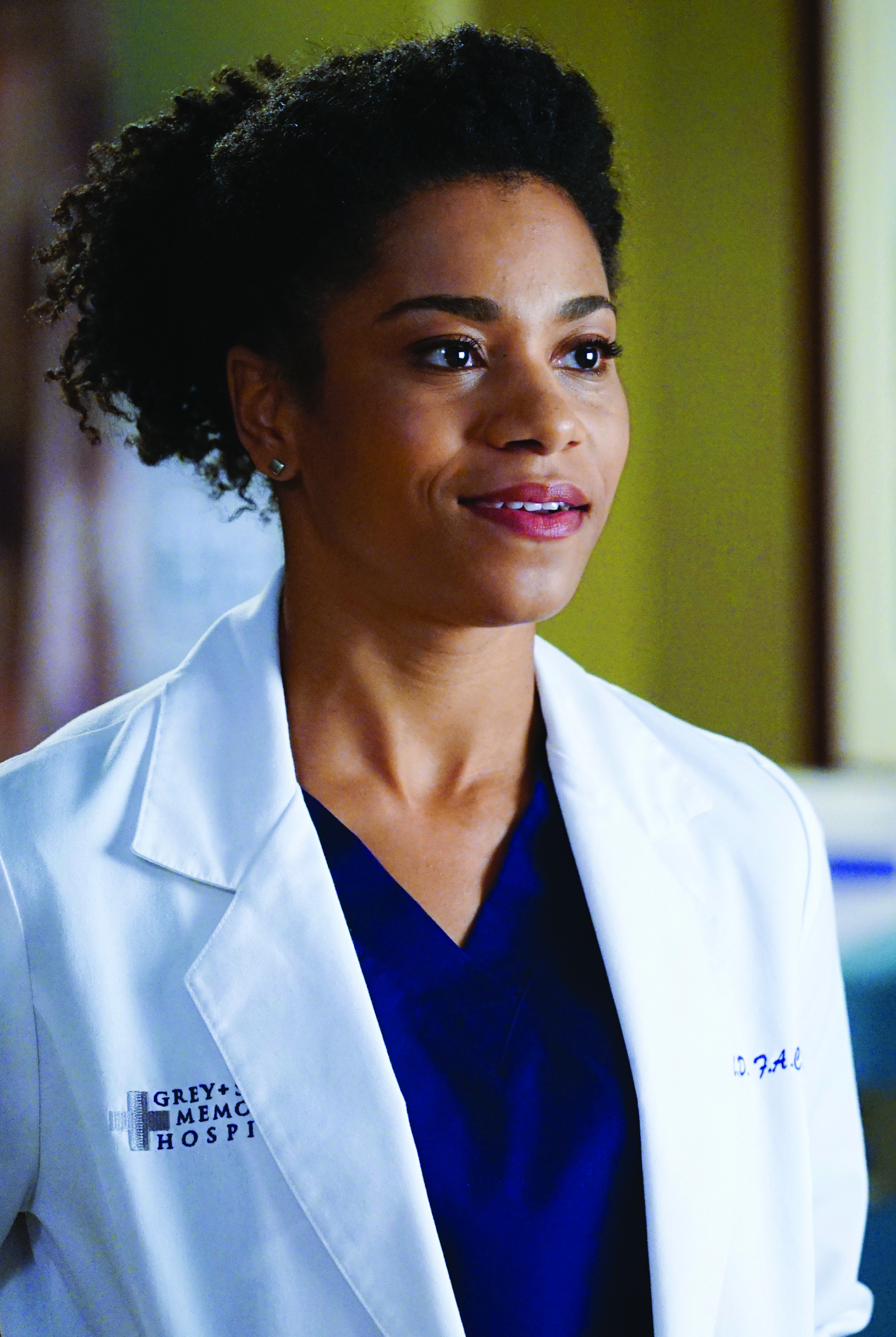 The ABC television network's Thursday night lineup features three dramas: Grey's Anatomy, Scandal, and How to Get Away with Murder, all created by producer, writer, and director Shonda Rhimes. One of the network's most successful and longest-running series, Grey's Anatomy has provided a bright spotlight for Kelly McCreary as Dr. Maggie Pierce, a recently discovered half-sister of protagonist Dr. Meredith Grey, for whom the show was named, and the daughter of Dr. Richard Webber, the former chief of surgery at Seattle Grace Hospital. McCreary, a history major, plays Maggie with a sense of confidence she says was inspired by the premed students she met at Barnard. McCreary has appeared on many shows, including Castle, Scandal, and White Collar. She had a role in the 2012 movie Being Flynn, starring Robert DeNiro, and will portray the legendary Eartha Kitt in the upcoming film Life. 
What made you decide to attend Barnard? I grew up in Milwaukee, and I always knew I wanted to move to New York City at my first opportunity. Over Barnard's welcome weekend, I met my now best friend, Angel Williams '03. We bonded over our enthusiasm for the school, and by the end of the weekend, I couldn't imagine having a college experience without a friend like her. Being persuaded by a brand-new friend now seems like such a 17-year-old way to make very important life decisions, but looking back, I think it was my gut telling me that I would thrive academically and artistically in the place where I felt the strongest sense of community and belonging. It was definitely the right choice.
Were you interested in acting and theatre when you were an undergraduate? I've been interested in acting and theatre from fourth grade. After attending middle and high schools for the arts, I decided that college should be a time to become a well-rounded human being and try out other things. But predictably, like every other person who falls in love with the theatre in college, I couldn't stay away. I took as many classes as I could fit into my schedule, did several productions at the Minor Latham Playhouse, and worked on the Varsity Show during my junior year. I also spent a semester at the British American Drama Academy in London.
What was it like to live and work in New York in the years after college? Every actor has a day job; mine was a part-time gig in Barnard's alumnae affairs office, working for the wonderful Jane Hollander. It was the perfect set up, because I got to earn my living working for an institution I cared about while having the time and flexibility to go on auditions and do the occasional out-of-town play. Meanwhile, I lived in a brownstone in Harlem with Angel, and Megan Wasserman Cardenas '03, along with my oldest friend from childhood. They all put up with me doing vocal warm-ups and practicing my audition songs. They even helped me learn lines and pick out audition outfits, and they came to see me in every little skit in every random church basement. It was a fun and very productive time, during which I was able to make gradual but constant progress building my résumé and industry relationships.
In what way do you think Barnard may have helped you develop the determination necessary to deal with the entertainment industry? There is definitely a parallel between finding my voice as a scholar in a sea of incredibly bright women, and finding my place as an artist in an industry where there is no shortage of talent. I cultivated my confidence and work ethic as a student at Barnard.
What is it like to be part of ShondaLand, Rhimes's production company? It is so gratifying to tell stories that start meaningful conversations about important topics. I love that I get to be part of something that gets people thinking about representations of black women, issues in the LGBT community, Alzheimer's disease, veterans' affairs—all of it. And I am surrounded by real and fictional women who are brilliant, talented, and at the top of their games. 
—By Lois Elfman '80
—Photograph by Susan Shachter