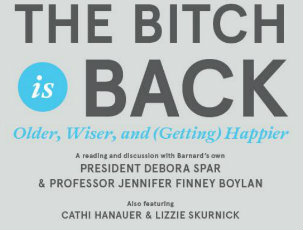 The Bitch was among us in 2002, when novelist and journalist Cathi Hanauer edited a collection of essays by 26 women who revealed "the truth about sex, solitude, work, motherhood, and marriage" titled The Bitch in the House.
In 2016, the Bitch Is Back — and alive and well at Barnard.
At a campus event on October 5, Hanauer joined President Debora Spar, professor and Anna Quindlen Writer in Residence Jennifer Finney Boylan, and writer Lizzie Skurnick for a reading and discussion of The Bitch Is Back: Older, Wiser, and (Getting) Happier.
Hanauer — whose daughter Phoebe Jones is a member of the Class of 2018 — opened the conversation by explaining how the concept of The Bitch in the House was born.  Exhausted and strung-out with the competing demands of motherhood and work, she had reached out to other writers to open up and reveal what it's really like to be a woman dealing with obligations that may seem impossible to fulfill.  That first book was an immediate hit; apparently millions of people agreed that bitchiness — openly wearing one's attitude about the conflicting realities of womanhood — could be a good thing.  Years later, as Hanauer and her peers settled into midlife, she noticed that many were becoming divorced and making other life changes that previously had been taboo — yet they were happier than they had ever been.  Again she reached out to a wide range of writers, this time to explore how getting older gave them new life experiences and insights.  At the campus event, three of those writers read from their essays.
Lizzie Skurnick began by sharing her story of deciding to have a baby on her own without a partner.  The details of visiting a sperm bank website were hilariously funny ("finding a donor online is not unlike shopping for a dress on J. Crew") but also moving and powerful.  When her baby son screamed for hours, she worried she had made "a terrible mistake."  Skurnick took him in her arms, and they "stared at each other for hours. Are you my person? his eyes seemed to ask. 'I'm your person,'" she said.
Debora Spar, also reading an excerpt of her essay, focused on the tension between aging and beauty for many women, beginning with herself.  She shared that she had ridiculously continued to run regularly and attend a dance cardio class — when she wasn't wearing three-inch heels — for six months after a foot injury.  Her point was that trying to maintain a youthful appearance made her feel good about herself — even though she was paradoxically in excruciating pain. "We deny the power of beauty at our peril," she reminded the audience, "which is why its inevitable passage is so poignant and so hard."  Spar has arrived at "only one firm conclusion.  And that is not to pass judgment."
Before Jennifer Finney Boylan, who also has written for Barnard Magazine, read from her own essay, she thanked Hanauer, Spar, Skurnick, and Barnard teachers and students — and then wondered, "Am I not being bitchy enough?" In fact, she and the other panelists expressed exactly the right amount of bitchiness. 
Boylan went on to reveal how she harnessed the power to come out as transgender to her wife and sons and to live "an authentic life."  It was, she explained, "a life-or-death decision."  Several years later, when she was Jennifer and no longer Jim, and was beginning her appointment at Barnard, she went to the Columbia library to do some research.  She showed the guard her ID, and he responded, "Hello, Professor," as he opened the gate so that she could walk in.
More than anything else, this event showed that honest conversation about what it means to live as a woman opens the gate for us all.