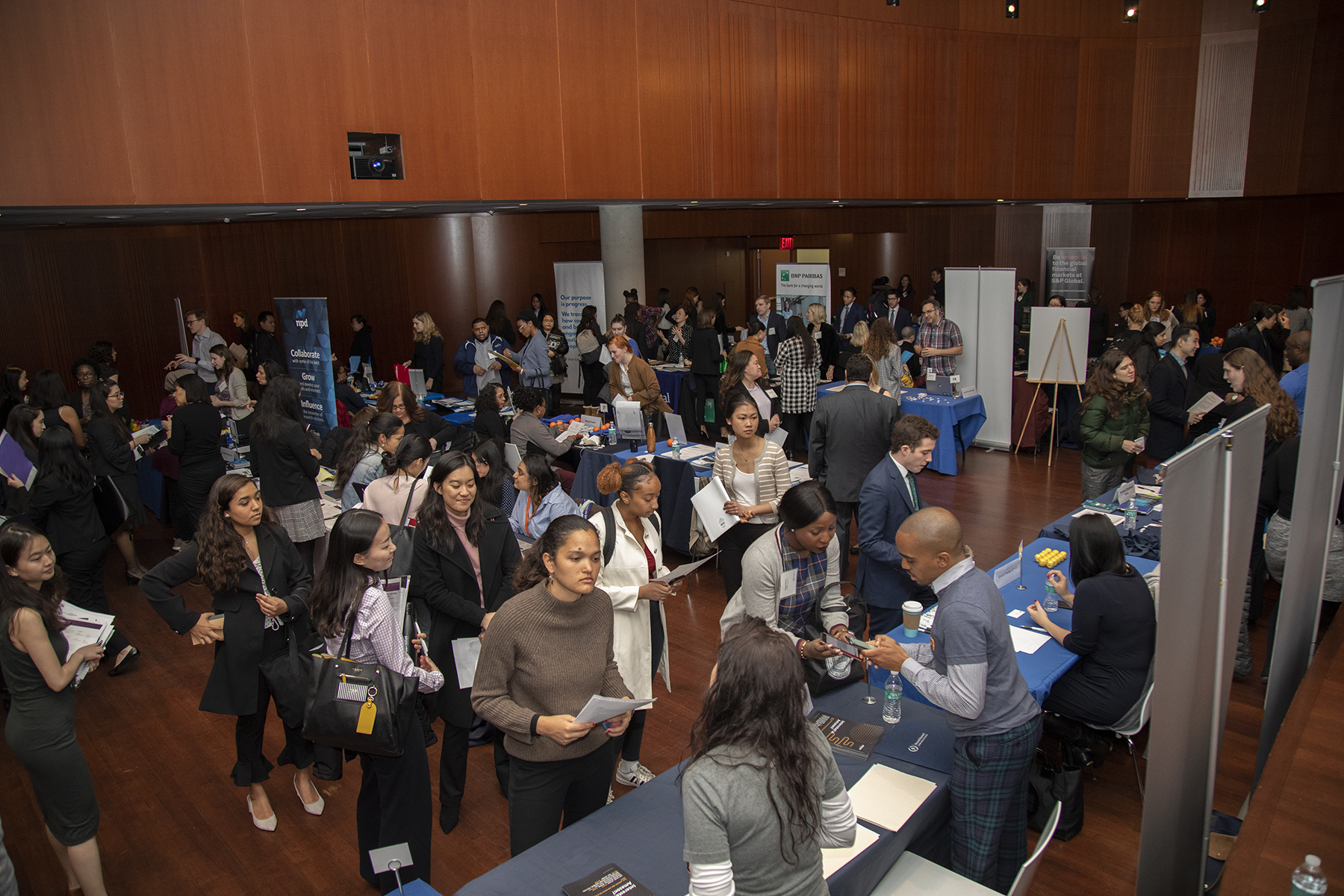 Attending the Beyond Barnard Opportunities Fair is an excellent way for organizations to gain visibility on campus and maximize recruiting potential at Barnard College. We offer a range of options for employers to be involved as participants, supporters, and flagship sponsors. Please email us at beyondbarnard@barnard.edu to ask questions.
During the fall and spring semesters, opportunity fairs at Barnard College give employers from all industries a unique and convenient opportunity to meet with motivated and interested students and alumnae. The fair affords students the opportunity to gather information about career options within many organizations and across industries as well as seek out internship and full-time employment opportunities. 
  PARTICIPATING SCHOOLS
Barnard College 
Columbia College      
Fu Foundation School of Engineering & Applied Science        
School of General Studies 
The next Barnard Career Fair will be held on January 24, 2020. To register for the Beyond Barnard Opportunities Fair log into your Handshake account. Employers registering for the fair who are new to Barnard's employer management system will be asked to create a profile. Once you have submitted your profile, within one business day you will receive an email granting you access to Handshake, where you can complete your registration for the Fair. 
Event Schedule:
Welcome Breakfast: 8:30 - 10:15 am:
Join us for a keynote talk and discussion with faculty, Barnard Senior Leadership, distinguished alumnae, and guests on the theme, "Diversity, Equity, and Inclusion: Challenges and Opportunities in Recruitment and Advancement."
Opportunities Fair: 11:00 am - 3:00 pm:
Promote opportunities at your organization to more than 500 students from Barnard College and Columbia University undergraduate programs. Premium-level supporters (see below) will have reserved access to additional space for on-campus conversations with candidates.
Participation Packages:
Partner Package:
Space for 2 Representatives at Employer Breakfast
Space for 2 Representatives at Opportunities Fair
Shared space at rectangular table (4'x30") with Linen
Name Tags and Organization Name Tent
Pricing: For- Profit $200 // Non-Profit $75
Premium Package:
All Standard Registration Benefits
Reserved space for on-campus coffee chats and informational interviews (pre-selection and walk-in)
Premium Table Location
Pricing: For- Profit $500 // Non-Profit $150
We will offer a 25% Discount to Employers that participated in the 2019 FAll Opportunities Fair
We will review your registration form and confirm your participation. 
PLEASE NOTE: You are not confirmed to attend the fair until we send your registration confirmation via email.

Reminder: Please remember to post the positions you are recruiting for prior to the Opportunities Fair.
We ask that shipping displays, literature, and giveaways for the Opportunities Fair arrive no later than one week prior to the event date.  If you cannot ship materials to reach Barnard College one week prior to the event date then we recommend that you bring the materials with you. Please ship materials to:
Barnard College, 3009 Broadway
c/o Caitlin Ursini, Beyond Barnard
Elliott Hall, 2nd Floor
New York, NY 10027
Please clearly mark displays and boxes with the label "Beyond Barnard Opportunities Fair" as well as the name of your organization .  We use the information marked on the outside of your package to ensure that materials are delivered to the correct table location at the career fair.
Attendees are responsible for shipping your organization's displays and materials back to your offices.  Please bring the necessary shipping forms with you; these forms must include the weight of shipment and your account number. Please contact beyondbarnard@barnard.edu if you have any questions.