About Access Barnard
Image
Access Barnard leverages the resources of the college and New York City as a whole to support students who identify as international, first-generation, or low-income as they navigate the American higher education system. Access Barnard seeks to bridge the gaps that first-time undergraduates often face as they transition into college.
Access Barnard Resources
Navigating Barnard Workshops

Peer Mentoring Program 

Cohort Based Advising Sessions 

Supplemental Academic Support Application (SASA)

Access Barnard Lending Library

Laptop Loan Program 

AB Student Advisory Board 

Peer Academic Advisors (PAA's)
SASA Application
The Supplemental Academic Support Application provides students with a single point of access to request funds for academic needs to support their educational progress during their time at Barnard.
SASA Eligibility 
SASA Funding is available to a diverse population of domestic and international students who are on financial aid. SASA support is intended for students receiving any form of financial aid from the college, although the committee reviews each application and will make exceptions depending on the circumstances of the student.
Scope of Awards
The support provided through SASA is not always financial but also a way to help connect students with resources at Barnard or Columbia. SASA grants can range from $25-$400. Additionally, SASA connects students with non-financial resources such as laptops or specialized advising. So even if students are unsure of how their request fits, we encourage them to apply and will work to connect them to the right place. The SASA committee meets every week to review requests. 
How To Apply
The SASA application is available through your Barnard portal which can be found at portal.barnard.edu.  You will be prompted to log in. Once logged in look under finances and you will see the SASA application listed.  
Image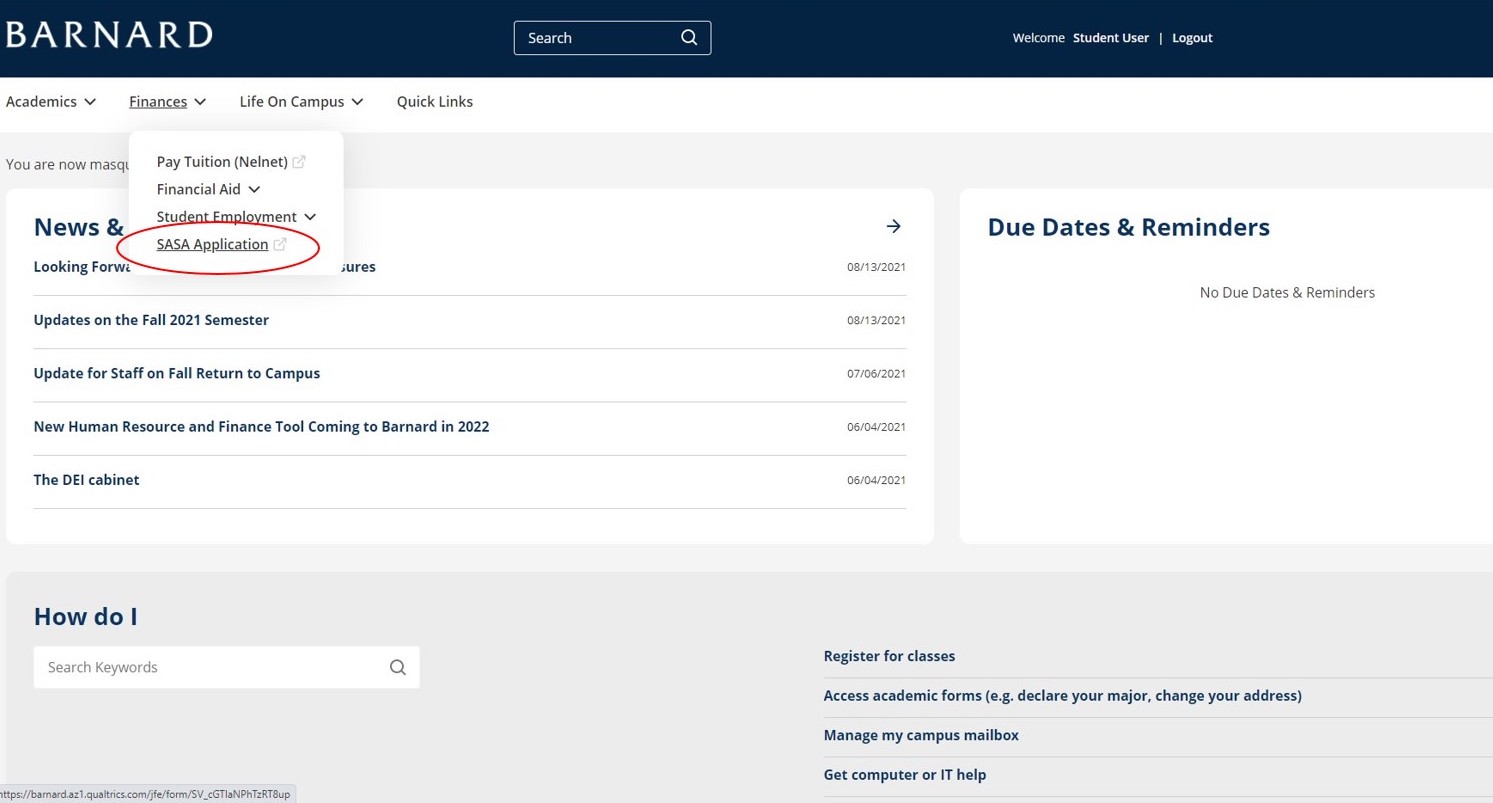 Access Barnard Departments
Opportunity Programs (OP)
Arthur O. Eve Higher Education Opportunity Program (HEOP)

Collegiate Science Technology Entry Program (CSTEP)
For more information about Opportunity Programs, please email opportunityprograms@barnard.edu
First-Generation, Low-Income (FLI)
The First-Generation/Low-Income Initiatives (FLI)  provide resources and support to all students who identify with the first-generation and/or low-income college experience. Access Barnard seeks  to empower and enrich the experience of FLI students both inside and outside of the classroom as they navigate Barnard. 
For more information about FLI, please email Dean Jemima Gedeon, Associate Dean for Student Success at jgedeon@barnard.edu
International Student Services (ISS)
International Student Services (ISS) serves the needs of F-1, J-1 visa students, and self-identified international students at the College. ISS provides a wide array of services to new, continuing and visiting international students. The office also develops year-round academic, cultural and social programming and serves as a global resource for the larger Barnard community.
For more information about International Student Services, please email iss@barnard.edu
Peer Mentoring 
Peer mentoring is widely considered a high-impact practice for student success. Peer mentoring has been shown to enhance students' sense of belonging and satisfaction with their college experience and enhance psycho-social belonging. For students new to the college experience, peer mentors have been shown to be indispensable to the transition particularly for first-generation students. Currently, Opportunity Programs and the FLI program have each developed versions of peer mentoring. Access Barnard is enhancing this existing model to address a range of ways peer mentors can be utilized to support all first-year and transfer students as they navigate their experience at Barnard. Access Barnard mentors will:
Peer mentors will provide specialized support such as first-year mentors, alum mentors and mentors in majors.
A group of mentors will help student identify their needs and connect them to institutional resource at the front desk of the new Access Barnard office.
Mentors will work with the Center for Engaged Pedagogy to develop workshops and offer trainings for staff and faculty on supporting FLI student learning.
For more information about Access Barnard Peer Mentoring Program, please contact Gianni Lopez, Associate Director for Advising and Programs or email mentoring@barnard.edu
Office Locations
| Department | Office Number |
| --- | --- |
| Opportunity Programs (OP) | Milbank 111 |
| First-Generation/Low-Income Program (FLI) | Milbank 119 |
| International Student Services (ISS) | Milbank 119 |
| Peer Mentoring Program | Milbank 119 |
Meet The Access Barnard Staff
| Staff Name | Role | Office |
| --- | --- | --- |
| Wendy Garay | Dean for International Students | Milbank 105 |
| Jemima Gedeon | Associate Dean for Student Success | Milbank 119 |
| Elida Martinez-Gaynor | Director of Opportunity Programs | Milbank 114 |
| Raul Cervantes | Senior Associate Director, Opportunity Programs | Milbank 114 |
| Gianni Lopez | Associate Director, Advising and Programs | Milbank 119 |
| Ava Thomas | Academic Counselor, Opportunity Programs | Milbank 114 |
| Carmen Nieves | Senior Programs Assistant, International Student Services | Milbank 119 |
| Jiovana Dawson | Administrative Assistant, Opportunity Programs | Milbank 111 |
| Sandra Gaona | Administrative Assistant, Opportunity Programs | Milbank 111 |
Addressing Food Insecurity
The Food Pantry at Columbia-Barnard Hall is open to any student within any of the 20 Schools within Columbia University - undergraduate or graduate, full-time or part-time. Any student who has any level of food insecurity can reach out to the Food Pantry to get a disbursement catered to your individual dietary and household needs. All students can feel rest assured that any information they provide to us will remain within the Food Pantry and will not be shared with anyone outside of the Food Pantry without their explicit permission.