Post-Baccalaureate Fellowship Program
About the Post-Baccalaureate Fellowship Program
In 2018, Beyond Barnard launched the College's Post-Baccalaureate Fellowship Program, supporting the research and work of recent alumnae.The Post-Baccalaureate Fellowship is a one- to two-year program that fosters the development of career skills, ongoing technical and workplace learning, and an opportunity to apply subject matter expertise to new technologies, digital scholarship, creative writing, and other platforms. 
Post-Baccalaureate Fellows collaborate directly with faculty directors of interdisciplinary centers, programs, and institutes across campus. Beyond Barnard facilitates regular supportive programs to foster community and help build skills that prepare the participants for careers and graduate programs.
Post-Baccaluareate Fellows Work in the Following Centers and Initiatives:
Design Center
Athena Center for Leadership Communities of Practice
Athena Film Festival
Movement Lab
Center for Engaged Pedagogy
Digital Humanities Center
Sloate Media Center
IMATS
Barnard Center for Research on Women
Empirical Reasoning Center
Vagelos Computational Science Center
Creative Writing Program
Toddler Center
Beyond Barnard's programming for the Post-Baccalaureate Fellows includes lunchtime sessions covering a range of topics (program planning, research, application to graduate school, and faculty talks, for example). And all Fellows have access to regular one-on-one advising to discuss their graduate and professional interests and plan their next steps.
The goal of the Post-Baccalaureate Fellowship Program is to provide post-graduate academic and professional training that prepares participants for meaningful work and continued research in a career field and/or graduate program that aligns with their interests. Applications for participation in the program open each Spring. Post-Baccalaureate Fellows typically begin their program by the end of the summer.
Questions? Email beyondbarnard@barnard.edu.
Meet the 2023-2024 Post-Baccalaureate Fellows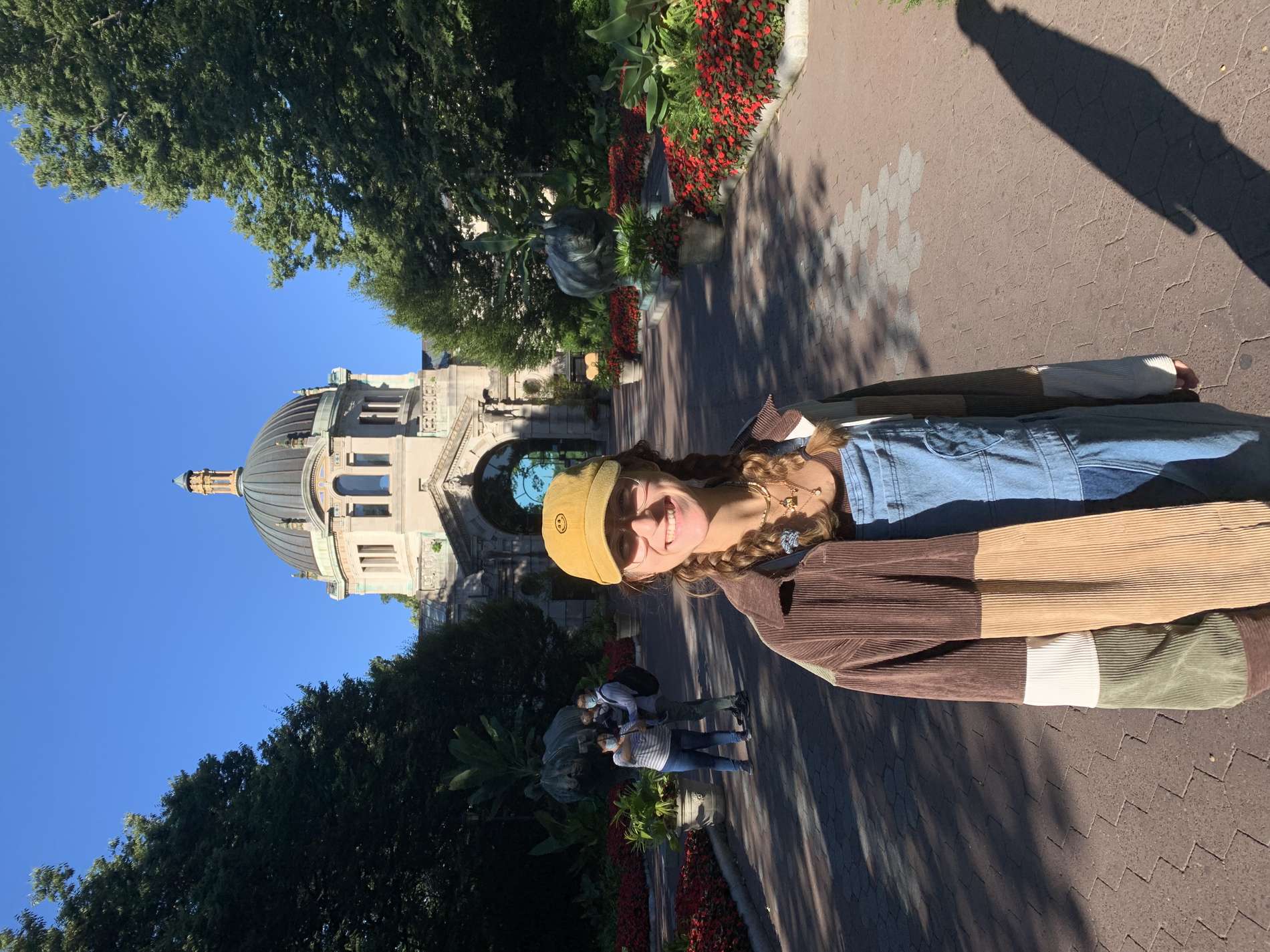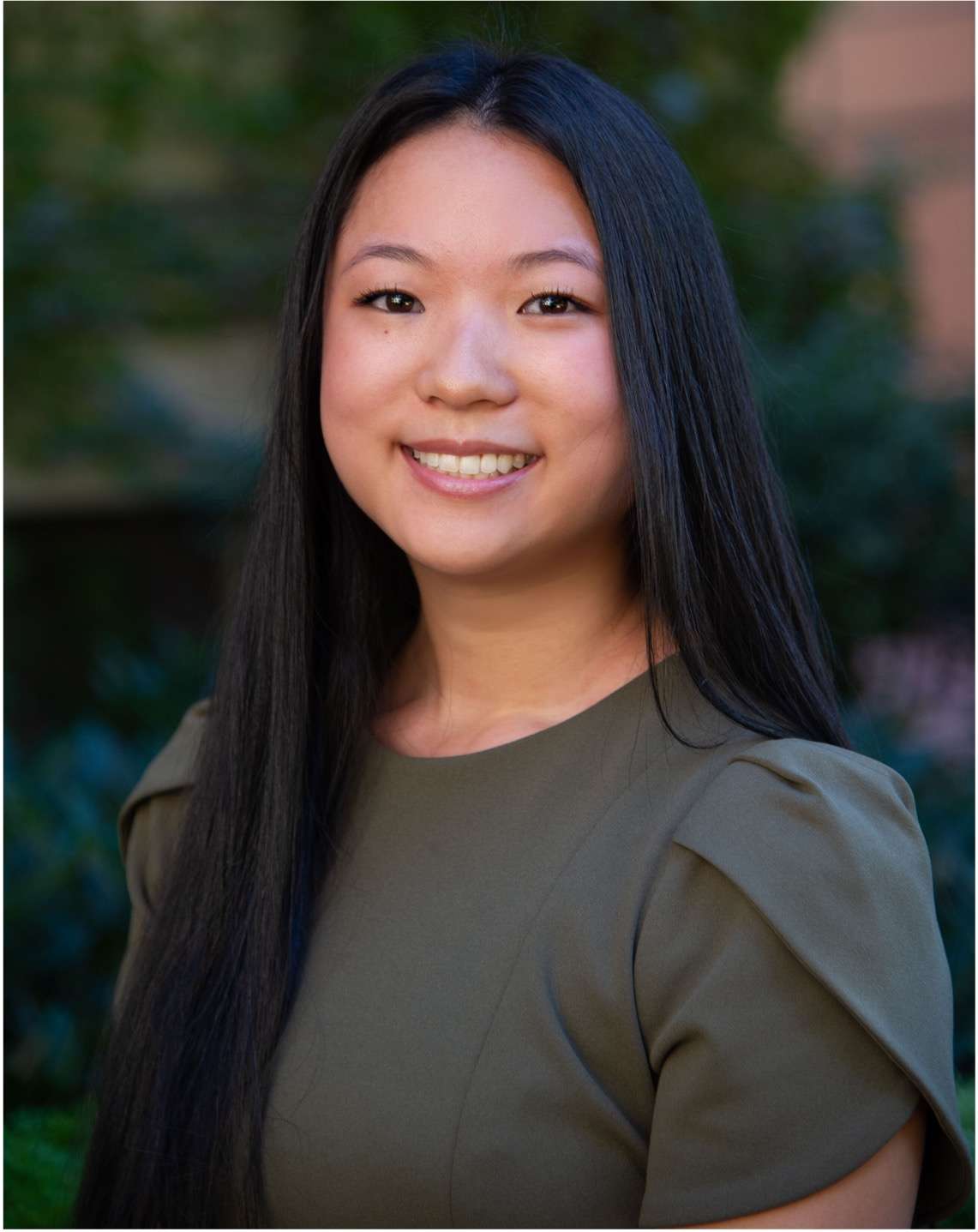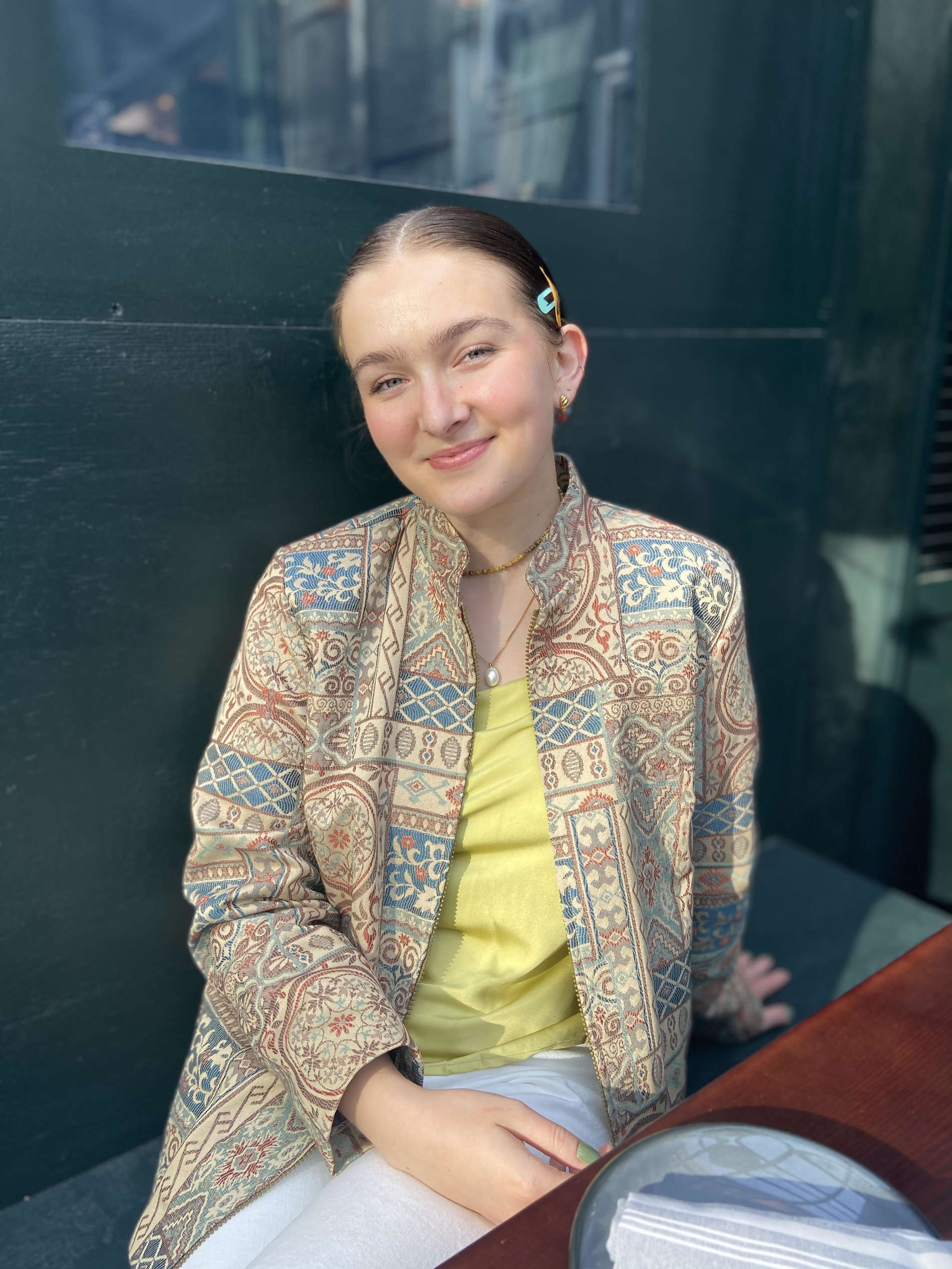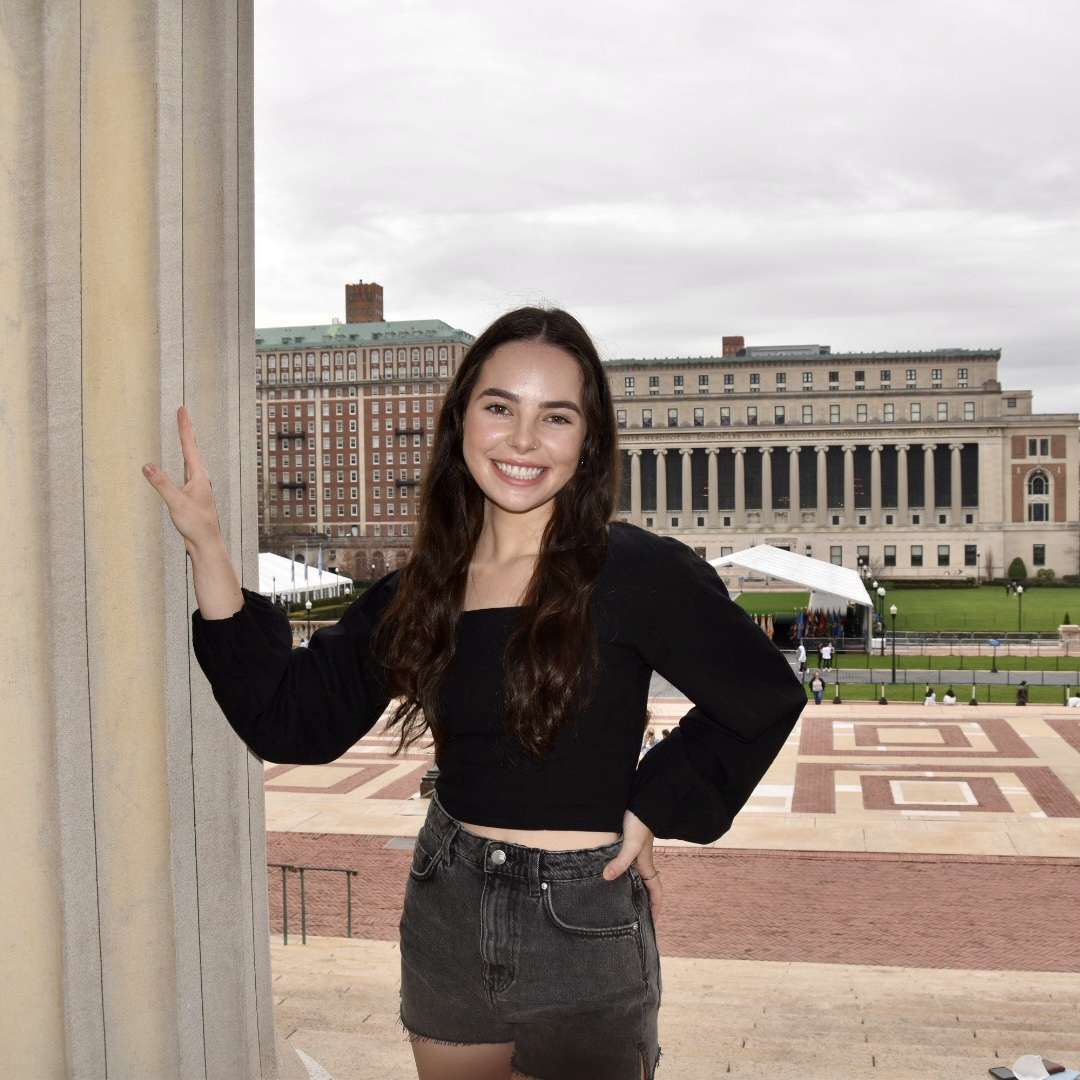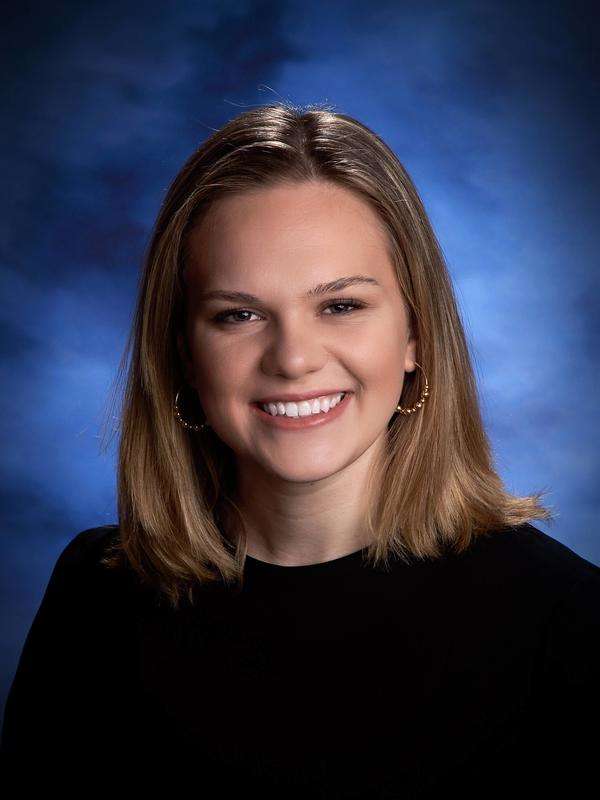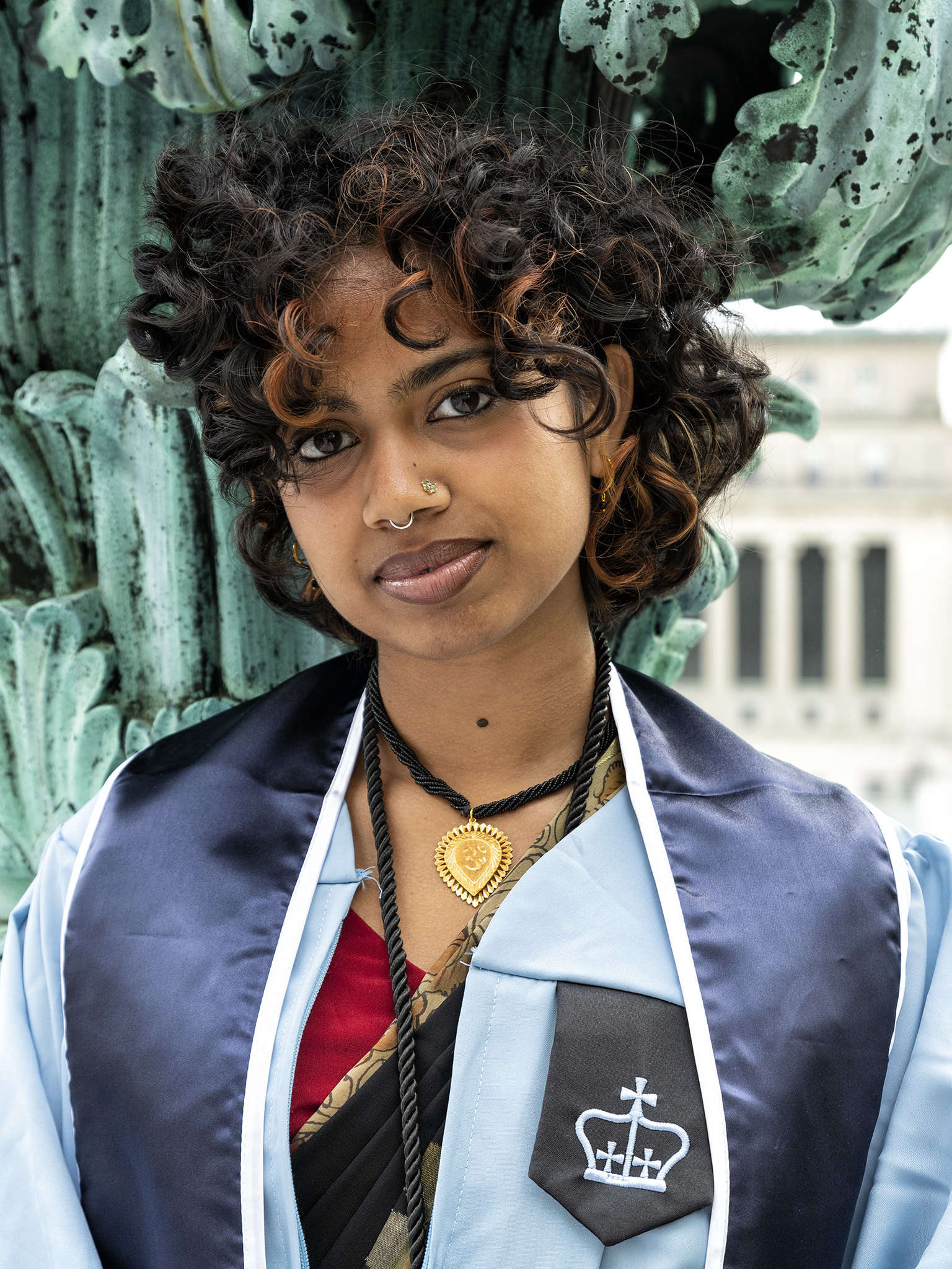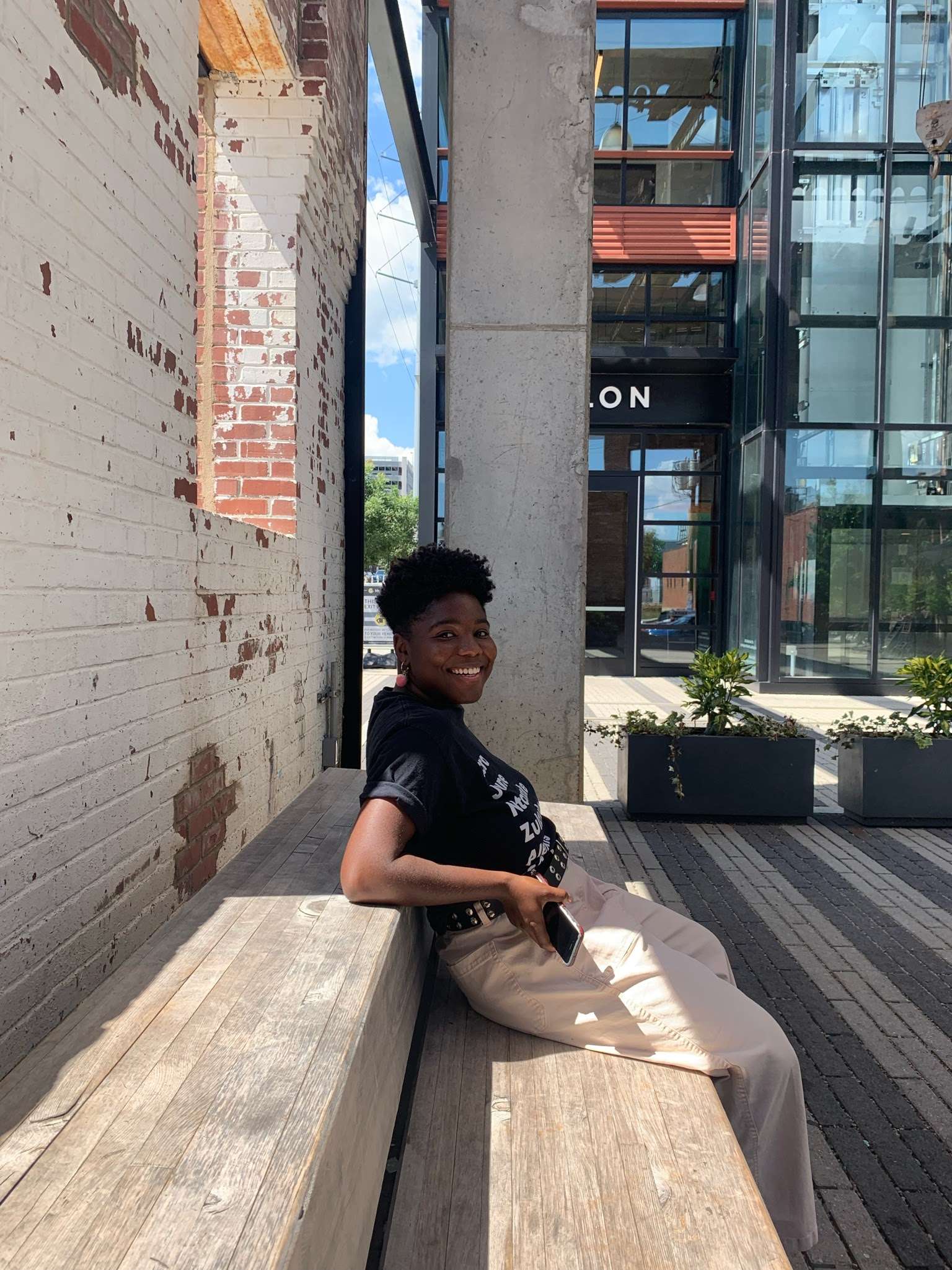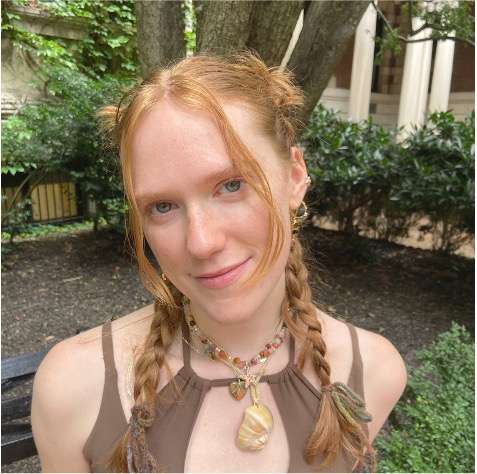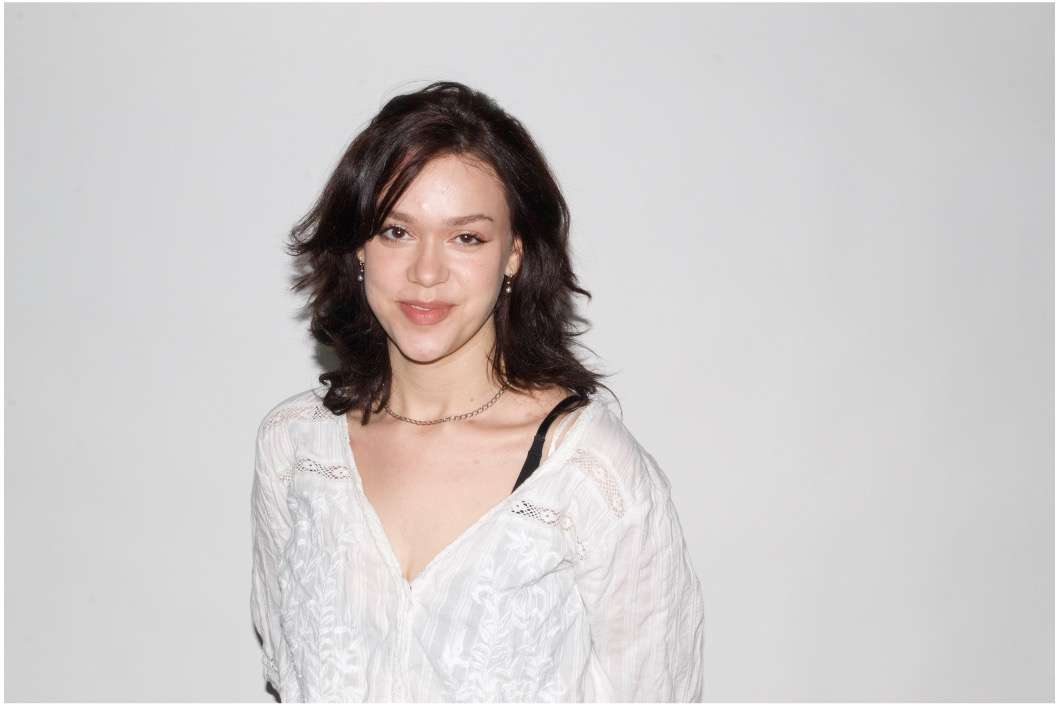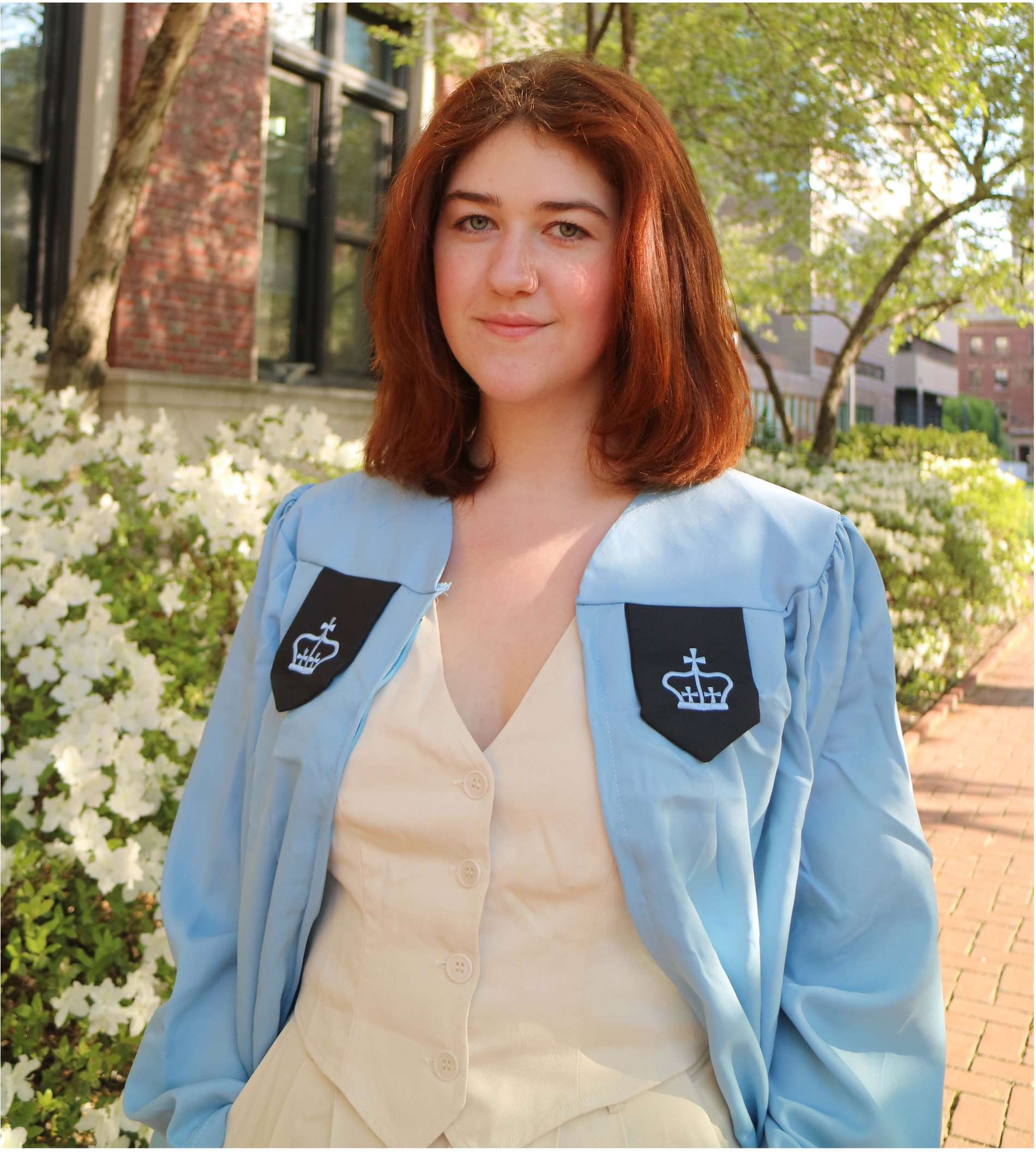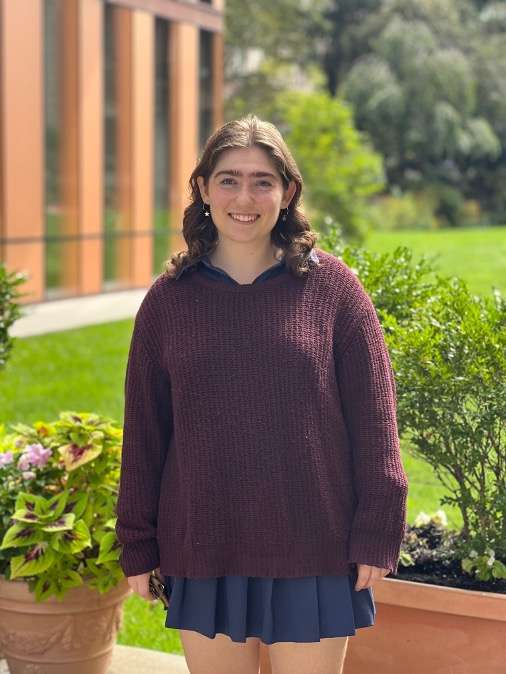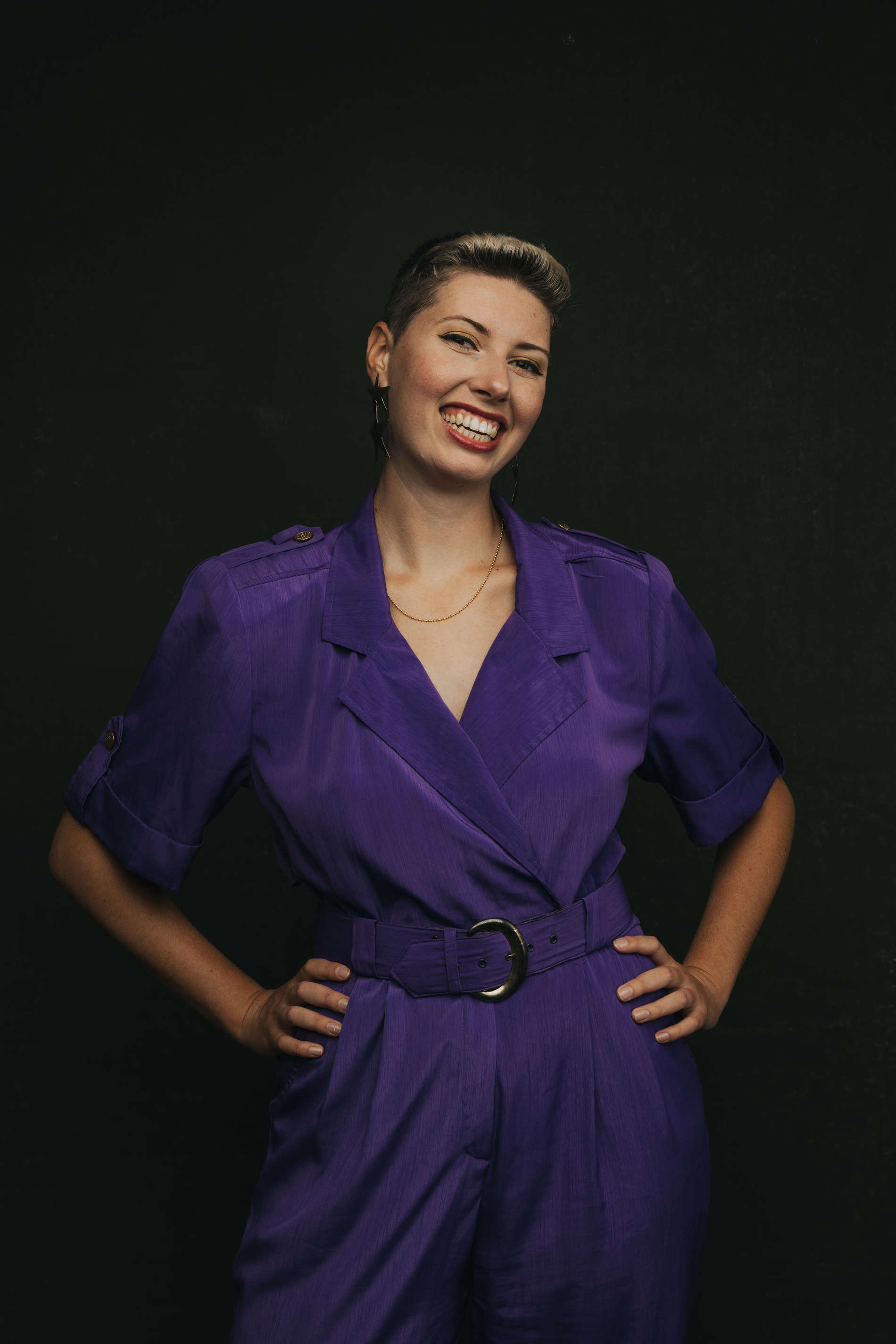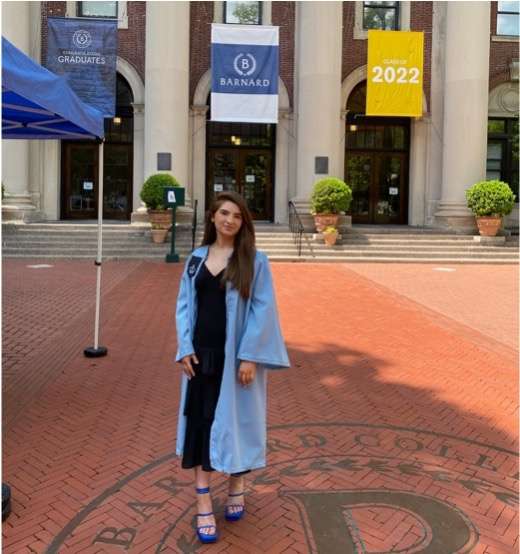 Claudia Gohn, Sloate Media Center
Hi there! My name is Claudia Gohn and I am the Media Center Post-Bacc Fellow. I graduated from Columbia College in 2022 after studying English and Hispanic Studies. In addition to my role at the Media Center, I am also a part-time student in the M.S. program at Columbia's School of Journalism. My day-to-day responsibilities as a Post-Bacc include managing the production studio, workshop support, and other administrative tasks at the center. Going into my second-year in this position, I have been able to develop my skills as a creative professional, including a better understanding of film production and studio management, as well as increased ability to use advanced film equipment, production tools, and video editing software. In my professional and educational pursuits, I have a particular interest in documentary filmmaking, multimedia journalism, and narrative-driven nonfiction writing. 
Kiley Matschke, Vagelos Computational Science Center
Kiley Matschke is the Post-Baccalaureate Fellow at the Vagelos Computational Science Center (CSC) and a Barnard 2023 graduate with majors in Computer Science and Psychology. Her interests in technology and society have culminated in previous experiences leading workshops, mentoring peers, and engaging in roundtable computing discussions. Her time during undergrad taught her that digital literacy is not confined to a singular identity nor field of study; in fact, bridging diverse individuals and disciplines works to highlight the multifaceted beauty of learning. She hopes to continue advancing such interdisciplinary exploration, and accessibility, at the CSC for current and future students.
Sarah Hilligoss, Creative Writing
Hi there! My name is Sarah Hilligoss (she/her) and I'm the Creative Writing Post-Bacc Fellow! I graduated from Barnard in 2021 with an English major and concentrations in Creative Writing and Film. In this role, I have loved focusing on building communities for writers both at Barnard and afterwards. As a writer, I do my best work when I'm in community with my peers, giving and receiving support and accountability. So, reach out if you ever want to talk writing (and reading)! Especially if you're a big fan of genre fiction.
Ariana Paul, Empirical Reasoning Center
Hi! My name is Ariana Paul and I am the Empirical Reasoning Center (ERC)'s new Post-Bacc Fellow! I am a recent Barnard graduate '22, having majored in Environment and Sustainability and minored in Economics. I worked at the ERC as an undergraduate fellow my senior year. I have a particular interest in climate and environmental health data. I'm looking forward to exploring and visualizing data, developing research questions, facilitating workshops, working with faculty and students for course support, and more!
Alexa Easter, Center for Engaged Pedagogy
Alexa Easter is the Post Baccalaureate Fellow for the Center for Engaged Pedagogy at Barnard College. At the CEP, she publishes digital content, develops programming responsive to the needs of the community, and supports the Student Learning Assessment Fellow Program. Alexa is curious about the ways in which anti-oppressive facilitation methods can support students and faculty, particularly when engaging with sensitive course material that spurs challenging conversations. She has worked as a qualitative research assistant in the Barnard Education Department and the Department of Sociomedical Sciences at the Mailman School of Public Health. Her work appears in The American Journal of Preventive Medicine. She was born and raised in Ann Arbor, Michigan and graduated from Barnard in a BA in Psychology and a minor in French. Connect with Alexa on Linkedin here!
Ketaki Krishnan, Barnard Toddler Center
Hi! My name is Ketaki and I am the Post-Baccalaureate Fellow at the Barnard College Toddler Center. I am currently assisting a collaborative study between the Toddler Center and the Developmental Affective Neuroscience Lab at Columbia about toddlers' emotional development. The study examines the functioning of brain regions involved in emotion processing during this unique developmental period. I also assist with other ongoing research at the Toddler Center, such as a qualitative study on the experiences of parents with young children during the COVID-19 pandemic. Apart from my position as Research Coordinator, I work as an assistant teacher in two toddler classes and TA the Toddler Center Seminar. I look forward to having my experiences in the classroom inform my research, supporting Barnard students as they learn about toddler development, and continuing to explore my passion for early childhood!
Eden Segbefia, Digital Humanities Center
Eden Segbefia (they/them) is the Post-Baccalaureate Fellow for the Digital Humanities Center. Eden received their BA in Women's, Gender, and Sexuality Studies with a concentration in Feminist/Intersectional Science and Technology Studies from Barnard College where they were a Mellon Mays Undergraduate fellow, recipient of the Bessie Ehrlich prize for their senior thesis, and awarded the Dasha Amsterdam Epstein Award for Design and Production. Eden's research explores machine consciousness tests centering themes of kinship and animacy as they relate to Christian-colonialism as a core tenet of capitalism. By allowing their own conceptions of time and urgency to be reconfigured, Eden hopes that their work creates openings for others to access their own ancestral wisdoms about the meaning of kinship.
In their free time Eden works as a sound designer for theater and nerds out about Black folk music and brunch (particularly french toast). Eden is a proud native of Durham, North Carolina! Check out another digital humanities project-child of theirs here.
Nora Gmelch, Design Center
Hello! My name is Nora and I am the Post-Baccalaureate Fellow for the Design Center! I graduated from Barnard in May 2023 and I majored in Architecture with a specialization in 3D design/ garment design, and I also minored in Environmental Science! I am currently working on a project combining my interests in garment design, architecture, and environmental science by exploring pre-existing natural structures within plants and will be using these observations to inform the design of decorative and functional garments as well as the design of other architectural elements.
Isabella Pechaty, Athena Film Festival
Isabella Pechaty (she/her) is the Post-Baccalaureate Fellow for the Athena Film Festival. She has a background in communications and film production, and her research interests include revising film and media theories and production models for the digital age. She graduated with a degree in Film from Barnard College in May 2023, and plans to pursue a graduate degree and a career in film criticism and arts journalism.
Kelsey Kitzke, Barnard Center for Research on Women
Kelsey is the post-baccalaureate fellow at the Barnard Center for Research on Women (BCRW). She served as a research assistant at the Center during her junior and senior years at Barnard College, graduating in May 2023 with a degree in anthropology. As BCRW's new post-bacc, Kelsey will help plan and promote the Center's programming, collaborate with campus groups to increase student participation, and serve as the editorial assistant for the Center's intersectional feminist journal, The Scholar and Feminist Online. She is thrilled to be part of BCRW's work, which strives to unite students, activists, and academics and bring them toward a critical feminist engagement with the world. 
Ellie George, Athena Center for Leadership
Ellie George is the Applied Learning Fellow at the Athena Center for Leadership. She supports the execution of Athena's multiple communities of practice, assisting with program design and facilitation to provide students with opportunities to practice leading change in a supportive environment, outside of the classroom. Ellie believes that critical dialogue occurring on even the smallest of scales can create an outsized impact on the world, and she's excited to help transform ideas created between students into action. She graduated from Barnard in 2023 with a BA in Architecture & English.
Celia Krefter, Movement Lab
Celia Krefter (she/her) is a genderfluid director, choreographer, and lighting designer. She is thrilled to be on the Movement Lab team, helping to facilitate the innovative artistry and good vibes happening in the space. Currently, Celia is into making dance-theatre through play and ecological collaboration, mirroring environmental processes to create non-hierarchical development and performance practices. She is curious about interspecies performance, biomimicry, what makes performance spaces livable, and collaboration with the land. Recent projects include Everything Changes, Nothing is Lost (Brick Aux), an aquarium piece exploring the mystery and wonder of ocean ecosystems, and The Sonic Life of a Giant Tortoise (Barnard Theatre Department), a play by Toshiki Okada meditating on grief and our search for the extraordinary amidst an urban capitalist landscape. Celia graduated from Columbia in 2022 with a BA in Theatre (Directing). Come by the Movement Lab and say hi! Celia would love to hear about your artistic practice, and/or chat about how bugs dance and plants sing to one another.
Carly Stein, Barnard Toddler Center
Carly Stein (BC'22) is a Post Baccalaureate Fellow in the Center for Toddler Development. Working with young children since she was 15 years old as a camp counselor at Sunrise Day Camp for Children with Cancer and their Siblings , and more recently, as a volunteer with Sunrise Association at New York Presbyterian Pediatric Oncology, her life's work will center on the mental and emotional well being of children and families. In the Toddler Center, Carly serves as an assistant teacher in two classes and the newly added Young Toddler program. Working with the team of teachers and researchers in the Toddler Center,  supporting children and families through some of the earliest and most crucial stages of growth, development, and separation continues to be fascinating and rewarding work that brings Carly immense joy and continued opportunities to learn, reflect , evolve , adapt and have a great deal of fun.
Previous Post-Baccalaureate Fellows
2018-2019 Start
Ruby Mastrodimos, Sloate Media Center

Zoe Ross, Design Center

Sylvia Korman, Digital Humanties

Nia Judelson, Creative Writing

Anna Carlson, Vagelos Computational Science Center

Ashna Shome, Writing Program

Eve Kausch, Barnard Center for Research on Women
2019-2020 Start
Kory Louko Wagner, Athena Center
Izzi Sibbers, Empirical Reasoning Center
Allison Costa, Movement Lab Center
Taylor Faires, Digital Humanties Center
Helen Kogan, Writing Program
Yisel Garcia, Design Center
2020-2021 Start
Eva-Quenby Johnson, Sloate Media Center
Amelia Marcantonio-Fields, Empirical Reasoning Center
Vyoma Sahani, Writing Program
Corinne Greenblatt, Institutional Research and Assessment
Madeline Miley, Institutional Research and Assessment
Ana Lam, Digital Humanties Center
Victor Ohene, Design Center
Katie Brady, Vagelos Computational Science Center
Hana Rivers, Center for Engaged Pedagogy
Akesi Kwajan, Pre-College Program
2021-2022 Start
Sophie Kreitzberg, Barnard Center for Research on Women
Genesis Quito, Athena Film Festival
Aishah Bostani, Design Center
Sarah Hilligoss, Creative Writing Program
Sophie Smyke, Toddler Center
Jazmin Maço, Digital Humanties Center
Zoe Webb Mack, Vagelos Computational Science Center
Noa Weiss, Movement Lab
Kalina Ko, Writing Program
Denise Mantey, Empirical Reasoning
Syeda Anjum, Sloate Media Center
2022-2023 Start
Ruchi Shah, Athena Center for Leadership
Gabriela Jatene, Athena Film Festival
Claudia Gohn, Sloate Media Center
Ariana Paul, Empirical Reasoning Center
Virgilia Antonucci, Vagelos Computational Science Center 
Kayla Leong, Center for Engaged Pedagogy
Mary Clare Greenlees, Design Center
Emma Noelle Buhain, Movement Lab