Blue Light Emergency Call Boxes
Image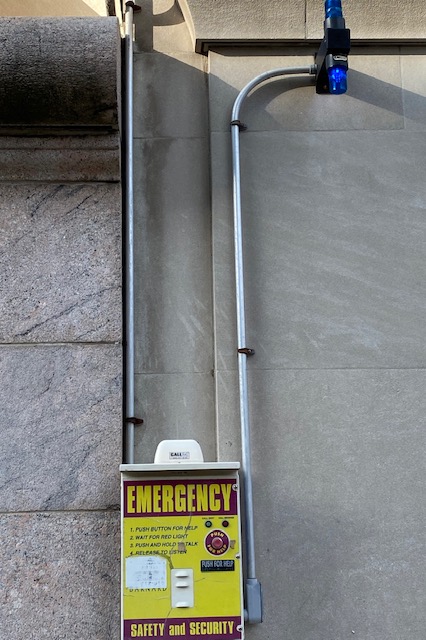 There are Emergency Call Boxes with Blue Lights located throughout the Barnard campus and at nearby affiliated campuses to provide immediate response to you if you are in need of help or if you feel threatened in any way.  Call boxes have a red button and a blue light above the box. Look for the blue lights near campus buildings and in the lower level tunnels of Barnard buildings.
To Operate:
Depress the red button to speak, release the red button to hear response.

Provide your location and details of incident or concern.

Community

Safety personnel from the affiliated campus will speak to you through the intercom and assistance will be dispatched to the location.
Barnard Blue Light Locations
Lower Level Barnard Hall (interior
Tunnel Hallway, across from North Elevator
Lower Level Barnard Hall (interior)

 

Tunnel Hallway, leading to Hewitt Dining
Lower Level Reid Hall (interior)

 

Basement, near Reid/Brooks PCHS hallway
Lower Level Sulzberger connection (interior)
Basement, near Hewitt dining restrooms
116th Street near Broadway (exterior)
On Brooks Hall exterior, near city bike rack
116th Street near 620 (exterior)
At entrance to 620 W. 116th St
120th Street at Milbank (exterior)
On 120th St near Milbank entrance
Claremont Avenue at 119th Street (exterior)
On Altschul near 119th St Gate
Claremont Avenue, Barnard Hall (exterior)
On Claremont near doorway labeled 26
Plimpton Hall on Amsterdam Ave (exterior)
On Amsterdam avenue at Plimpton basement
Cathedral Gardens (exterior)
On 110th Street west of Manhattan Ave
Columbia & Teacher's College Blue Light Locations