Finance
Barnard has committed to reorienting the endowment to ensure that our investments align with Barnard's overall goals as an academic institution. In March 2017, the Board of Trustees approved the recommendation of the Task Force to Examine Divestment, to divest the endowment from fossil fuel companies that "deny climate science or who otherwise seek to thwart efforts to mitigate the impacts of climate change". The Task Force concluded that as an institution that educates future leaders and global citizens, Barnard must do its part to mitigate its impact on climate change. Read the Full Presidential Task Force Report.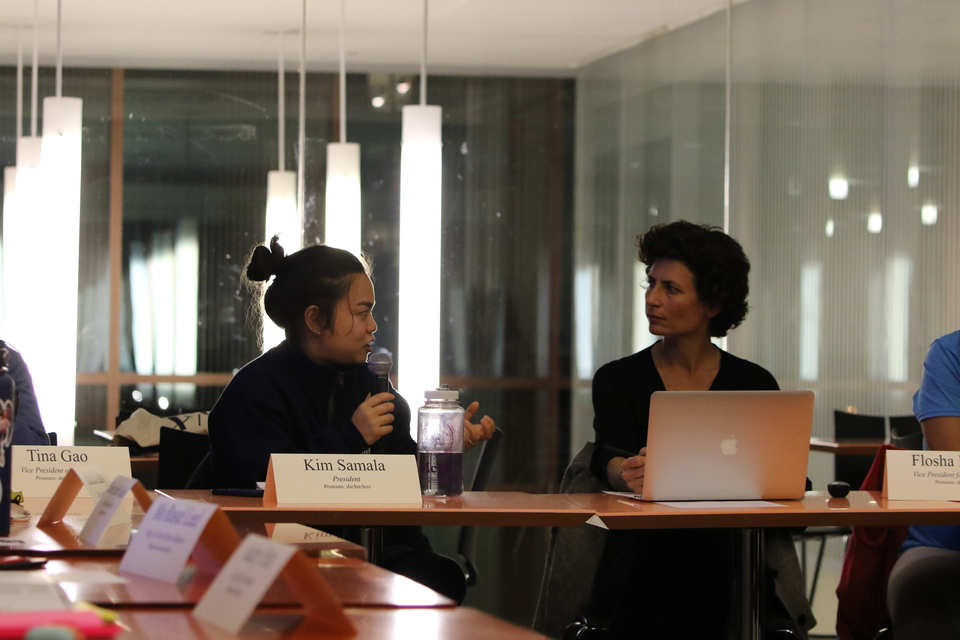 Barnard's approach to divestment is unique and innovative. By divesting from companies that question climate science, we reinforce our historic leadership role in environmental science research and education around climate issues. The College is seeking to create incentives for companies to embrace the scientific consensus and become accountable for the impact of their decisions on climate change. Barnard is currently working with Fossil Free Indexes, creator of the Carbon Underground 200 list, to to refine our divestment criteria, evaluate companies, and make informed decisions on our investments. 
Governance 
Sustainability and climate action cannot be the responsibility of just one person or department at Barnard. We are committed to integrating sustainability as a priority at all levels of institutional leadership. The Sustainable Practices Committee (SPC) brings together students, faculty, and staff to define sustainability priorities and initiatives. Students primarily collaborate on sustainable initiatives on campus through the Student Government Association's (SGA) Committee on Sustainability, formerly the Sustainable Initiatives Consulting Board (SIC-B), which works alongside the SPC to execute sustainable initiatives on campus. Each office or department develops sustainable programming or initiatives in line with their specific mission. Offices or departments can reach out to green@barnard.edu for information on support and trainings. 
Sustainable Practices Committee 
Sandra Goldmark, co-chair, Associate Professor of Professional Practice in Theatre, Director of Campus Sustainability and Climate Action 
Roger Mosier, co-chair, Vice President for Campus Services 
Leslie Raucher, Associate Director of Campus Sustainability and Climate Action 
Aastha Jain, Student Government Representative for Sustainable Initiatives '20
Izabella Shealy, '20
Severin Fowles, Professor of Anthropology 
Kathryn Gerlach, Director of Media Relations
Terryanne Maenza-Gmelch, Senior Lecturer in Environmental Science 
Katelyn Dutton, Special Assistant to the President
Ariana Gonzalez-Stokas, Vice President for Diversity, Equity, and Inclusion
Mary Joan Murphy, Executive Director of Student Health and Wellness Programs