Since Fall 2021, Barnard College has been incredibly proud to partner with the Laidlaw Foundation to provide first-year students and sophomores with opportunities to develop as leaders and scholars. The Laidlaw Scholars Leadership & Research Program is designed to develop a new generation of leaders committed to evidence-based truths and ethical leadership. Scholars advance and drive change around the world through creative, collaborative, and interdisciplinary practice, alongside rigorous academic research. The initiative is supported by Beyond Barnard and the Athena Center.
Read more about the program below! Questions can be directed to laidlaw@barnard.edu.
Meet the 2023 Laidlaw Scholars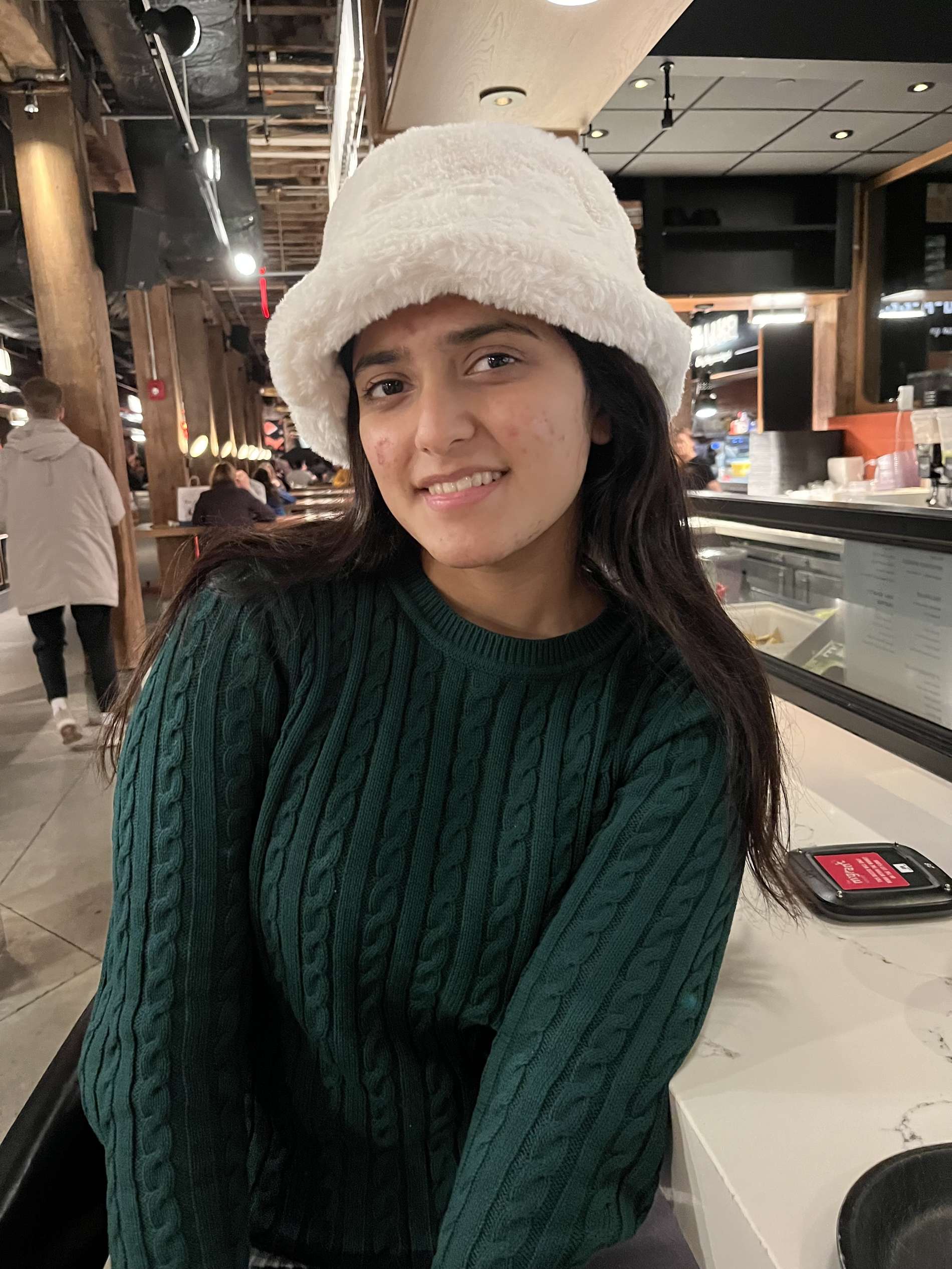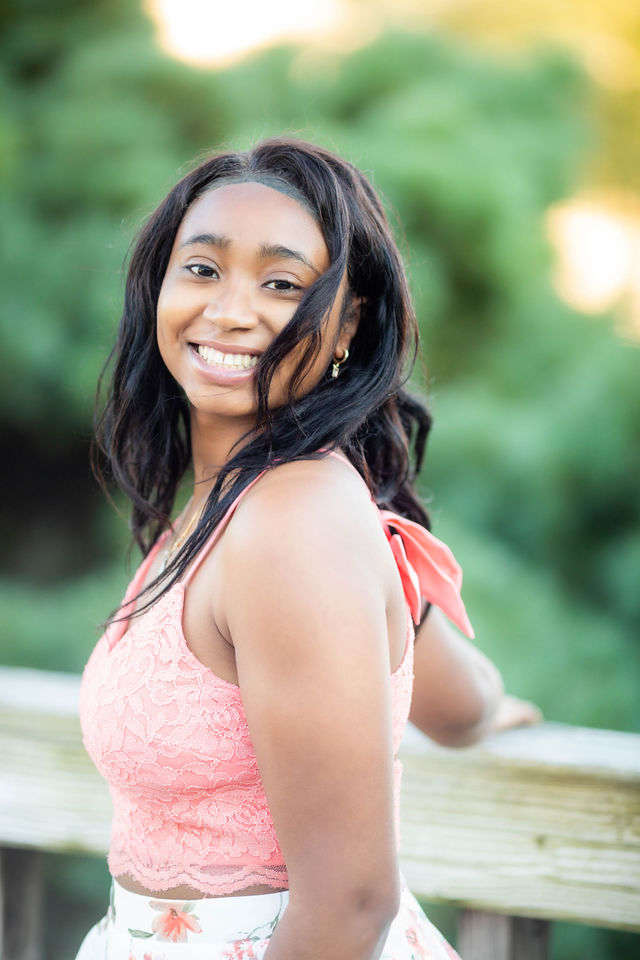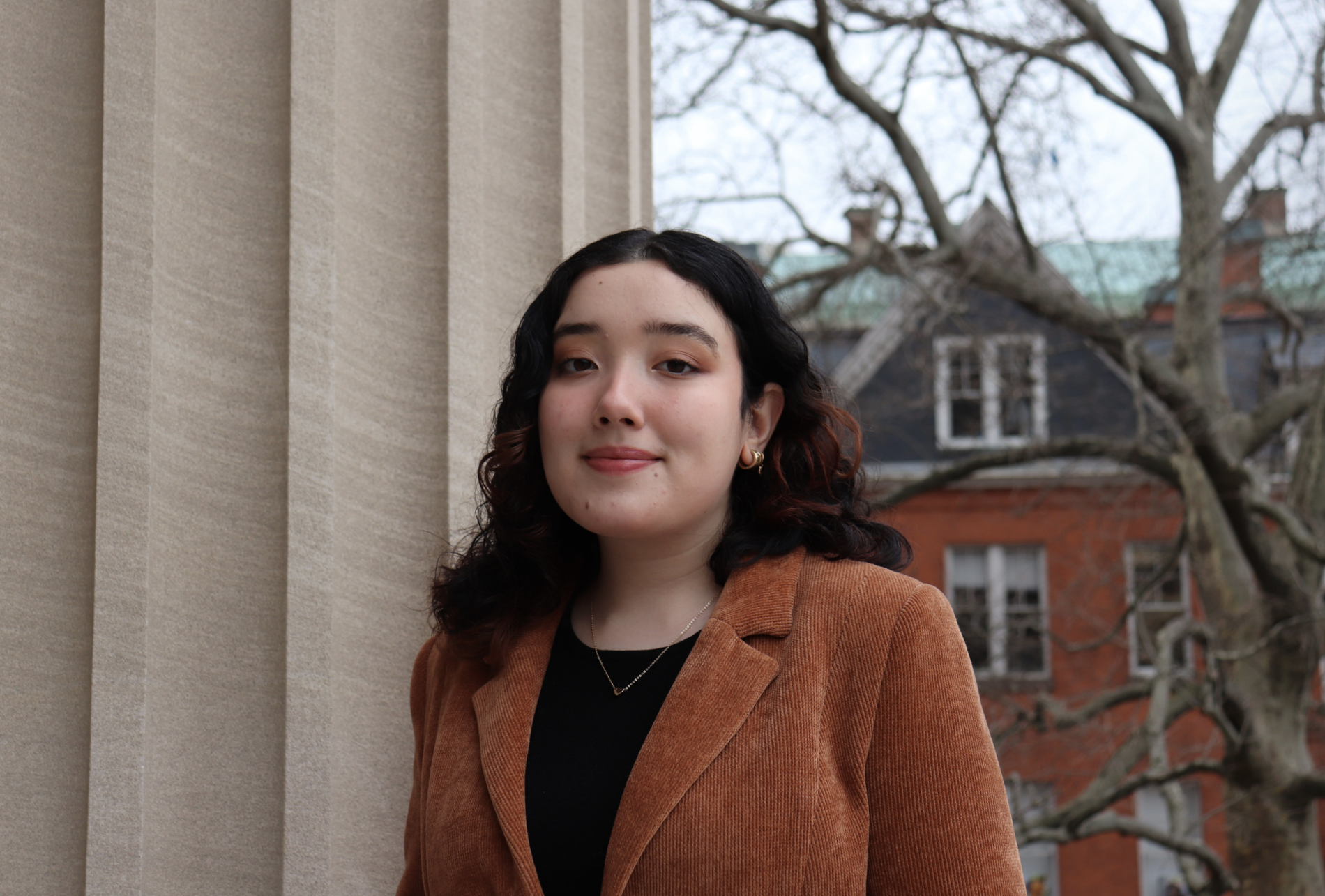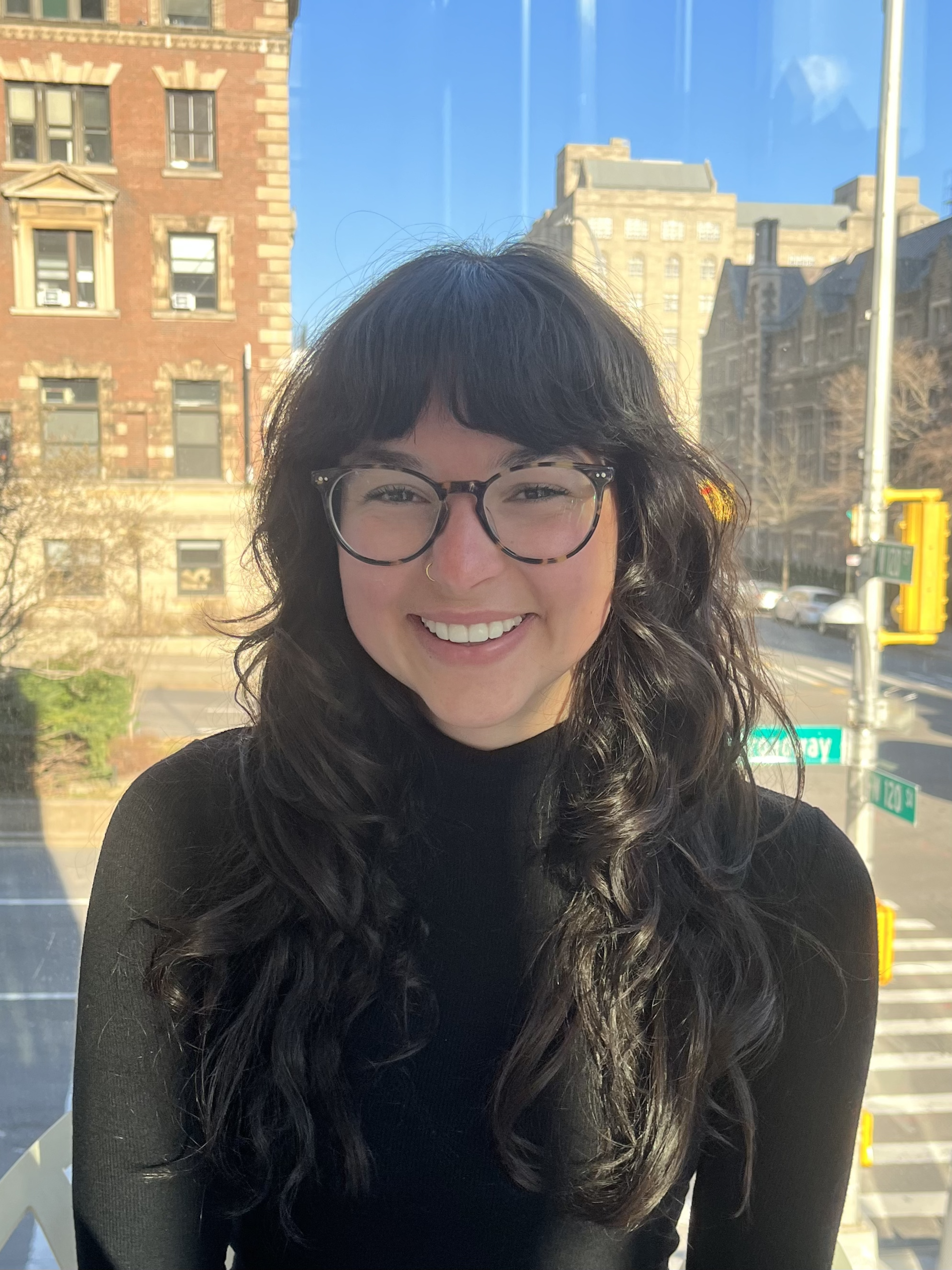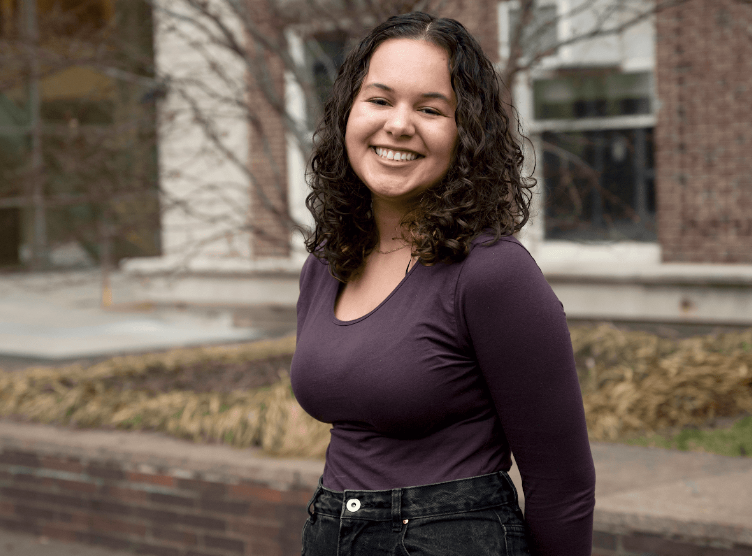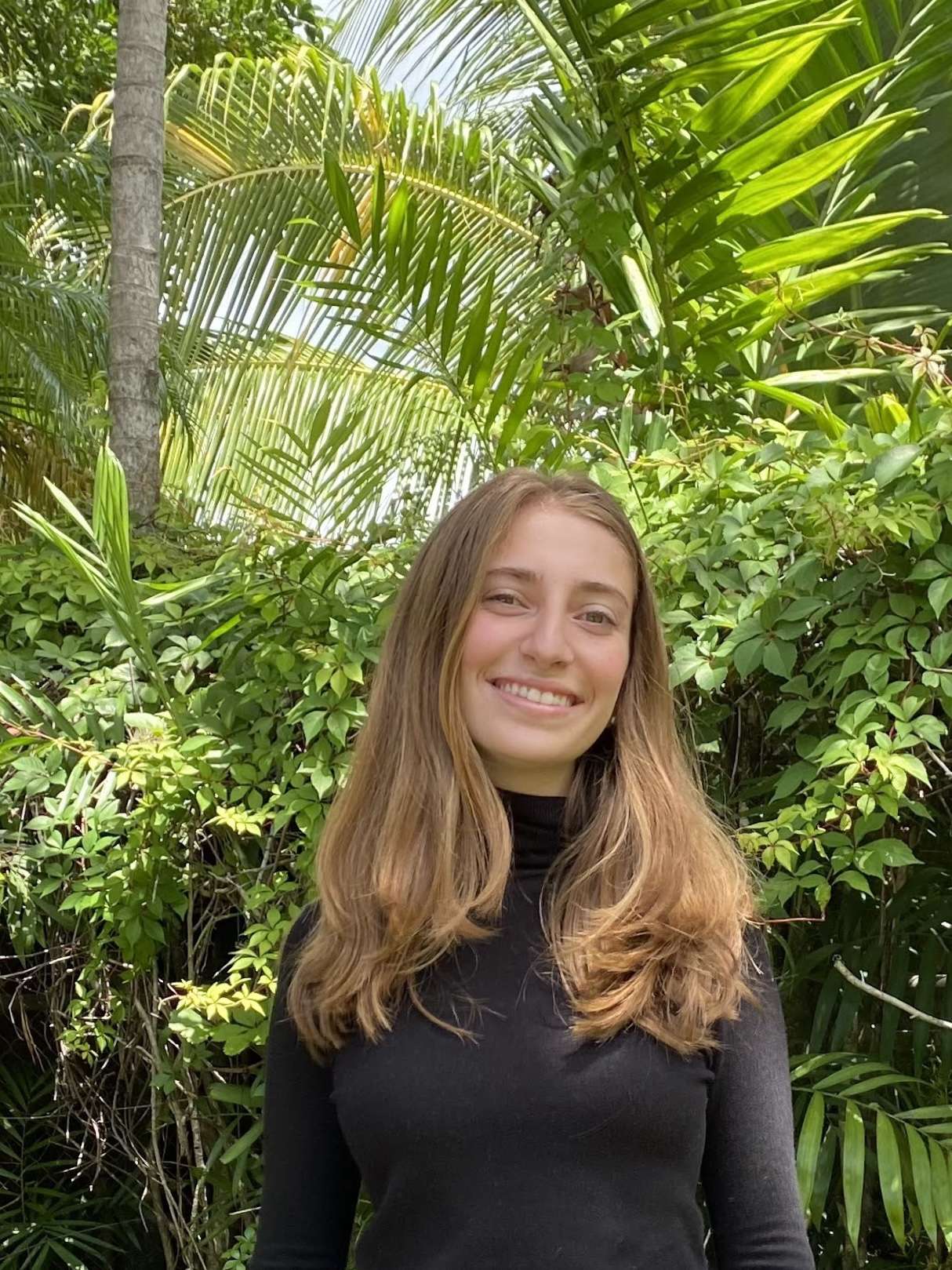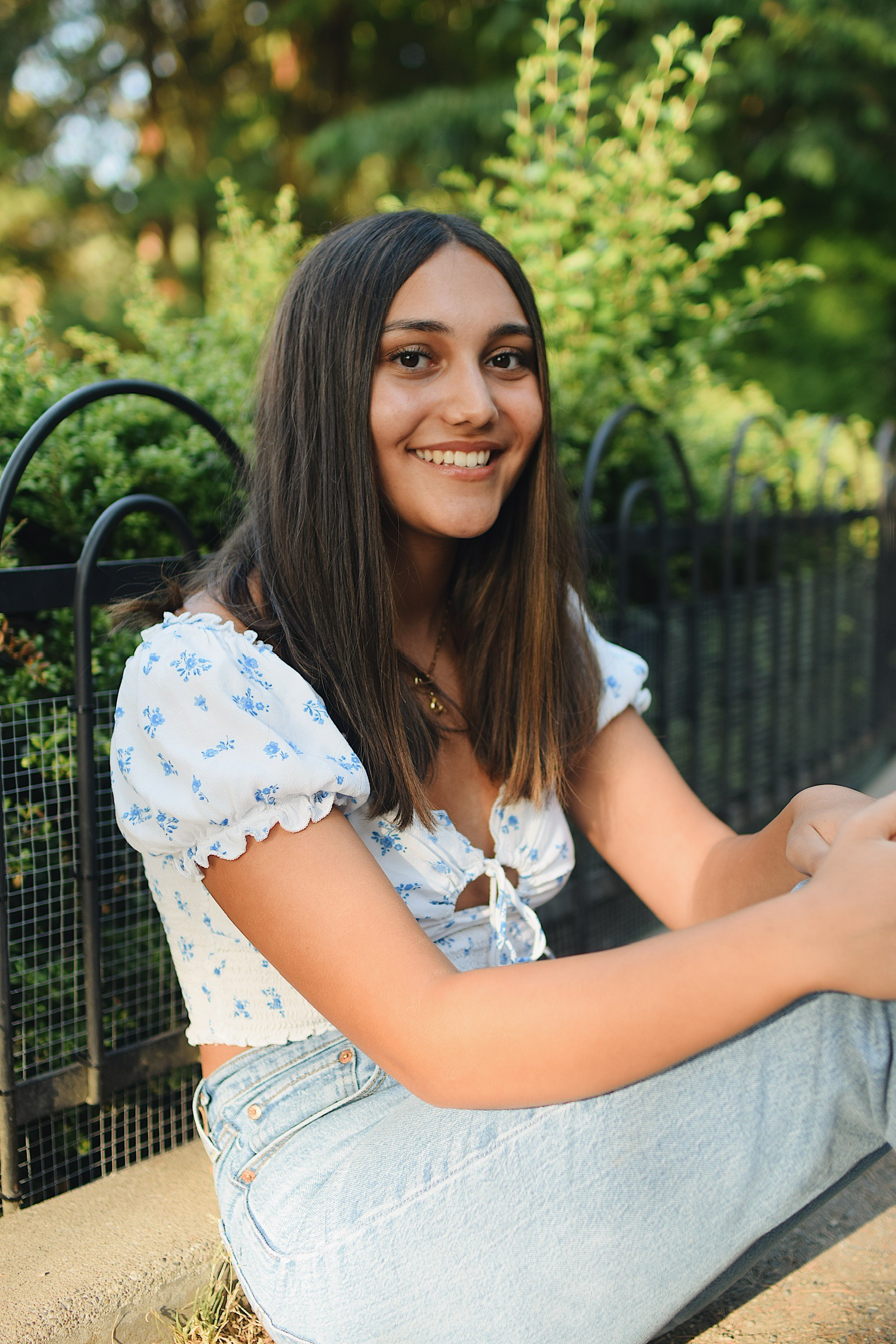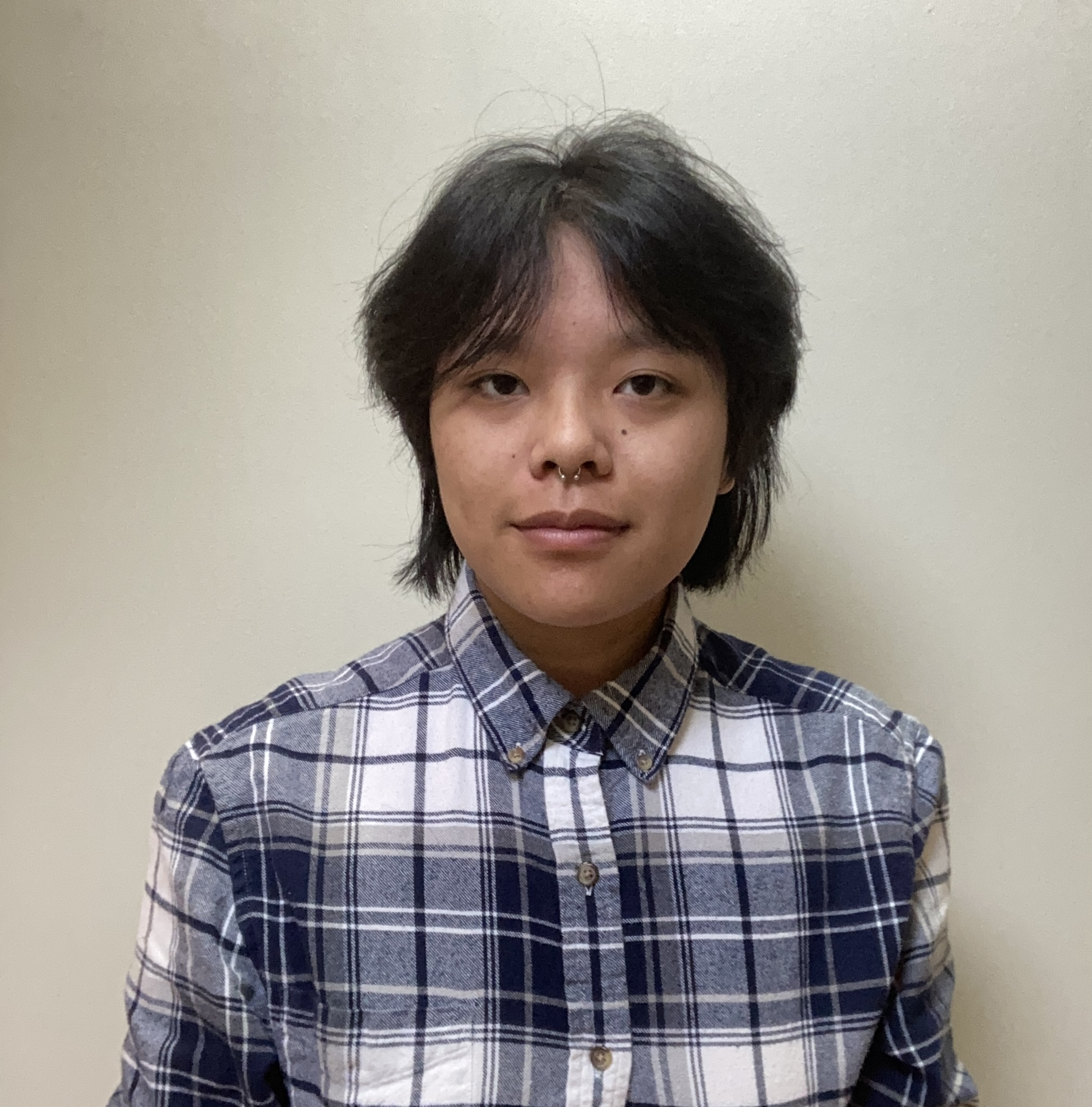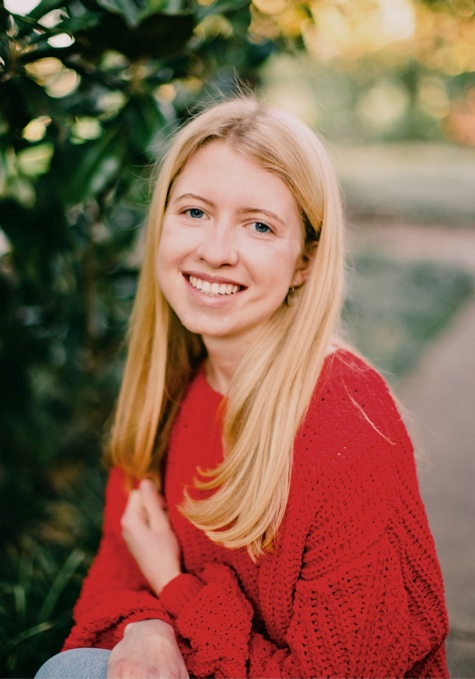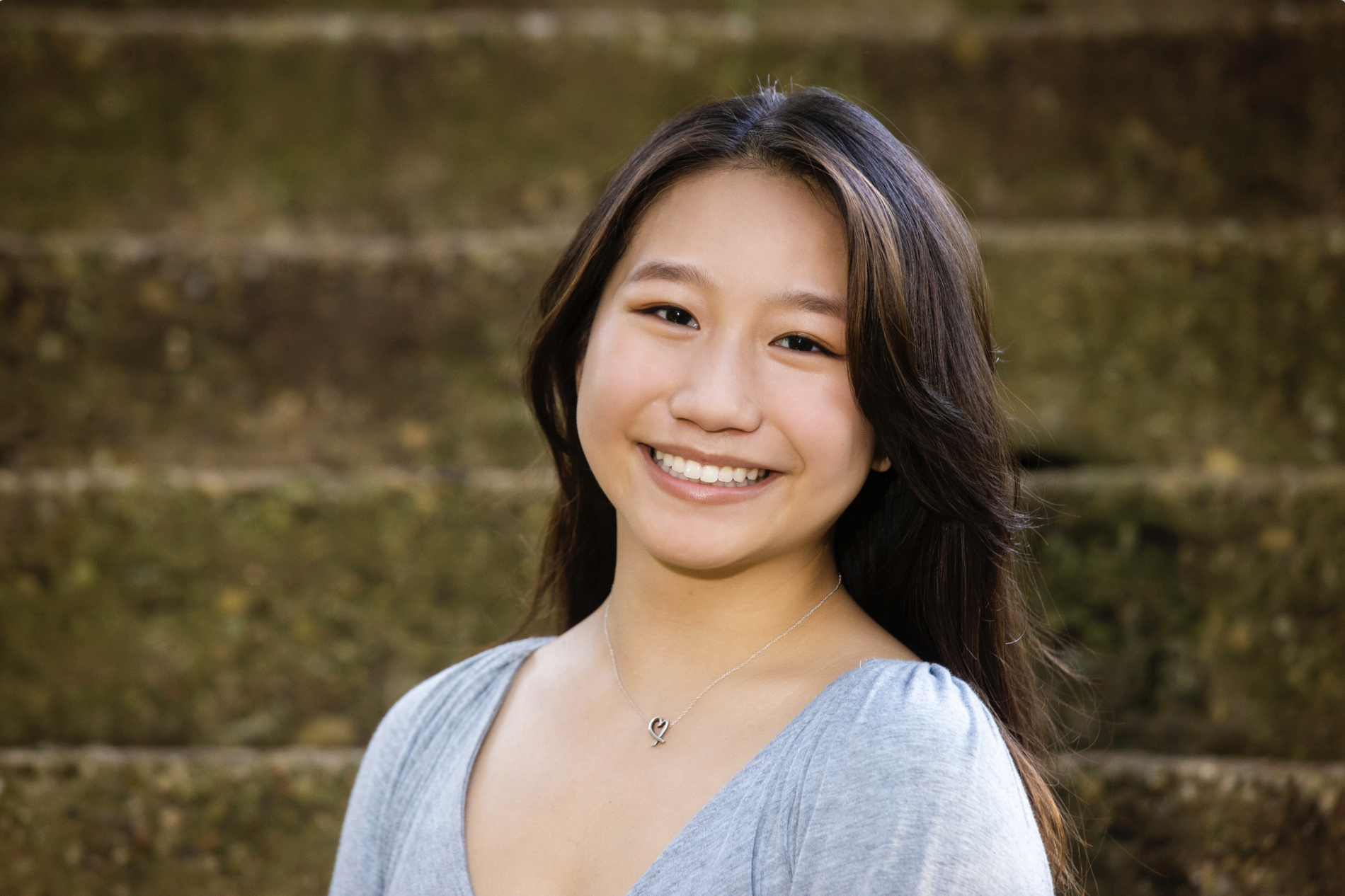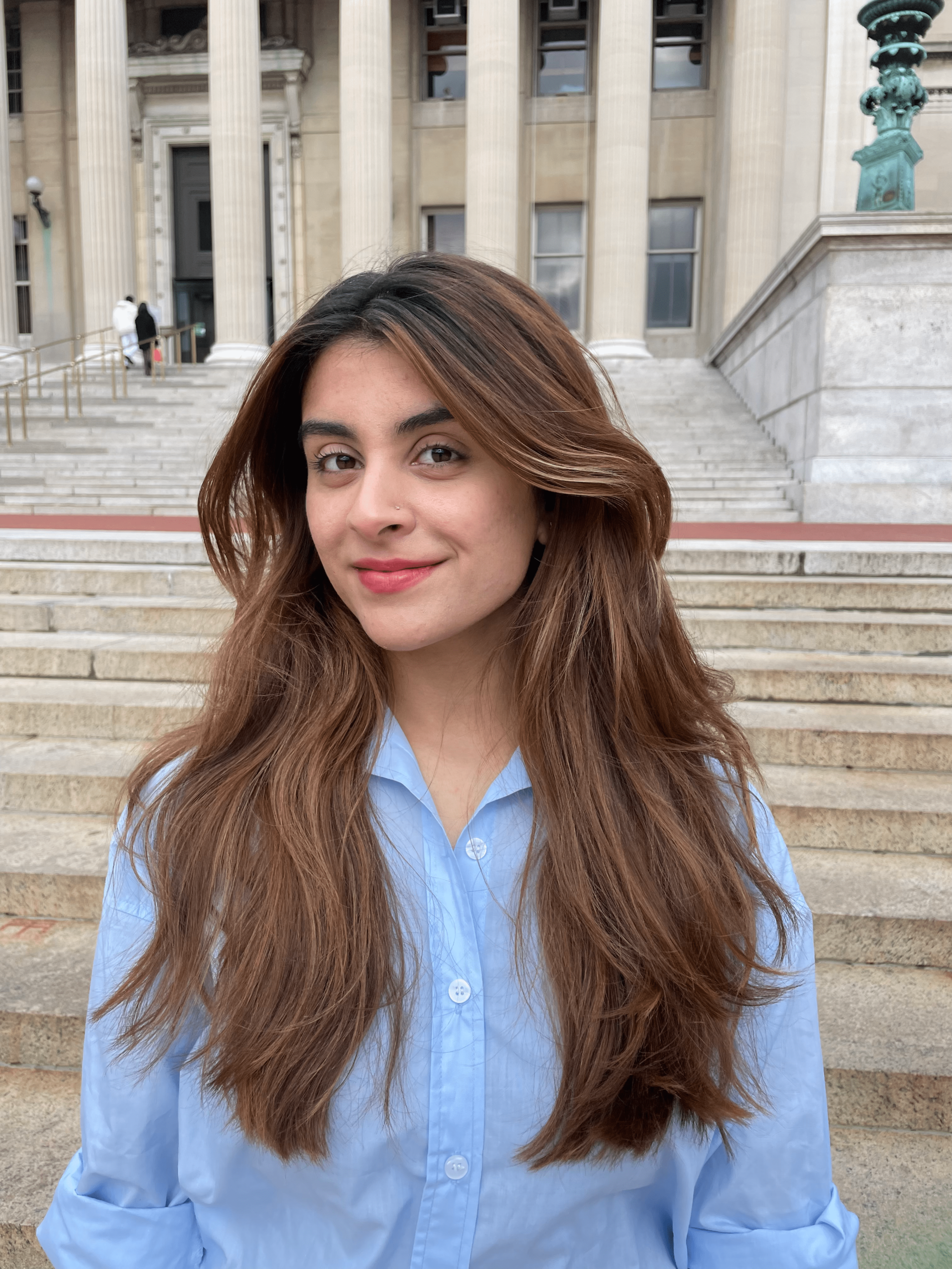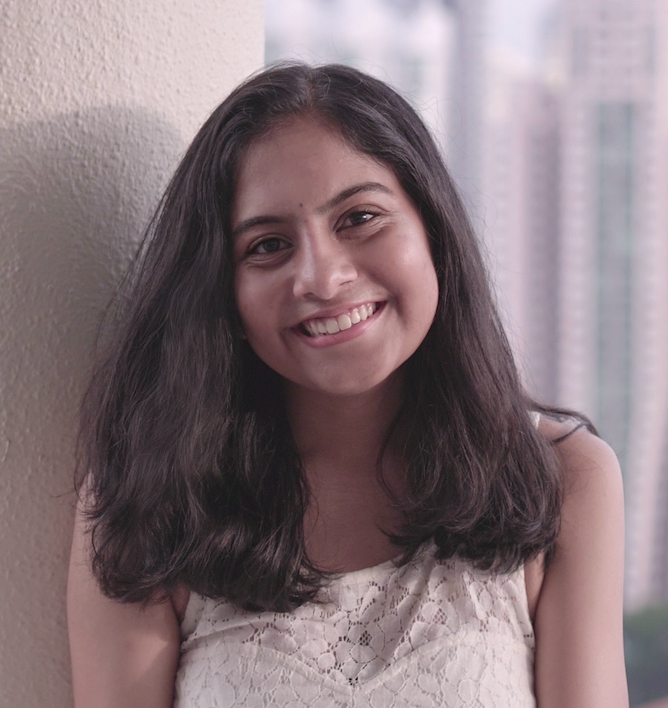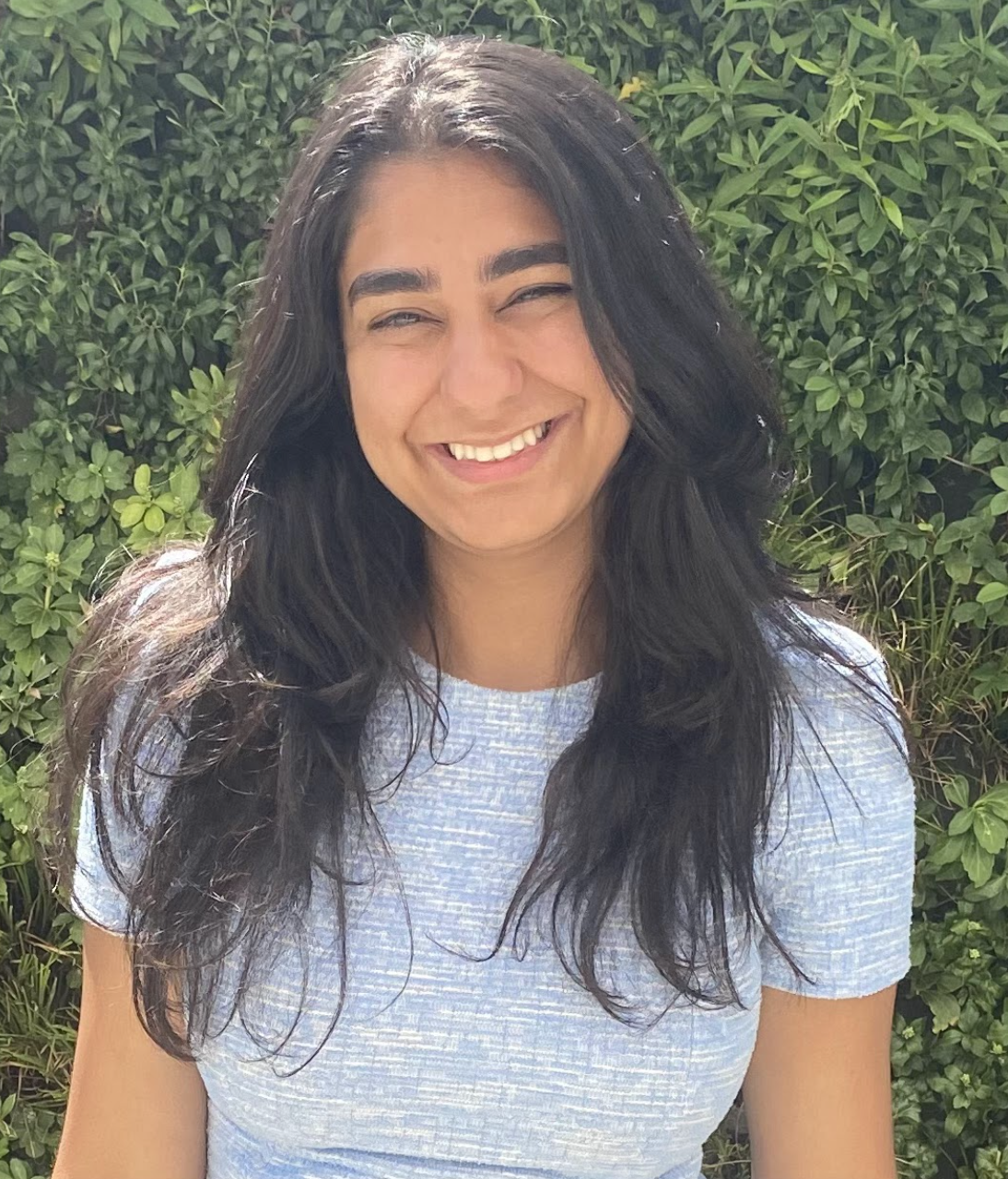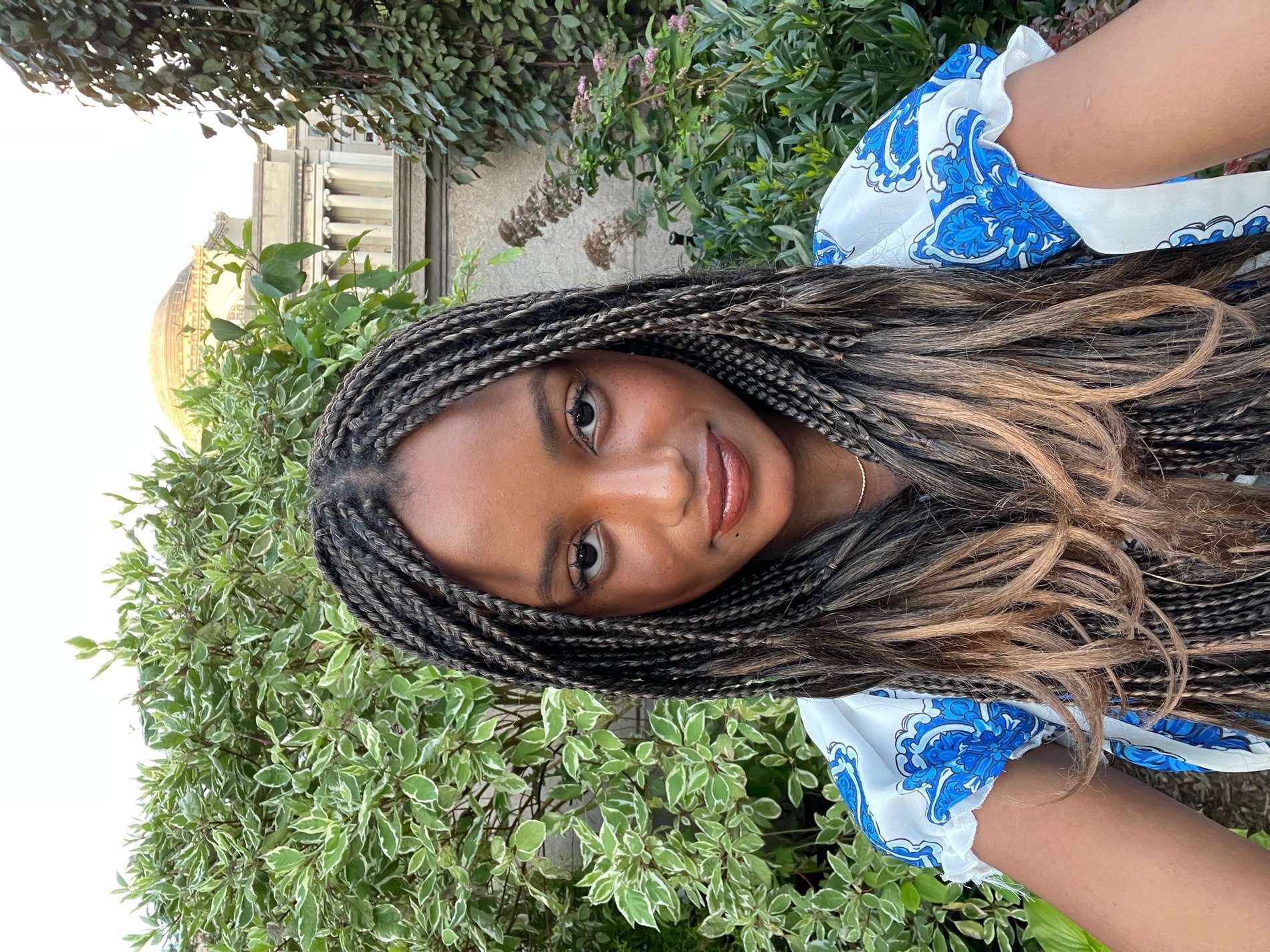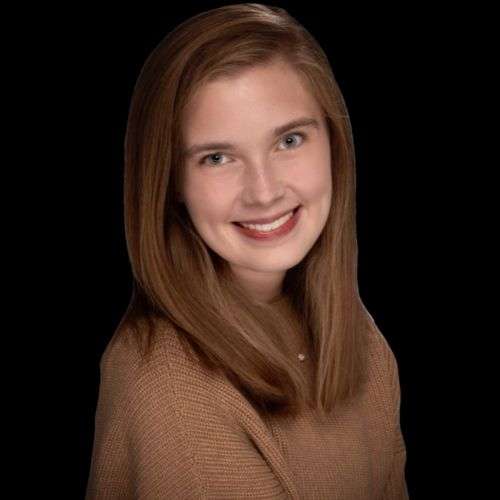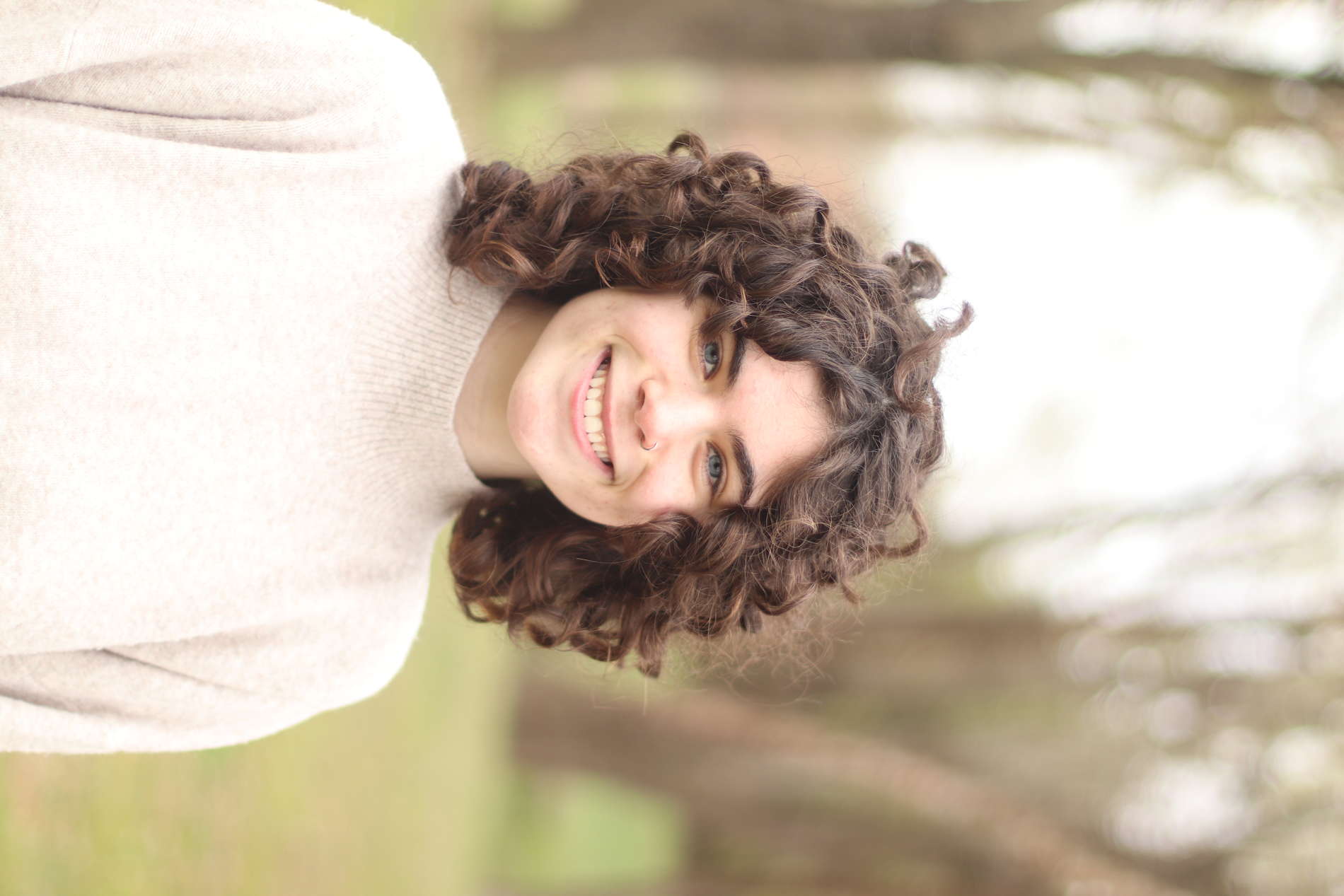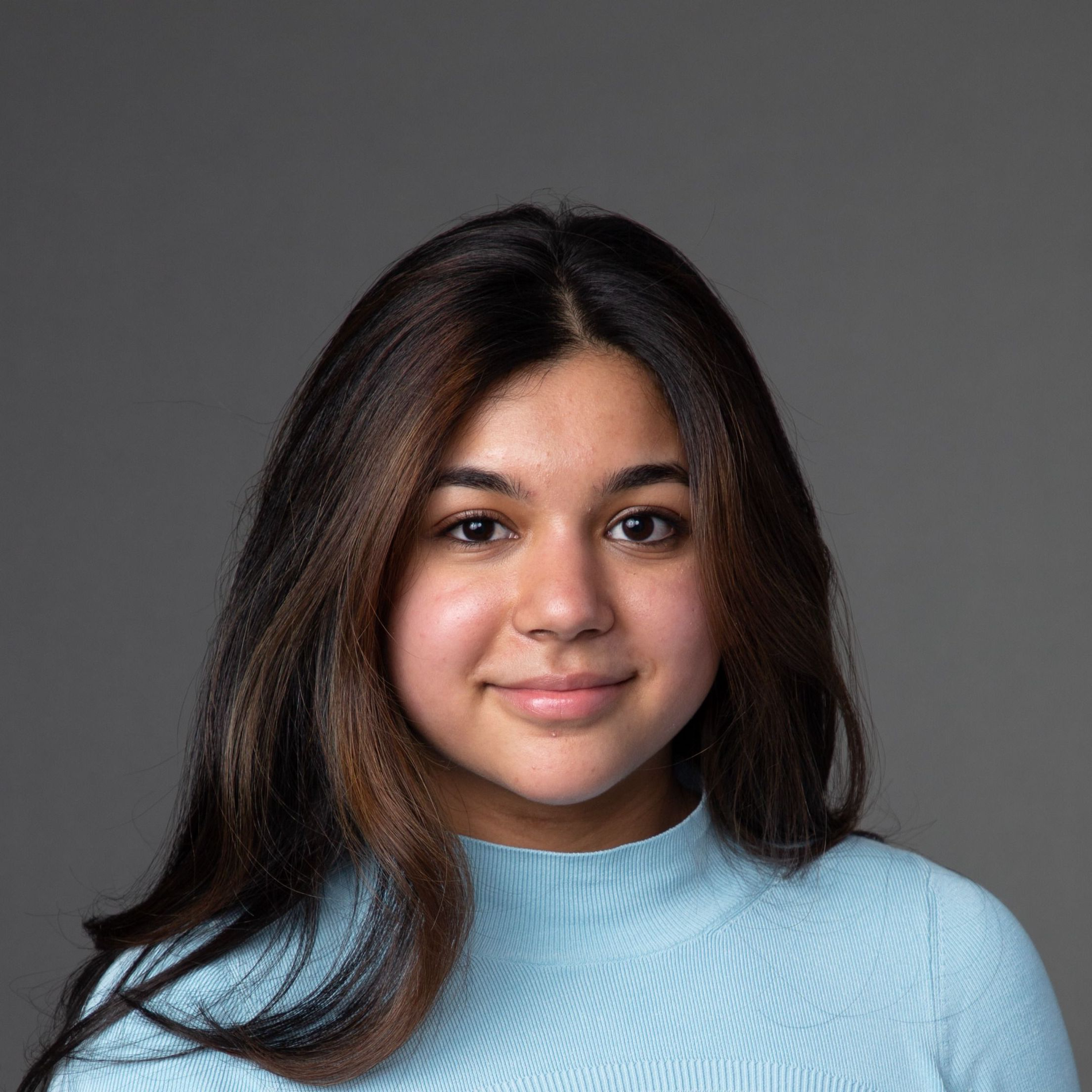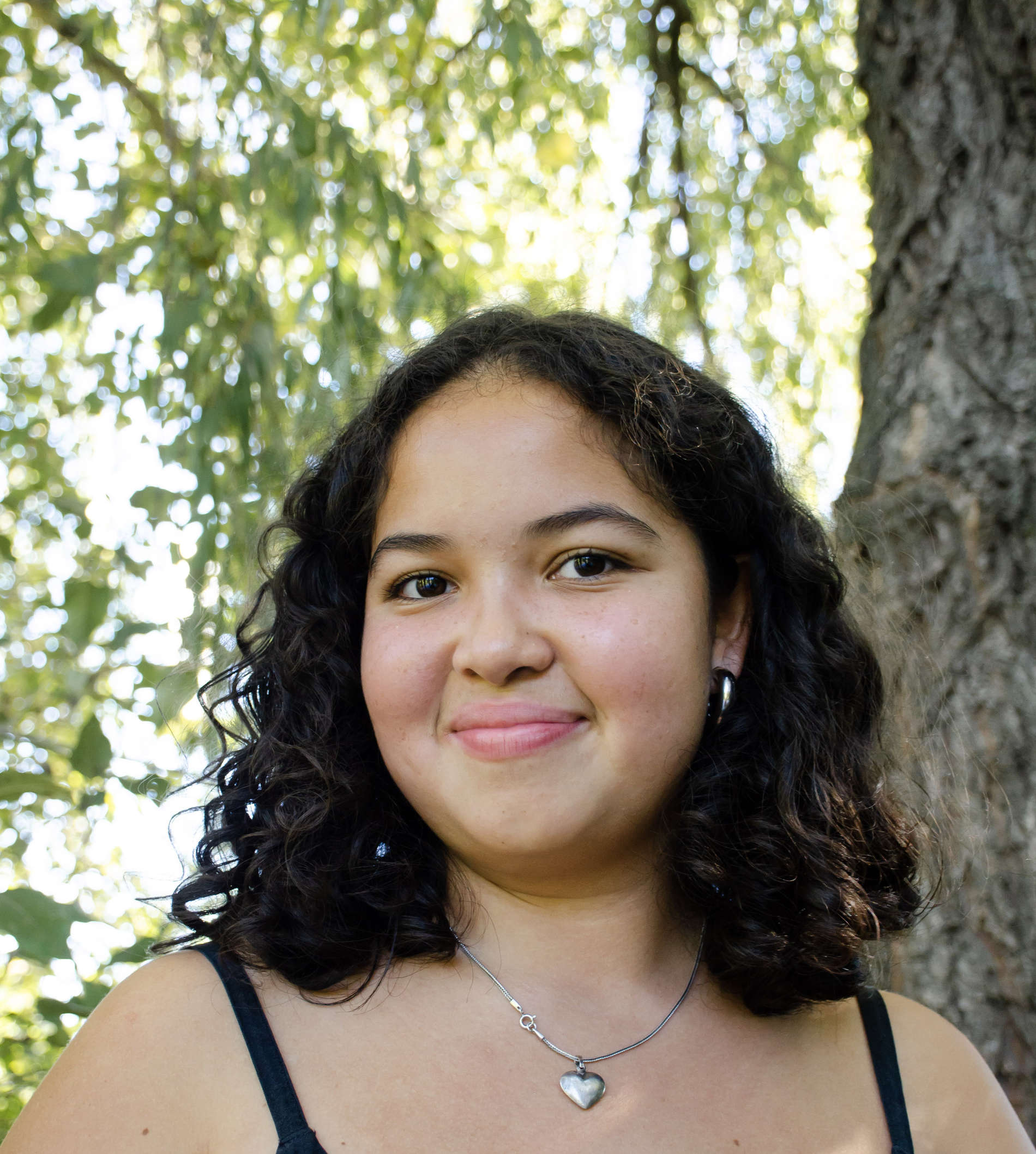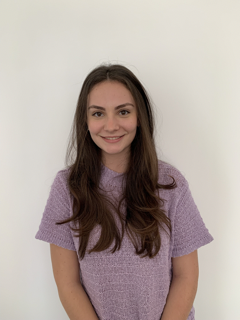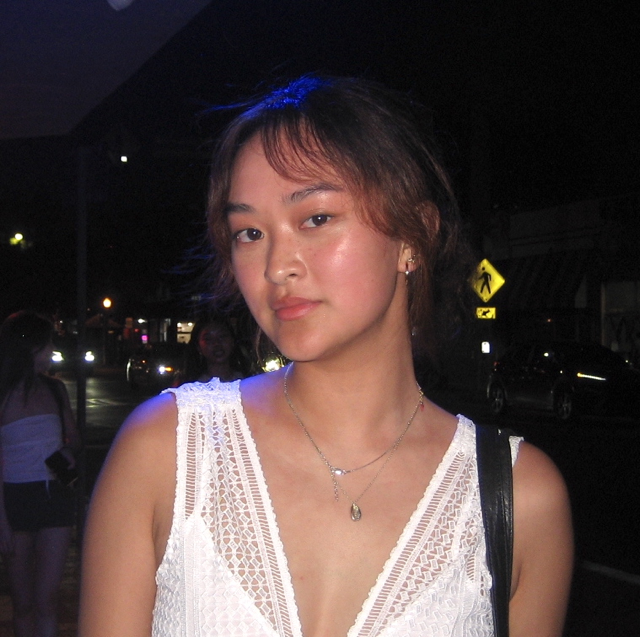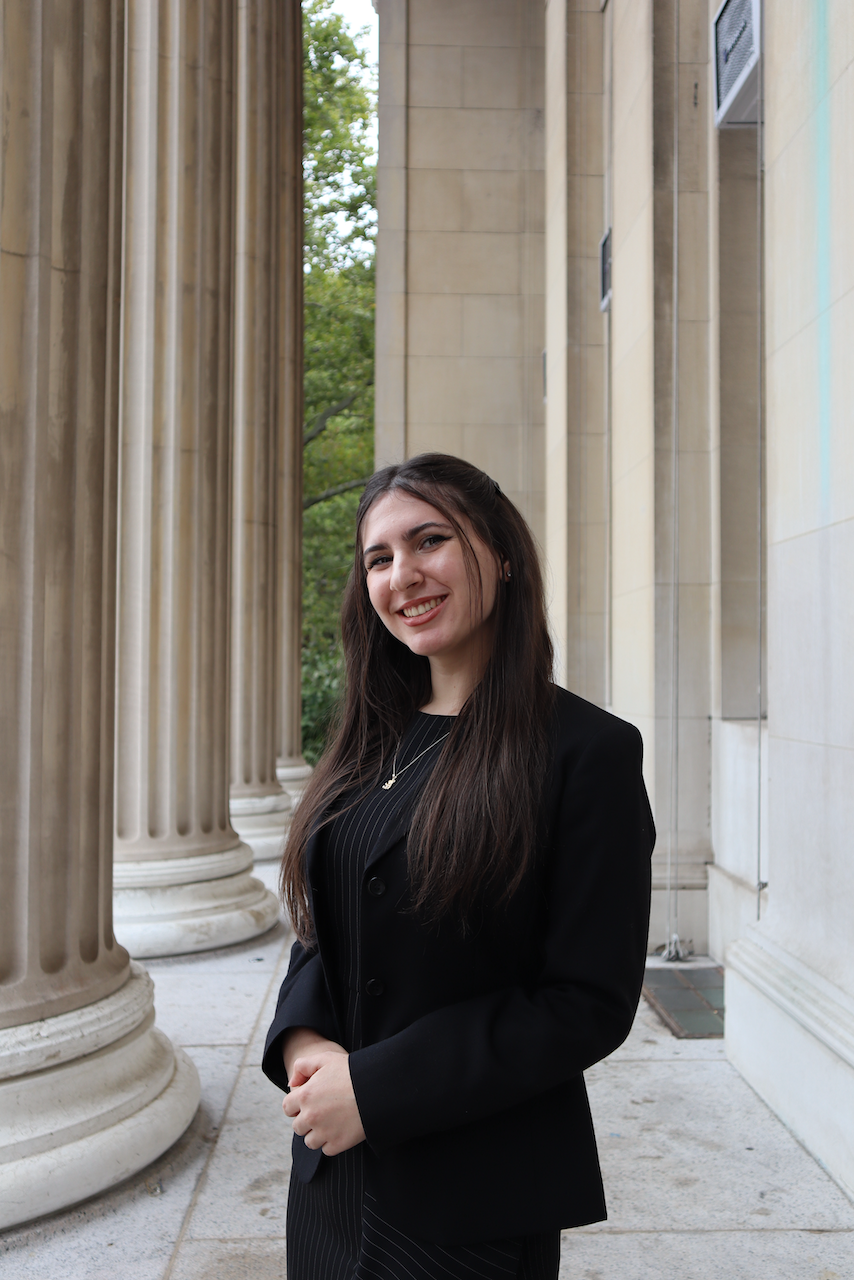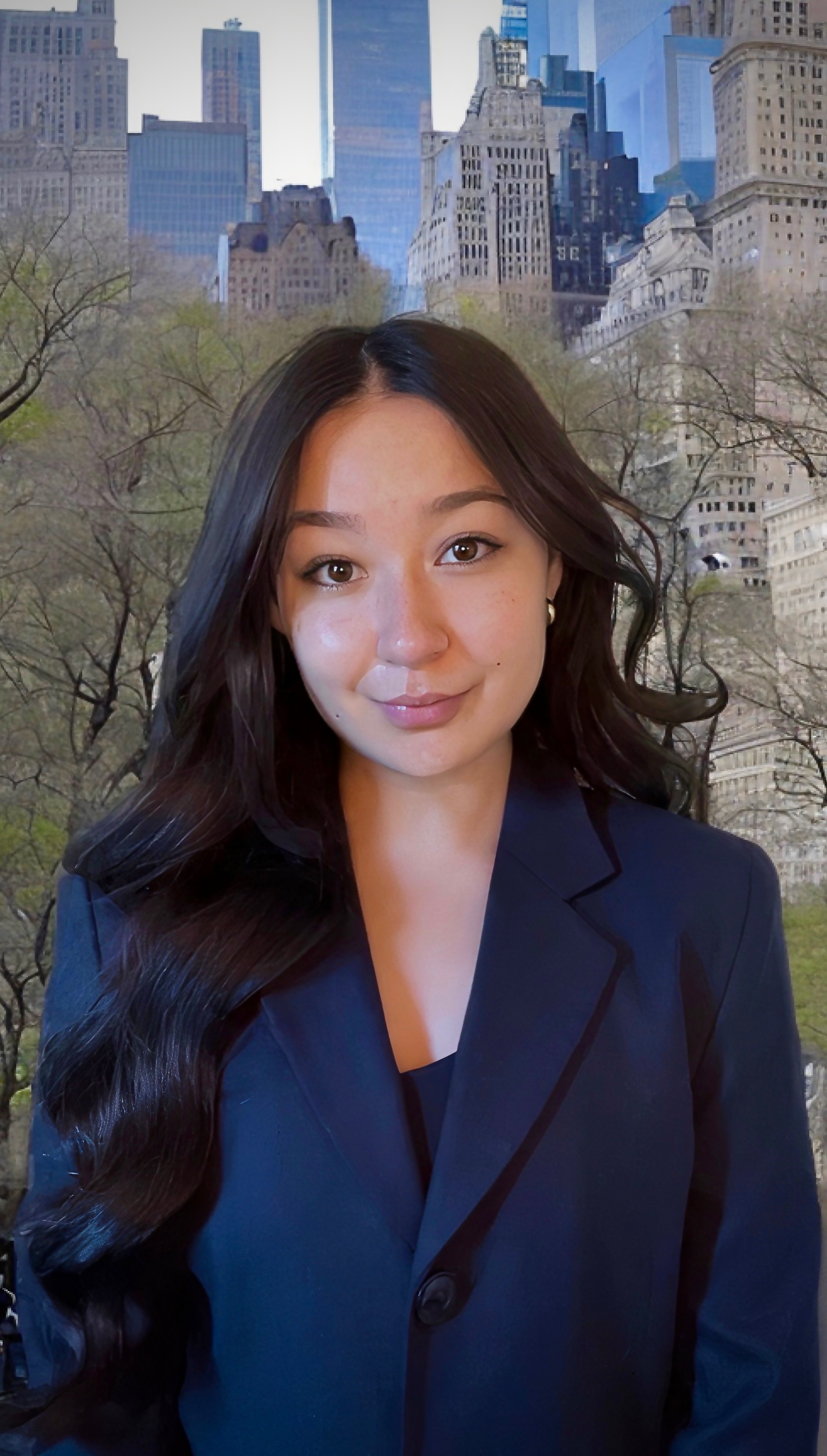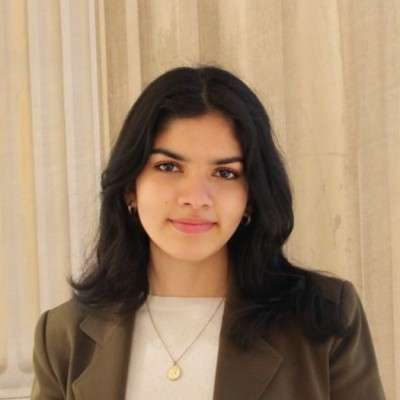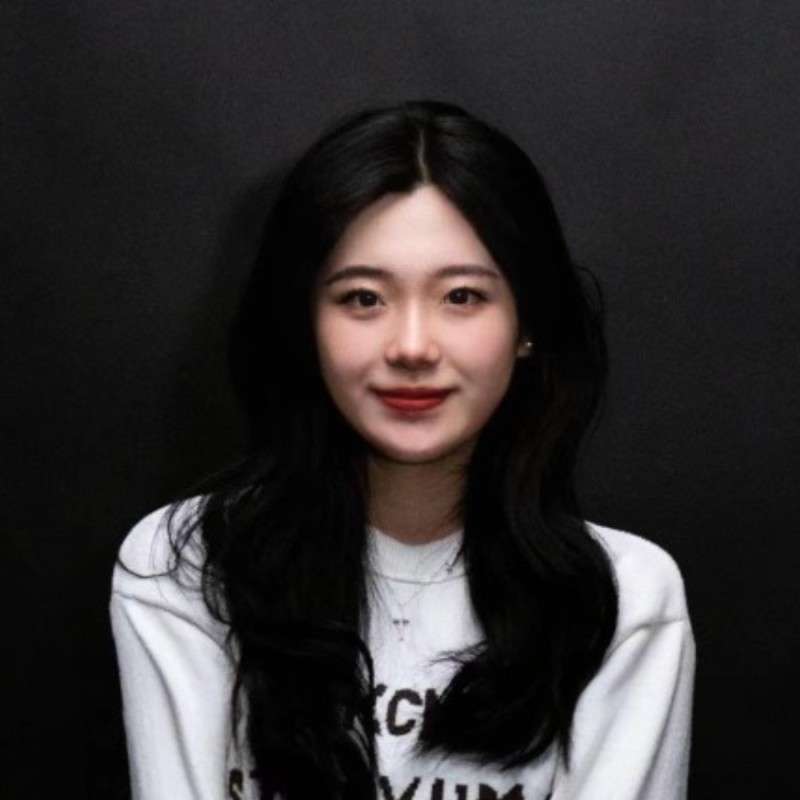 Shehar Bano '26
Hi everyone, I am Shehar Bano , an international student from Pakistan. I intend to major in Political Science and Economics, with Laidlaw I intend to explore the reasons of the lack of women doctors in medical fields in Pakistan.
Adrienne Chacón '26
Hi! I'm Adrienne Chacón, class of 26, from Long Island, New York. In my first year at Barnard I took classes on urban studies, which I've taken as my intended major. I also found an interest in environmental justice and public health which was stoked by the research of Dr. Ami Zota, my Laidlaw research mentor, on health inequities facing women of color. My research this summer will focus on how discrimination against natural hair affects health practices and hygiene. I hope my time in the Laidlaw program and the knowledge I collect on public health will inform a career working for nonprofits. On campus, I am a part of the Athena Center Student Advisory Board, which trains Barnard students on leadership, planning skills, and building community — qualities I will use in the Laidlaw program and beyond.
Nazira Davroni '25
I am a student of the class of 2025 studying Anthropology and Human Rights. My hometowns are Chicago and Samarkand, Uzbekistan. My research interests include exploring the intersection of culture, identity, and transnational politics, especially in Central Asian communities. A deeper understanding of these topics is valuable for effective policy-making. As a Laidlaw Scholar, I am excited to build my leadership skills and gain hands-on research experience to make an impact on my community and beyond.
Madelyn Elizondo '25
Madelyn is a sophomore at Barnard majoring in American Studies with an interdisciplinary concentration on race and ethnicity (ICORE). Originally from San Antonio, Texas, she draws from the vibrant Tejano culture of her hometown that sparked her passion for cultural studies. Her academic interests include colonial history, along with social and archival theory. They are primarily interested in examining the construction of social difference and the institutions that enforce it, such as enslavement and the carceral system. In her research she seeks to draw from abolitionist theory to generate liberatory change in the United States criminal justice system.
Jasmine Gates '25
Jasmine '25 is from Santa Cruz, California and pursuing a combined major of Medical Anthropology and Women's, Gender & Sexuality Studies at Barnard. Her interests in public health and reproductive justice have led her to research on the changes in US maternal mortality rates after the Supreme Court ruling of Dobbs v. Jackson Women's Health Organization, which took away the constitutional right to abortion.
Avigail Greenberg '25
Hailing from South Florida, Avigail Greenberg is a sophomore at Barnard studying political science and environmental science. She hopes to merge the two in her Laidlaw research. Avigail aims to focus her project on how renewable energy can affect and benefit populations in developing countries. In her free time, Avigail enjoys hiking, running, swimming, and traveling. She looks forward to growing as a leader through her research.
Parisa Harvey '26
I am a sophomore from Seattle, WA studying History on a pre-law track. My research interests lie at the intersection of human rights, migration, and environmental justice. I am also passionate about language and writing. My research for Laidlaw is a historical case study of legal protection gaps for climate-displaced people, specifically targeted legislation and U.S. refugee provisions in the mid-late 20th century. In my free time, I enjoy reading and hiking.
Autumn Johnson '25
Autumn Johnson is a sophomore majoring in American Studies. Their hometown is Allegany, New York, where they enjoy spending time with their dog. Autumn's research primarily focuses on the field of gender and sexuality studies. They are interested in exploring methods of oral history and archiving, and aspire to a career in public history. In their free time they enjoy crossword puzzles, appropriately priced coffee, and digital art.
Avery Lambert '25
Avery Lambert is a sophomore from Dallas, Texas, majoring in Medieval and Renaissance Studies and minoring in Political Science and Classics. She's primarily interested in the religious and legal history of the Middle Ages; this summer, she'll research the role of religious orders in the political developments of 1260s England. For her second summer, Avery plans to spend time living in a monastic community. She hopes to explore the ways in which these religious groups can practically engage with their local communities in a modern context. On campus, Avery is involved with Greek life and several student publications, and in her free time is an avid runner and marathoner!
Victoria Le
My name is Victoria Le, and I am a sophomore at Barnard College majoring in Economics. I am from Dallas, Texas and am interested in the intersections of economic research and healthcare. This stems from my interests in utilizing existing data to improve current systems and the impact healthcare systems can have on populations. In the future, I plan to a be leader in the intersection of the two fields as a healthcare professional and economic research contributor.
Aleena Mehta '25
Hi, my name is Aleena Mehta and I am a sophomore at Barnard College, majoring in Economics with a minor in Political Science. I grew up in Jammu and Kashmir, India, and hence have always been fascinated by the field of geopolitics. My research at the Laidlaw Foundation would revolve around extrapolating a relationship between state sovereignty and civil rights violations in the Kashmir crisis. This includes understanding the threat to the autonomy and stability of non-state actors in periods of territorial conflicts while investigating the recent socio-economic developments in the region. 
Ananya Pal '25
Ananya is a sophomore at Barnard College, majoring in Urban Studies, specializing in Environment and Sustainability, with a minor in Architecture. Ananya identifies as a third culture kid, a global citizen born in the United States who lived across India & Southeast Asia for ten years. From this experience, she has learn from diverse cultures and urban communities, which has driven her passion to define and explore the cities she had lived in through an interdisciplinary approach. Her research interests include sustainable urban planning/design, and their connections to general local or environmental policy practices across Southeast Asia. She is motivated to learn for a better future and ready to tackle any challenges coming her way.
Sana Punjani
Hi! My name is Sana Punjani, and I am a sophomore at Barnard College. I am double majoring in Women's Studies and Political Science (with a minor in Economics). I am from Centerville, Minnesota, which is a small town 30 minutes away from the Twin Cities. I am interested in researching inequity in college access between students in rural and urban neighborhoods nationwide.
Fahitza Quessa '26
Hi! My name is Fahitza Quessa. I am studying computer science and cognitive science as part of Barnard's class of 2026. I am from Boston but I was born and raised in Haiti. The research question that I would like to explore is, "How does the Black female gaze intersect and challenge traditional feminist art theory in shaping a nuanced understanding of representation and agency in contemporary art?" The reason I want to ask this question is because the intersectionality of race and gender have been traditionally overlooked in feminist art theory, resulting in a narrow and homogeneous perspective. The Black female gaze offers a unique and powerful perspective on representation and agency in contemporary art that has the potential to expand and challenge traditional feminist art theory.
Hannah Ramsey '25
Hannah Ramsey is a sophomore at Barnard College double-majoring in neuroscience and narrative medicine, with a minor in educational studies. Originally from Huntsville, Alabama, Hannah came to Barnard to pursue a course of study in the medical humanities with the intention of learning more about why the contemporary medical model of illness has been heavily relied upon by the United States' healthcare system and how it fails to capture the complexities of illness experiences, including the nuanced relationship between illness and identity. She strives to better understand how clinical outcomes can be improved, both nationally and internationally, through applying the lens of narrative medicine to healthcare, specifically as it relates to eliminating size- and weight-bias in medicine. Through illuminating ways to document patients' self-narratives and identifying size-agnostic approaches to promoting well-being in patients, Hannah hopes to advocate for a patient-centered philosophy that ensures all people can achieve optimal well-being and experience body liberation.
Eliora Riebling '26
I'm Eliora Riebling, an intended sociology major in the class of 2026, from Metuchen, NJ! As a Laidlaw Scholar I will research white supremacist trajectories. I will specifically look for a combination of social factors that shape women's mindsets and prompt them to join organized white supremacy. I hope to identify impetuses for women's participation in this extremism. As a leadership project I intend to contribute to counter messaging and deradicalization programs. I hope to use my findings to inform which messages are useful to the initiatives that weaken white supremacist organizations by preventing and sinking their membership. 
Aimar Rosario Ávila '25
Hello, my name is Aimar Rosario Ávila and I am from Bayamón, Puerto Rico. I am a part of the 2025 class at Barnard College pursuing a degree in Urban Studies with a concentration in Psychology and a minor in Education. My research interests aim to investigate how the categorization of social spaces can reflect an interplay of political, historic, and cognitive developments through an intersectional lens. Understanding such complexities have transformed my approach to leadership as it cultivates connections with communities on a personal level. 
Prachi Roy '25
I am a sophomore at Barnard College studying Art History. I am from India and Bangladesh, although I grew up primarily in New York City, as well as Bangkok (Thailand), and Geneva (Switzerland). I am interested in studying the clothing material, muslin, historically hand-woven in Bangladesh. I aim to connect my research with historical issues of colonialism and global textile trade with contemporary issues of labor. I hope to work with organizations in Bangladesh to explore how the preservation of traditional weaving is significant for efforts in sustainability, and women's empowerment.
Lucia Santos '25
I am a rising junior at Barnard studying history, concentrating on the history of empires and colonialism. I grew up in Seattle, Washington, where I was lucky to spend lots of time near water and appreciating good food. I am researching the history of oysters in the 19th century, specifically the labor, ecology, and culture around oysters in places like New York Harbor, the Chesapeake Bay, and the Pacific Northwest to understand how people and the environment interact through food.
Marina Senderos Garcia '26
Although I am from Mexico City, I have lived abroad for most of my life in places such as London and Sao Paulo. Now, I am part of the Class of 2026 at Barnard College in New York, and my prospective majors are economics and philosophy. I am interested in understanding abstract concepts to then investigate their concrete manifestation in every-day life, hence the interdisciplinary nature of my research and leadership. Being the granddaughter of immigrants from both the Spanish Civil War and the Cuban dictatorship, I am constantly drawn to the complexities of how people's identities, beliefs and economic realities shape their contribution to local communities. Ultimately, I am passionate about helping marginalized communities and contributing to a more egalitarian society as a whole. 
Iris Shu '25
Hello! My name is Iris Shu, and I'm part of Barnard College's class of 2025. I'm from Acton, Massachusetts—just a thirty minute drive from Boston. I'm majoring in Economic and Social History with a minor in Science and Public Policy, and I hope to combine these interests in my research in the history of science. 
Eliana Steele '26
My name is Eliana Steele and I'm from San Ramon, California. I am part of Barnard's class of 2026 and a prospective Linguistics major. I am interested in researching the indigenous languages of North America. Many of these languages are considered to be severely endangered, so I plan to study how various indigenous communities approach the process of language revitalization. Even though I plan on examining languages from across the United States, my project is largely inspired by the Chochenyo language of the Ohlone language family, as it was historically spoken around what is now the East San Francisco Bay Area, where I grew up. 
Shay Stulman '26
Shay Stulman is a first-year student intending to major in Economic and Social History with a minor in Architecture and concentration in Ethnicity and Race Studies. She was born in Shanghai, China, but lived in Orlando, Florida, prior to coming to New York. She is broadly interested in the field of labor economics from the perspectives of sustainable development and public health. She has used her experience within media outlets and the Florida State Legislature to advocate for environmental justice and equitable housing. She is passionate about music and accessibility to music education, and she plays the flute with the Columbia Wind Ensemble. She is deeply invested in building community and is currently working to build and expand a free tutoring program for Title 1 NYC elementary and middle schools.
Anusha Wanganoo '25
Anusha Wangnoo is a sophomore at Barnard College, Columbia University, studying Economics. A native of Dubai, Anusha wishes to learn research and leadership skills to start meaningful conversations on identity, exodus and change in her Kashmiri community. 
Joyce Zhou '25
Hi there, I'm Joyce Zhou, a sophomore at Barnard College majoring in education and psychology. Originally from China, I have lived and studied in four different countries. I'm excited to be a member of the Laidlaw 2023-2024 cohort, where I plan to research the cultural and linguistic biases within the U.S. high school regent exams that perpetuate inequality and disadvantage immigrant students and English language learners. As an aspiring education leader, I believe that education is a fundamental human right that can break the cycle of poverty, reduce inequality, and nurture the next generation of leaders.
A Distinctive Community of Leaders and Scholars
The Laidlaw Leadership & Research Program at Barnard College presents students with distinctive opportunities to develop meaningful relationships with faculty at Barnard and Columbia, and to bring their research into the world through a Leadership in Action project.
Students may apply in their First Year or Sophomore Year at Barnard (learn more about eligibility and policies here). They identify a faculty mentor and conduct six weeks of supervised research on a topic of their choosing during their first summer in the program. During that summer, they live together on campus and have access to dedicated leadership development programming. Scholars present the outcomes of their research at the Barnard Laidlaw Scholars Symposium in September.
In their second summer, Laidlaw Scholars complete a Leadership in Action project that challenges them to bring their research and leadership skills into the world. In these funded six-week experiences, students take ownership of a project which demonstrably makes the world a better place. Learning through service, Scholars test their leadership skills, expand their understanding of what it means to be a global citizen, and challenge themselves to grow.
Throughout the program, Scholars have access to Leadership programming developed by the Athena Center and Beyond Barnard. And they have access to the extraordinary global network of Laidlaw Scholars. Questions about the program or interested in applying? Email laidlaw@barnard.edu!