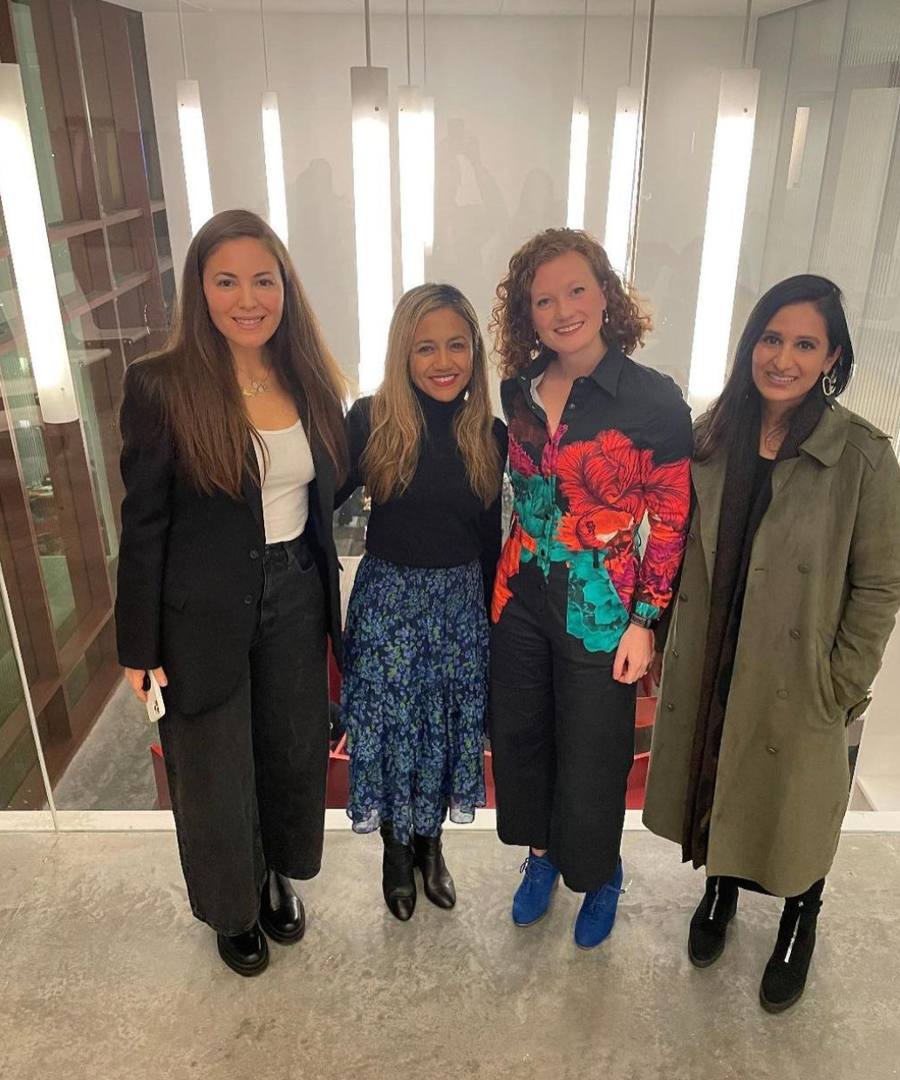 Tech Focus brings together guest speakers, panels, workshops, and information sessions from across the tech sector. Tech Focus increases exposure of students to a range of careers and considerations in the industry, while providing Employer Partners with the opportunity to connect with Barnard's exceptional student body.
The series aims to share practical information with students about the ins and outs of pursuing work in tech (including both technical and non-technical roles), while also engaging in conversations about important issues facing (and faced by individuals in) the industry. Students benefit from direct contact with practitioners and talent professionals, while also connecting with each other and building a sense of cohort. Tech Focus concludes with a reception for student and employer participants in the program.
Questions about Tech Focus can be directed to BeyondBarnard@barnard.edu.
Special thanks to the Lead Sponsor of Tech Focus in 2022, Goldman Sachs.
Tech Focus Programming
Special Thanks to Goldman Sachs Engineering for Sponsoring Technology Focus in Fall 2022!
The Data School (Wednesday, Nov. 2; 5:00-6:00 pm EST)
Get on the right track for a career in data visualization. At this session, entrepreneur and head coach of The Data School New York Ann Jackson will introduce students to Tableau, a powerful data visualization software used by many of the world's largest companies. Within minutes, students will start "breaking down" large datasets to uncover the insights hidden within. Ann will also introduce students to an opportunity to join The Data School, a chance to be paid to learn under her coaching for four months, followed by placement as a data visualization consultant at major US corporations. All degree backgrounds are welcome! We encourage students to bring their laptops to the event for the activity portion.
Veeva (Tuesday, Nov. 15; 5:30-7:00pm EST)
Are you looking for more than just a paycheck in your career search? Are you excited to bring meaning to your individual purpose at your future company, while at the same time having a job that gives you the freedom to live your life the way you want? Enter Veeva. Veeva is dedicated to building careers of new university graduates and is one of the leaders in corporate social responsibility within tech. We don't just talk the talk - we also walk the walk by providing employees with flexible work environments, embracing equity, diversity, and sustainability efforts, and giving employees funds to donate to the organizations of their choice within their communities. Come learn about how Generation Veeva does all of this and more! Hear from current engineers, consultants, and analysts about what it's like to work at Veeva and how they feel like they're making a real impact through their work.
Ethics + Technology Alumnae Panel (Wednesday, Nov. 16; 5:00-6:15pm EST)
Questions about the role that ethics plays with respect to technological advances have grown more urgent as tech continues to reshape our interactions with one another and our understanding about ourselves. From data privacy/misuse of personal information, to cybersecurity, inclusive design, data transparency, and the implications of artificial intelligence — and so much in between — stakeholders across industry, government, higher education, and advocacy spaces have important roles to play in these complex conversations. Join a distinguished panel of Barnard alums working at the intersection of tech and ethics, moderated by Saima Akhtar, Associate Director of the Vagelos Computational Science Center. We'll talk about ethics, technology, career paths, and your questions!
Alumnae Chats with Barnard Alumnae at Google business side (Friday, Nov. 18; 12:00-1:00pm EST)
What does it mean to pursue "non-tech roles in tech"? Barnard Alumnae from a wide range of business-based roles at Google will be available to meet with students in small groups and answer questions about their roles, career paths, and experiences at Google. No matter where you are in planning your career, conversations with alumnae can offer you insights and advice as you take your next steps.
LinkedIn 101 (Wednesday, Nov. 30; 5:00-6:00pm EST)
Join us for LinkedIn 101: Unlocking Professional Opportunities, hosted by Barnard alumna turned LinkedIn professionals, Keren Baruch (Director of Product) and Ciana Montero (Business Leadership Program Associate). Together, they'll take live questions, and cover how to establish your personal brand, build network, and connect to opportunity, all on one platform.
Goldman Sachs Engineering
On-Campus Session (Thursday, Dec. 1; 5:30-6:30pm EST)
Learn what it means to work in technology at a financial services firm. Goldman Sachs Engineering recruiter will share recruiting initiatives and timeline and Engineers will showcase an example of a team's UX process with a UI demo.
On-Site @Goldman Sachs (Friday, Dec. 2; 11:00am-12:30pm EST)
Join Goldman Sachs Engineering employees and recruiters at their office to hear more about the various job functions and the importance of increasing female representation and diversity in technology. Following this discussion, students and employees will have time to network.