Positions are filled for the 2023-2024 academic year.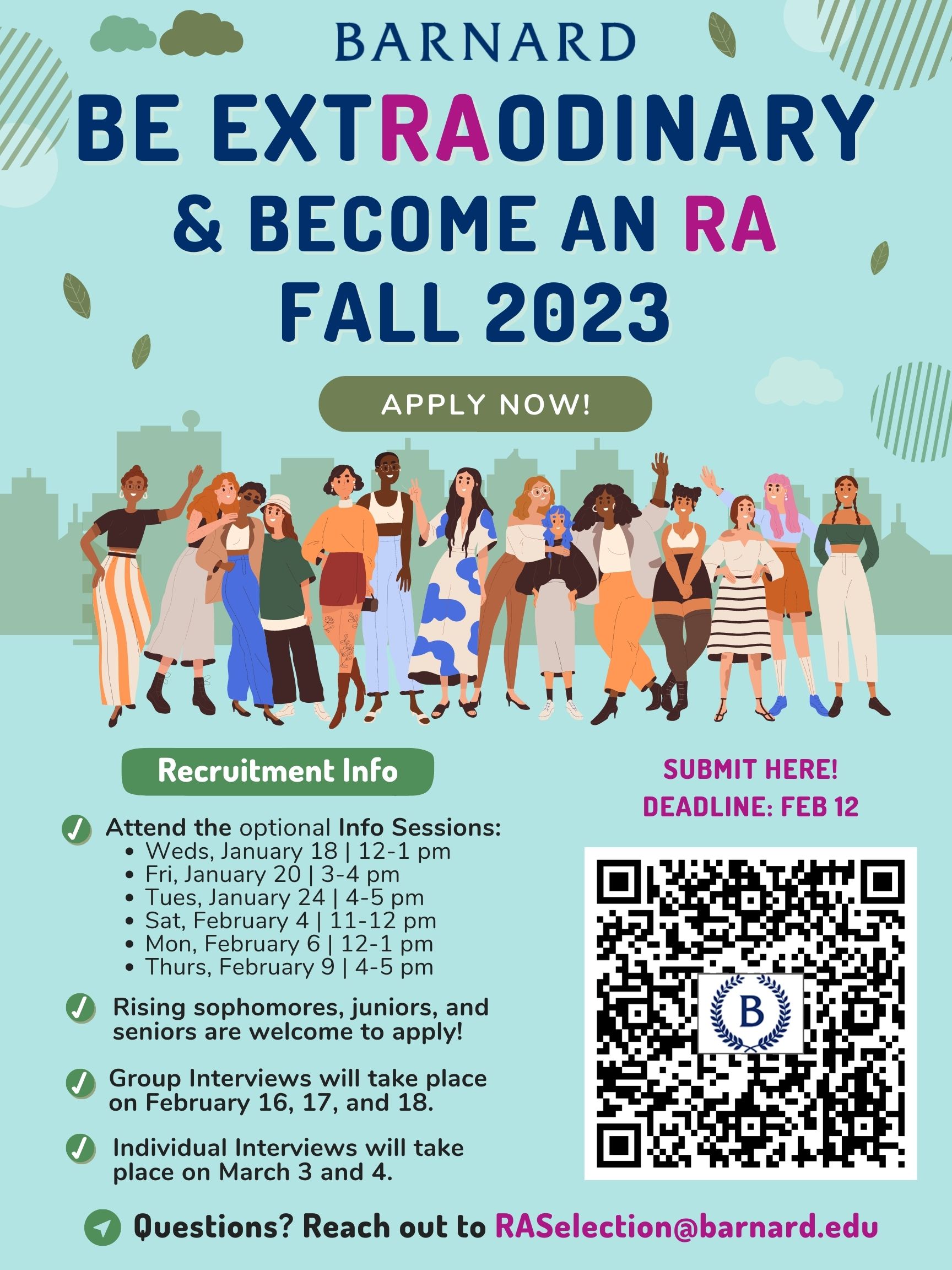 Are you interested in building your leadership skills and a community for Barnard residents? Apply to be a Resident Assistant (RA) for the 2023-2024 academic year!
Who Can Apply?
We welcome Barnard students who will be enrolled as Sophomores, Juniors, and Seniors for Fall 2023 to apply. Experience living in the residence hall is not a requirement. Applicants must have a minimum 2.5 cumulative GPA and be in good standing with the college to be considered. Applicants cannot currently be on College or residential probation.
How can I apply?
In order to apply, candidates should complete both steps below by Sunday, February 12, at 11:59 pm.
Submit the application (Google Form)
Attach a "statement of interest" as a PDF when submitting the Google Form (information at the link above)
Students are encouraged not to wait until the last minute to submit the application so they don't miss the deadline.
Interviews
Candidates should hold availability in their schedule to participate in interviews. Students will be provided instructions for selecting interview dates/times after the application closes.
Group Interview -- on either February 16, 17, or 18
Individual Interview -- on either March 3 or 4. 
Information Sessions
To learn more about the RA position, come to one of the optional information sessions listed below.
| Date | Time | Location |
| --- | --- | --- |
| Wednesday, January 18, 2023 | 12-1pm | Sulzberger North Tower (Floor 17) |
| Friday, January 20, 2023 | 3-4pm | Milstein Center LL017 |
| Tuesday, January 24, 2023 | 4-5pm | Sulzberger North Tower (Floor 17) |
| Saturday, February 4, 2023 | 11am-12noon | Sulzberger North Tower (Floor 17) |
| Monday, February 6, 2023 | 4-5pm | Sulzberger North Tower (Floor 17) |
| Thursday, February 9, 2023 | 5-6pm | Sulzberger North Tower (Floor 17) |
Thursday, February 9 will be the last day we are offering information sessions. If you have any questions about the information sessions, please email RASelection@barnard.edu.
Any Questions?
Please contact us at RASelection@barnard.edu.
Frequently Asked Questions
Current first years are not able to apply to be mid-year RAs for Spring 2023, but will be welcome to apply for the 2023-24 when those applications open in the Spring.
Our expectation for RAs is that their academics come first; the RA job comes second, and any extracurricular activities and outside work comes third. We recognize that as a student leader you may wear many hats, including involvement in student organizations, internships, research, working a part-time job, etc. While we encourage our staff to be involved at Barnard and beyond, we expect our staff to be realistic with how many outside commitments they take on. Any outside commitments over 10 hours per week must be approved by our professional staff.
While there is no hard and fast rule, it is our expectation that RAs are here for their residents, building community, and being a presence on campus. With that being said, it's healthy and expected for you to be able to take some time away from campus (including a few full weekends). You will find that your commitments to the RA position (Duty, weekend programming, community building, etc.) will keep you on campus for the majority of the weekends of each semester. It would be unrealistic for an RA to be gone every or every other weekend.
We believe that your experiences make you who you are. We have all made a bad decision from time to time. As long as you're not currently on residence hall probation, you are able to apply! Our hope is that students learn from their experience if found responsible for policy violations and make positive changes in their behavior.
Because there are a lot of factors which can impact financial aid eligibility, we encourage all applicants to check with the Financial Aid office before accepting a position, in order to see if their aid package could be negatively affected. To schedule an appointment, please visit their website at barnard.edu/finaid to view their drop-in hours or call 212-854-2154 to schedule an appointment. Please note that there is a short amount of time between being offered the RA position and the date you need to accept/decline.
Speak with current RAs to learn about their experiences.
Set up a time to meet your Residence Hall Coordinator and/or Community Director. They can share their experiences with you and encourage you to find ways to get involved in your residence hall and the Barnard community.
Have conversations with family, friends, and past supervisors about your strengths & weaknesses. This will help you have a better understanding of your abilities.
Beyond Barnard provides opportunities for resume building and interviewing skills. Seek them out!