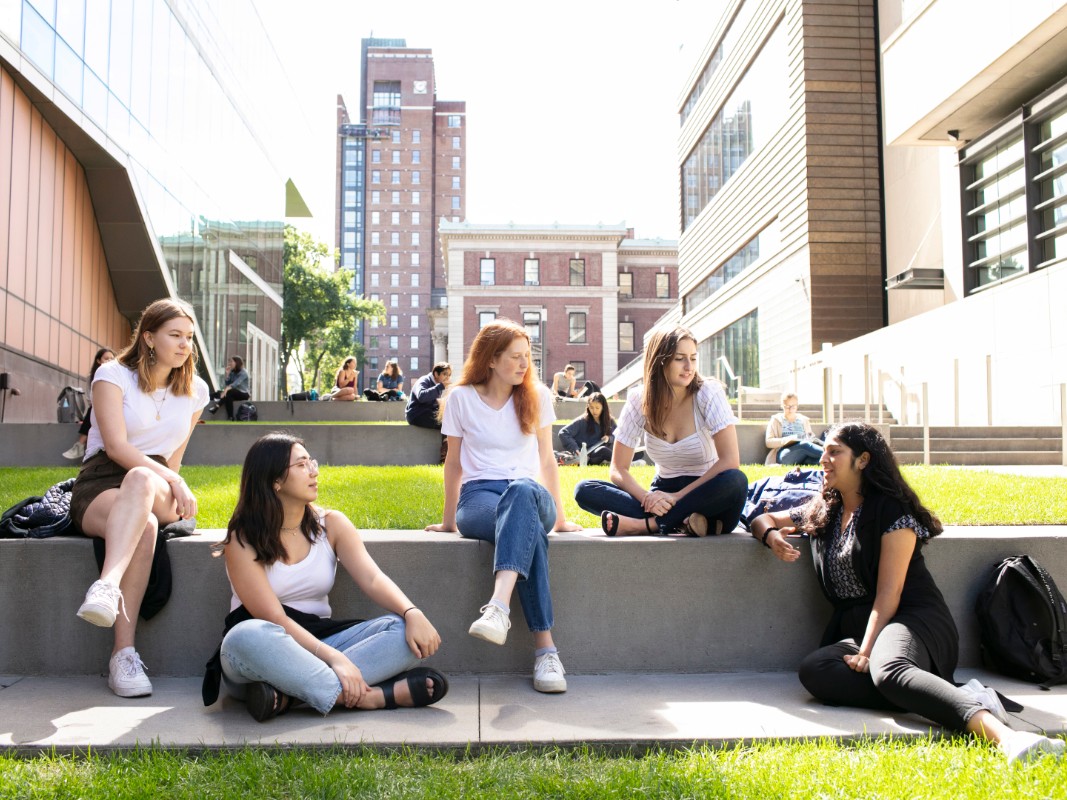 While our campus is open for limited in-person visits, you can still engage with us virtually! We encourage you to view the videos below to learn about Barnard's academics, resources, and culture as well as our admissions and financial aid processes. If you have any additional questions after viewing our videos, please feel free to reach out to our office at admissions@barnard.edu.
First-Year and Transfer Information Session
Do you have questions about Barnard's admissions and financial aid processes? Request a recording of one of our information sessions!
Request a recording of our Prospective First-Year Applications Information Session
Request the recording of our Transfer Admission Information Session
Topics covered in our online information session will answer the following frequently asked questions:
What does an interdisciplinary liberal arts curriculum look like at Barnard - and what does liberal arts mean, anyway?
How does Barnard's partnership with Columbia work, and how do Barnard students take advantage of being in New York City?
What are the unique benefits of a women's college experience?
What qualities are admissions officers looking for when reviewing applications and what is required to apply?
Barnard Admissions staff members will be available to answer your questions live during each session.
Intro to Student Life @ Barnard
Intro to Student Life @ Barnard is a virtual chat with current Barnard students providing you with the opportunity to have your questions answered. The chat is a face-to-face Zoom meeting with a small number of participants to allow for a unique, interactive experience.
View Schedule and Register for Intro to Student Life @ Barnard
Note: Intro to Student Life @ Barnard serves as a solely informative space and hold no evaluative impact on the student if they choose to apply. Barnard does not track demonstrated interest.
This experience is for prospective students only. Parents/guardians and counselors of prospective students are welcome to connect with the Office of Admissions at admissions@barnard.edu.
Virtual Campus Tours
Whether you have been able to visit campus in-person or you can't make it to New York, we are excited to offer a live virtual campus tour option! Led by a student tour guide, these Zoom tours will take you around spaces that are not available on an in-person campus tour, such as classrooms, laboratories, residence halls, academic centers, and more.
Register here for a Virtual Campus Tour
Campus Tours
"When I visited as a prospective student, I had a unique perspective because I came for a regular tour rather than any of the admitted students' events. Seeing Barnard in its natural habitat was what helped me decide to come! I got to witness so many students moving with drive, passion, and purpose through campus and the larger NYC community, and I knew I wanted to become one of them myself. Now, as a Barnard student, I know that it is the community on campus that has taught me the most —about myself, about the work I want to produce, about the world at large."
— Alex Haddad '21
Stately historic buildings, beautiful landscaping, the cutting-edge, sustainably designed Milstein Center — see it all during your virtual campus visit. Hear from Barnard student admissions representatives (BSARs) about academics, extracurricular experiences, community, and residential living during our six-part virtual campus tour. If you have any questions about student life, please feel free to contact our BSARs at askastudent@barnard.edu! .