For Jiji Lee, Miami was a confusing place to grow up. Her neighborhood was ethnically mixed, but mostly Cuban and white. "There weren't that many Asian people—and there weren't any on TV, unless they were doing karate," she recalls. Though she and her two brothers were raised in a strict, immigrant household, Lee felt the pull of the performing arts and sang and acted in plays. Her best, or worst, role was as a masked chorus member in an otherwise all-white production of the Japanese classic Rashomon.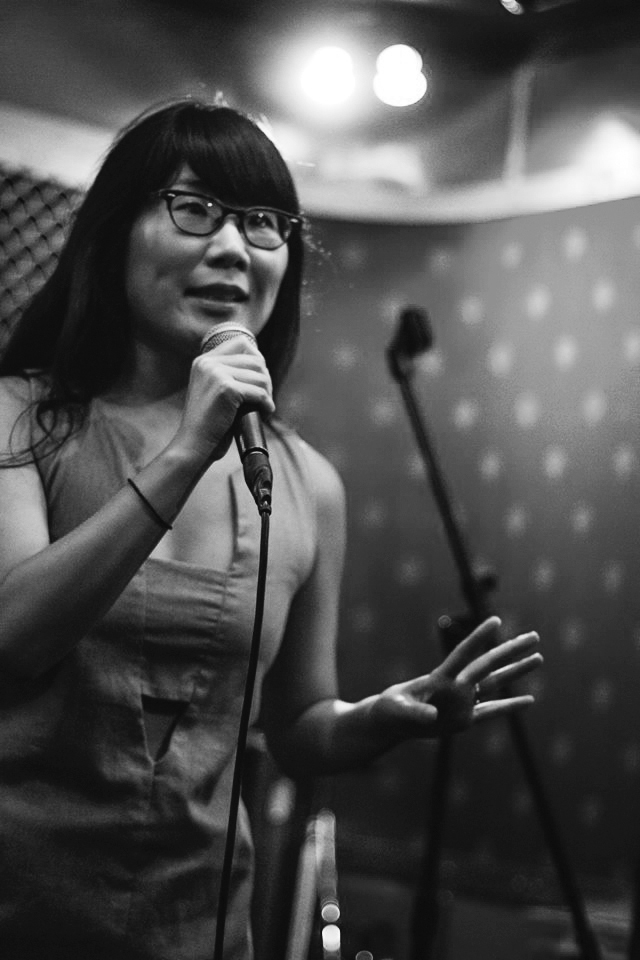 For the past decade, Lee has worked as a comic storyteller in New York, appearing alongside popular comedians like Roy Wood Jr. and Kevin Allison. "I try to play with my insecurities, family life, growing up, and dating," she says. In one bit, she observes her eleven-year-old self at a discount Bible camp "spelled with a 'K.' " Her parents were atheists. But they let her go anyway, "because they love a bargain more than their beliefs."
At Barnard, Lee majored in sociology and acted in Lysistrata and The Vagina Monologues but graduated into a recession that initially distanced her from the arts. It wasn't until 2010 ("something about turning thirty") that she began to explore comedy. She took a sketch-writing course at New York's Upright Citizens Brigade, and later, inspired by the storytelling show The Moth, studied with David Crabb at The Peoples Improv Theater. "That class changed my life," she says. "It showed me what storytelling could do as an art form."
Lee's act is part dish, part stand-up: each performance relating a single, extended tale, with jokes, like a trellis, giving it shape. She's told stories about working at the United Nations, staying in a creepy Texas motel, getting dumped by a diminutive musician, and defusing her mother's tantrum at a nail salon. There's an ease in the telling, honed through hours of writing, editing, and trial-by-audience that go into each piece.
In late March, she had one of her biggest gigs yet: a spot on RISK!, a celebrated stage show and podcast. She's more selective about club spots these days, leaving as much time as possible to write humor pieces, like a recent one in The New Yorker's "Daily Shouts" (title: "How to Break Up with a Friend Who Has Snakes for Hands"), and a TV pilot script called "Hot Mess Asians." The plot, she says, revolves around "someone in her late thirties, trying to figure out what her life is about"—in other words, she jokes, "a fantasy!" The protagonist befriends the girl she once babysat, now a frighteningly accomplished young adult.
Lee revels in the "what ifs" of New York life, but isn't hung up on her own past. "I spent my twenties going out and screwing up and making mistakes, which has now turned into material," she says. "All of my regrets I can now fictionalize!" •