It was a poppin' fresh idea—"Meatball Minestrone Bake"! That recipe that brought me to the biggest cooking contest in the world this year—the 45th Pillsbury Bake-Off. With a grand prize of $1 million dollars and $10,000 in kitchen appliances, I was ecstatic to be among the 100 finalists.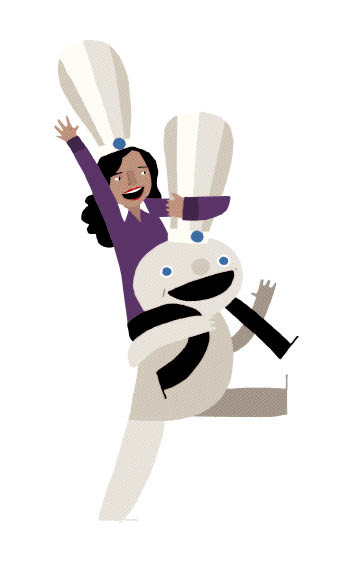 How did I get involved in cooking contests? It started with a love of all things food related, including the Jewish cooking traditions of my suitemates from 616, which gave me insights on how to make the best matzo-ball soup. While I studied for a master's in public health at the University of California, Berkeley, I tried organic food for the first time and visited San Francisco's farmers' markets. As a hospital administrator in New York City, food became a way to connect with staff and patients of different cultural backgrounds. I devoured cookbooks and food magazines, watched cooking shows, and soon discovered a world of cooking contests. I decided to put all my food experiences to good use.

For my first contest, the Staten Island Advance newspaper's annual "Taste-off," I combined bay scallops with shredded potatoes and carrots for color and health appeal, parsley, eggs and flour as a binding agent, along with spices. After pan-frying the patties in corn oil, I added pizzazz with chopped green and red hot and sweet peppers. Scallop Up (named by my daughter, Noelle) won the appetizer category and took the grand prize, which helped to replace my broken oven. 

ABC's Rachael Ray Show was in its first season when the show launched the "10-Ingredient Challenge." Not long after I submitted a DVD describing and showing my recipes for Korean Grilled Skirt Steak with a Blueberry Glaze, Apricot and Blueberry Cannolis, and Korean String Bean Pancakes, Rachael Ray called to congratulate me as one of three contestants selected from hundreds. "Who makes a skirt steak with a blueberry glaze?" she asked, complimenting my creativity. 

A film crew came to my house to film a segment of me cooking up wontons and chatting with my husband, G. Shane Triano, a Columbia School of Engineering graduate, my daughter, and my son, Alex. The night before shooting the "Challenge" I was called by the show and told I'd have 30 minutes on the show to cook a new "3-Ingredient Challenge" using tomatoes, corn on the cob, and apple cider, along with other pantry ingredients. Picking figs and Parmesan cheese as my pantry items, I cooked up Asian Grilled Pork Chops with a Tomato, Corn, and Fig Glaze served on a bed of arugula salad with Crazy Corn Parmesan Chips. When Ray opened the judges' envelope, she called out, "Someone's in the kitchen with Dinah!" I had just won a trip for two to Mexico. 

Now I felt ready to enter the Pillsbury Bake-Off, which is held every other year. My family loves my Italian meatballs so I knew I wanted to feature them. Progresso Soup, a sponsor, had several products as eligible ingredients including its high-fiber Minestrone soup. Eureka! Pour the soup in a casserole, layer it with meatballs, bake, and top with a generous amount of a shredded Italian cheese blend and a breadstick topping using Pillsbury Crescent Rounds. I tweaked the seasoning and submitted Meatball Minestrone Bake in the Dinner Made Easy category in April 2011.

Five months later, Bake-Off public relations called to say I was a finalist, but I wasn't allowed to tell anyone or talk about or cook my dish again until it was officially revealed in January 2012. Adding to the thrills, fellow alumna Martha Stewart would host the Bake-Off contest and televise the award winners on The Martha Stewart Show at the Peabody Hotel in Orlando, Florida, in March. 

The red carpet was rolled out as I arrived with my mom, my husband, and son, and the other contestants. At 7:45 a.m., on March 26, the 100 finalists lined up to make the traditional Bake-Off March into the "cooking arena." We started our "engines" (ovens) and prepared our recipes for the judges amid video crews and food writers; celebrities and sponsor executives tasted and took photos of the dishes. After four hours of cooking, we submitted our best dishes to the judges. 

On Tuesday morning, Stewart began the awards ceremony by narrating the history of the Bake-Off with vintage film clips and TV footage. As each award winner was announced in the four categories—Entertaining Appetizers, Breakfast and Brunches, Dinner Made Easy, and Sweet Treats—I remained hopeful. But, the Dinner Made Easy award went to Chicken Empanada Cones, not Meatball Minestrone Bake. The Grand Prize went to Sweet Treats—Pumpkin Ravioli and Salty Caramel Whipped Cream.

I was surprised to find I didn't feel disappointed, and I couldn't help but think about my next entry for the 2014 Bake-Off. Sweet or savory? What will be the sponsor ingredients? But that will have to wait. There's this burger contest coming up. Time to fire up the grill.