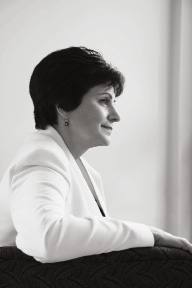 In October I had the privilege to hear author Edwidge Danticat '90 deliver the first lecture of the Africana studies program's Distinguished Alumnae Series. An eloquent speaker, she spoke of her path to becoming a writer and the influence of her mentors at Barnard. She opened her lecture by describing her thoughts as she walked across campus, "I felt like I was going to meet the person I used to be, and we'd say hello." 

I walk the paths of Barnard often these days, and Edwidge's image resonated with me. Of course, the campus map has changed in 35 years, but I still can see the spot where I took my yearbook photo under the tree in front of Milbank Hall. That's where I expect to greet the "me" I used to be, smiling into the lens and striking a pose for the future. My younger self would probably start an animated conversation with me. She was president of Undergrad (now SGA). She had come to Barnard wanting to be a writer but she headed off to medical school. She was excited to graduate but knew she would miss her friends. The future was bright and all was well with the world. "Women can do anything, you know," she might say.

I wouldn't try to argue with her optimistic outlook for women and the world. While there is no doubt that there has been a sea change for women, the future isn't exactly what she and I may have dreamed. She probably would be shocked that we were still discussing some of the same issues facing women in 2012 as we debated in 1977. Personally, things turned out well for my former self and me. Although it continues to be a struggle to "have it all," we did become a writer, as well as a doctor, and managed to fit the family in there as well. 

But I might challenge her description of her idyllic time at Barnard. What about being a commuter for a year? What about the friendship and roommate dramas, the relationship traumas, and the professors she didn't love? And didn't Barnard have three presidents during her three years? It wasn't so perfect.

I imagine she would look at me quizzically, shrug her shoulders, and counter that she still loved Barnard, then ask why I was dwelling on the negative when there were so many good things that happened during those four years. 

This reflection was a fun exercise. But it is also what happens when I speak to many alumnae, especially those who graduated during the '70s and '80s. The negative memories seem to linger and overshadow the positive experiences as well as the academic achievements. They end by asking: Why would I want to get involved in the Alumnae Association? Why should I give back to Barnard? What did Barnard do for me?

Well, maybe it's time to reflect on what Barnard did do for us, even with its imperfections. Let's reflect on the positive. Because the bottom line is that what Barnard gave us was an outstanding education. If you can honestly say that your Barnard degree did not help you as you went forward in life, then stop listening now. But if you ever put Barnard College down on your résumé or curriculum vitae, even if you added other degrees or accomplishments since then, you owe something to the College. Beyond our own education, Barnard has been a leader in the fight for equality for women. Our lives and the lives of our daughters have been affected by this ongoing struggle. The President of the United States chose to speak at our commencement precisely because of the history of Barnard.

As Barnard faces the future, this future will be determined by its past. Even in the past, Barnard's tuition did not cover all the costs of a four-year education and the contributions made by alumnae helped bridge the gap. The College needs your help, and today's bright enthusiastic students need it, too. It is up to the alumnae of Barnard, all 30,000 plus of us, to help Barnard stay competitive and meet the increasingly complicated needs of students. 

As I say goodbye to my younger self, I hear her shout, "Thank you!"

All my best wishes,

Mary Ann LoFrumento '77