Regional Receptions with President Debora Spar and Vice President for College Relations Dorothy Denburg

London

In February, President Spar attended a reception hosted by the Barnard Club of London, providing updates about the College and speaking with guests. Ariel Yoffie '13 (center) and Rachel Ames '07 (right) discussed the Barnarad Beyond the Gates Internship program, detailing how the program was a life-changing experience for each of them. The program matches alumnae employers with current study-abroad students for a semester-long internship and mentoring.

Texas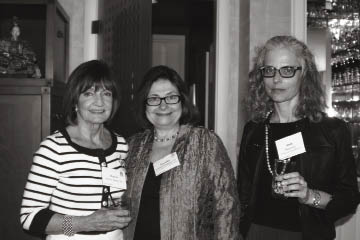 In January, President Spar spoke at the Petroleum Club in Houston in conjunction with the Harvard Business School Club in Houston, while Dorothy Denburg attended alumnae receptions in Austin, Dallas, and Houston. Our thanks to the gracious hosts in those cities—Victoria Chin '70, Aileen Mejia Pratt '77, and Dale Sonnenberg '63—for opening their homes and reenergizing the Barnard community in Texas.

Miami

On March 25, Marcia Beiley Dunn '63 (above left) hosted a reception at her home for Vice President Denburg (center), and Professor of Art History Anne Higonnet (right). Denburg addressed the group on the state of the College; Higonnet spoke of the research into the reattribution of one the Metropolitan Museum's most famous paintings, Young Woman Drawing.


Washington, D.C.

On February 7, President Spar attended a reception graciously hosted by Cheryl Milstein '82 at the Jefferson Hotel. Approximately 80 alumnae attended; the evening featured presentations by President Spar, Barnard Club of Washington Co-President Kathy McNally '69, and House of Representatives member Nita Lowey.
In an effort to consistently keep alumnae updated on and engaged with happenings at the College, President Spar and Dorothy Urman Denburg '70 attend regional receptions across the globe to connect with alumnae and share their Barnard experiences.