The Barnard campus provided a welcome stop for the Speaker of the New York City Council and mayoral hopeful Christine Quinn. Speaking before some 300 students, faculty members, and alumnae at The Diana Center in March, Quinn shared her views on housing, public education, and other hot-button political issues, as well as her thoughts on the sometimes impossible expectations women face in their careers and personal lives. 

Opening her remarks, she noted that she feels a special affinity for Barnard, given that many of the school's graduates have emerged as leaders in city government and politics—including Maura Keaney '96, Quinn's former chief of staff, and Alix Pustilnik '88, the City Council's deputy legislative director. "If you look around the City Council or the folks involved in my government office or campaign [and made a] chart of what school has the most alums, you wouldn't have to count very long before it was clear Barnard was the winner," Quinn said. 

But she also pointed out that public service is entirely in keeping with Barnard's longtime mission. Barnard's "leadership and vision has helped countless women over the past century get to a place where they could understand what their dreams are, understand their potential, and reach that potential," said Quinn. "The gift that Barnard has given us is all those women who have gone out into our city, state, and world and changed the foundation for all of us." 

Raised in Glen Cove, Long Island, Quinn has certainly forged her own remarkable career path. A 1988 graduate of Trinity College, she started out as a community organizer and activist on New York City housing-rights issues before entering politics. She won a 1999 race for the City Council representing Manhattan's third district, which includes Chelsea, Greenwich Village, and other westside neighborhoods. Seven years later, Quinn was elected speaker, becoming the first woman and first openly gay person to hold the post. 

Quinn told the audience that she was fortunate to come from a family full of strong women, which gave her the drive and confidence to push ahead. Indeed, she noted that her Irish-born maternal grandmother had actually set out for the United States 101 years ago on the Titanic, and was one of the few girls in steerage class to survive the voyage. Her grandmother talked about how "when the other girls dropped to their knees to pray," she decided to "take a run for it." One of the great strengths of Barnard, according to Quinn, is that it inspires students to be bold: "It's a place where it's okay to take risks, a place where it is encouraged to do what is in fact difficult." 

Her advice to young women: Don't listen to your "internal naysayer" or try to conform to societal expectations. "There's still pressure to stay within the norm. It still exists in a tremendous way," she said, adding that too many women grow up thinking they have to be perfect at everything. "I think we need to find a way to let go of that," she averred, while also tuning out the internal voices that tell women what they can't do. 

Quinn, who officially announced her mayoral run in early March, has called her bid to replace current New York City Mayor Michael Bloomberg "a daring expedition on the level of bungee jumping." 

In a question-and-answer period led by Barnard President Debora Spar, Quinn said one of her top priorities is addressing the severe shortage of affordable housing for middle- and lower-income families. "I'm worried a great deal about the fact that we don't have enough affordable housing for all the New Yorkers who are here, who want to stay here, and all those others who want to come here," she said. 

Likewise, she'd like to step up the city's efforts to use tax credits to attract high-tech businesses and entrepreneurs, specifically those focused on medical and biotechnologies. "We want to beat everything out of Boston [and California] as it relates to tech," said Quinn, who noted that the city has already proposed a "tech triangle" in Brooklyn, but could also turn old Queens factories into incubator space for start-ups. 

Quinn said the city has partnered with City University of New York to develop a tech-training program for local community colleges. Still, she added, the city needs to do much more on the education front, especially in regard to expanding access to early-childhood education and improving New York's middle-grade schools. New York, she said, "needs to embrace the goal of becoming the literacy capital of America."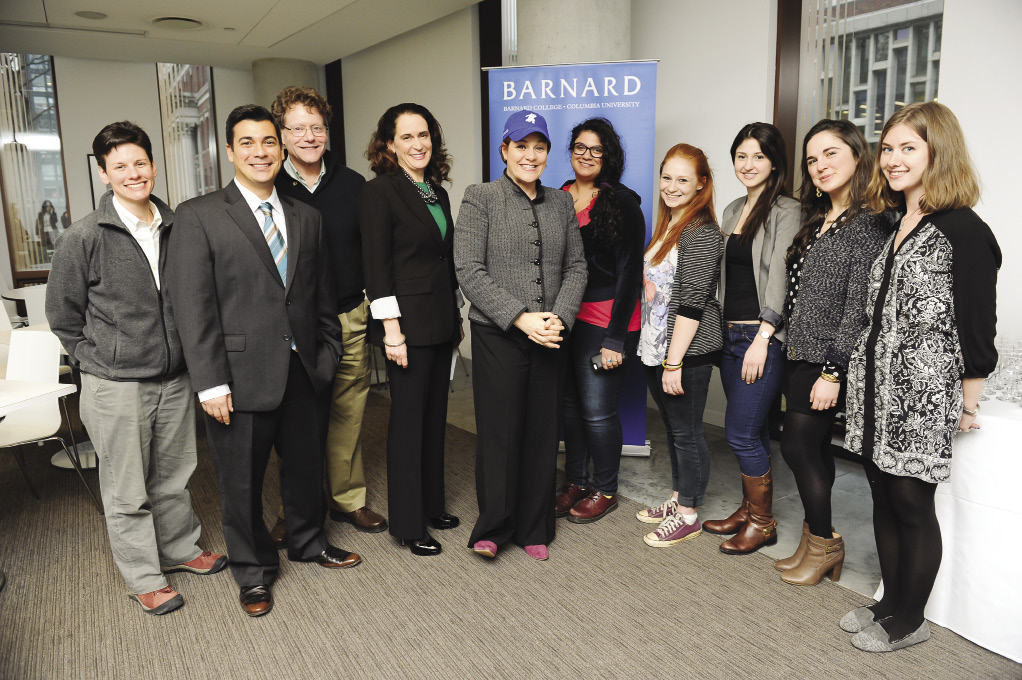 Professors Dina Merrer, Paul Scolieri, and Paul Hertz with President Debora Spar, Christine Quinn, and students before Quinn spoke