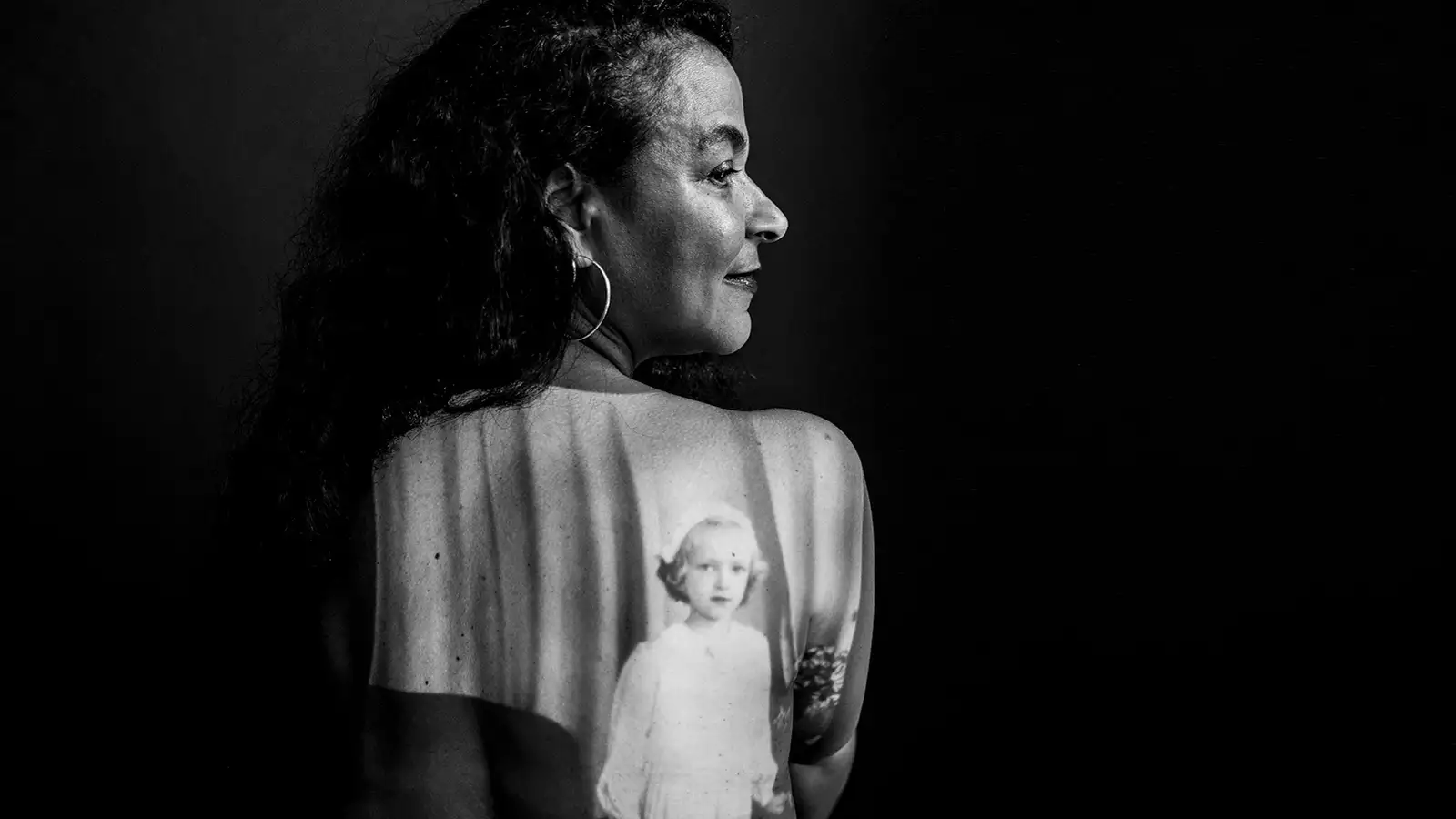 Something was not right with Gabri Christa's mother. It took the Barnard assistant professor of professional practice in dance some years to know what was wrong. In that time, as her mother's personality changed and her memories started to fade, Christa asked her mother to write down how she was feeling.
Christa had her mother's letters and, eventually, in 2014, Josephina Magdalena Aleida de Jong had a diagnosis: dementia.
"I wanted to do something with [the letters]," says Christa, a Guggenheim Fellowship-winning choreographer and multimedia artist, who joined Barnard's faculty in 2016 and now also directs the Milstein Center's Movement Lab.
From this correspondence, Christa created Magdalena, a 60-minute multimedia excavation of life, aging, and illness — a personal narrative of a parent and child, which premiered in New York City in September. The one-woman show combines film, poetry, and dance to tell the story of a mother, as well as a daughter's reaction to her illness. It's an attempt to piece together her mother's past, including her childhood in the wartime Netherlands and her interracial marriage to a black man from the former Dutch colony of Curaçao, along with Christa's own efforts to accept the future after her mother's diagnosis.
"I really wanted to do something meaningful," says Christa, who initially conceived of the project as a film. Then she changed her mind about the medium and was drawn to the idea of a performance in a small space. "I had different writings, different stories," she says.
Those stories were hard to tell. For four years, she wrote and wrote, with no end in sight. Eventually, Christa, who grew up in Curaçao speaking Dutch, met Dutch theatre director Erwin Maas. They spoke in their native language about the potential in her stories. Being able to discuss the project in her mother tongue helped to shape the piece. "I was talking to him about all these writings, these ideas that I had, and he said, 'Now, that should be your piece,' " she recalls. What became Magdalena has received rave reviews and opened up conversations about the sometimes misunderstood topic of dementia.
A Multimedia World of Dance
The seeds for what would become Christa's interdisciplinary approach to storytelling were first planted in 1988 in Cuba, where she moved after attending university at the School for New Dance Development in Amsterdam. In Cuba she became a founding member of an experimental performance collective, DanzAbierta. She and the company used music, dance, and visual art to create social and political pieces about the culture and state of the country.
In 1994, Christa joined the world-renowned Bill T. Jones/Arnie Zane Dance Company, settled in New York, and, in 1999, launched her own company, DanzAisa. In 2002, she widened her artistic gaze and began exploring how to capture dance on camera. The result: an award-winning short film series, Another Building, which uses history and heritage sites to tell stories. The series includes Quarantine (2007), set in slavery-era Curaçao, and Kasita (2014), which takes place in slave quarters on the Caribbean island of Bonaire. She is currently completing an as-yet-untitled short film that is set in a New York synagogue and explores the history of the city's Creole Jewish community.
For Christa, this global focus has had both personal and professional payoffs. She sees herself as living at the crossroads of various cultures and, through her art, continually exploring race, geography, the body, and identity. "My mission in all my work is to transform the understanding of humanity through the arts. Often, I do this through personal and historic moments," she notes, adding that she is a "firm believer in the role the arts and artists can play in advancing our global society."
Fusing The Personal With Art
In the decades that Christa has been creating her multidisciplinary art, using everything from movement to visual images, what has been largely absent from her work is her own story. That is, until Magdalena. "My very simple mission was to open a dialogue about dementia in an intimate way I thought was missing," she says. "I wanted to hold space for others to just talk about it and help reduce stigma or tension and provide some insight. Mostly it's for people to not feel alone."
The concentration it took to learn the many parts of this one-woman show has acted as an emotional buffer for Christa, except for a particular moment. "There's this one part [during the performance] where I go behind the screen and read this poem. When I wrote it, I cried. When I have to read it, I almost always break down in tears," she says about the poem, in which she wonders if her mother will remember her name the next time she visits.
This is one of the most painful experiences conveyed with words in Magdalena. Often the sadness that has accompanied her on this years-long journey is relayed to the audience through movement, because words and even visual images fail. "I would think, 'I really don't know how to express that moment. I can't make a film about it,' " Christa says.
Because Christa believes the trauma of her mother's childhood likely contributed to her dementia, Magdalena travels back to World War II-era Rotterdam. Her mother, the only survivor of a bombing that happened when she was 9 years old, was sent away alone to a foreign country for the remainder of the war. "She had seen so much death, and [I imagine] how incredibly traumatizing that must have been. One of the things that happens when trauma is not treated is that later on in life it can lead to depression, which is a big cause of dementia," she notes. From Rotterdam, the story follows Magdalena, whom Christa considers an "adventurer" and "pretty kick-ass" for the fearless way she lived.
Finding a New Focus
As Christa was writing the show, she drew conclusions about her mother's illness based on her own observations and intuitions. Now, Christa sits alongside researchers and scientists in lectures and courses as an Atlantic Fellow at the Global Brain Health Institute.
The organization, based jointly in San Francisco and Dublin, Ireland, works to reduce the impact, incidence, and stigma of dementia by training and bringing together leaders in brain health. Christa is learning that there is scientific evidence to support many of her theories, such as the association between early childhood trauma and dementia. The fellowship, she says, is "really making me understand dementia from all levels, which is both very interesting and a lot of work."
As a direct outgrowth of her investigations, Christa has a new direction for the future: "It got me really interested in aging and health and movement." Next year, the theme of the second Moving Body–Moving Image Festival (a biannual event she launched in 2018 at Barnard) will be aging and mothering. To explore aging, Christa is also making short movement/dance films about older female dancers. "The sort of transmedia person I am really likes to combine all of these things," she says about her various projects.
No matter what form her next projects take — dance, cinema, poetry, or all of the above — Christa will continue to tackle what lies at the heart of Magdalena: the importance of conjuring up the past — her mother's and others' — to live more powerfully, both now and tomorrow. •